Oh, memes. 
I don't pretend to be part of the whole meme culture too much. 
I mostly get it through by the side effects of having children and teaching elementary music. 
Even so, I was fairly aware of most of the songs on this list, and that's saying something. 
If you've ever wanted a complete list of the best meme songs out there, I did the research and listening (and laughing) to help you get your meme fix all in one place. 
Note: Not all of these memes are always the most appropriate. If you're a teacher or parent researching these, make sure you screen them for yourself before allowing your children or students to enjoy them. 
That being said, most of them are all in good fun!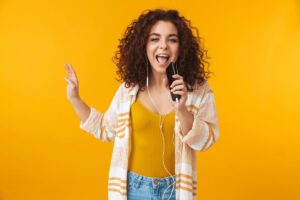 Get all the experience of singing lessons at a fraction of the price (and at your own speed) with 30 Day Singer.
Never Gonna Give You Up by Rick Astley
Let's start with the meme song king, the Rick Roll. 
For some reason, people are still obsessed with this song and Rick Astley's awkward shimmy back and forth. 
For its meme-ness, it shows up as a joke when you're least expecting it. 
This is what's known as "Rick Rolling."
Everyone enjoys this joke every now and again, but some kids are obsessed with it. 
My kids lost their minds (in a good way) when I rick rolled them by pretending I was about to play a serious song on the trumpet before playing this instead. 
All Star by Smash Mouth
Shrek was amazing. This song is amazing. 
And both have risen to the level of meme God. 
It's unclear which is the more perfect meme song: All Star or Never Gonna Give You Up. 
Either way, this one is used in many forms all over the internet, and I think every kid and young adult in America knows it well. 
The Sound of Silence by Simon and Garfunkel
It's not often a song is both one of the greatest songs ever written AND a legendary meme, but this Simon and Garfunkel classic does both well. 
In meme form, the opening singing is often played dramatically over little mistakes that happen in videos as the screen fades to black and white, often accompanied by a dramatic zoom and photoshopped tears. 
Photograph by Nickelback
I actually enjoy Nickelback (though it's not always good to admit it), but I also understand why the angsty stylings are often the perfect breeding ground for memes. 
Combine this with the scene where they hold up a picture frame, and you've got a photoshop recipe for fun. 
Even Nickelback appreciates these jokes, though, so don't feel too bad for them. 
Shooting Stars by Bag Raiders
This song used heavy synth in its instrumentation and paired with the music video; it's inspired a number of memes and animation covers. 
Much of them pair very poor cartooning or video editing with the song, making the song feel much older and funnier than it was intended. 
It probably would have been a short-lived joke if not for its pairing with a parody tribute video to Harambe, whose death was a viral video sensation you could not escape. 
My Heart Will Go On by Celine Dion
The movie Titanic rocked the world in many ways, only one of which was this iconic song. 
If you were around at the time (man, I'm getting old), this song played way too much on the radio, and its public popularity turned against it after a while. 
Then, it rose back into meme popularity when the best-known cover of the iconic opening was played (badly) on the recorder. 
Much hilarity ensued! 
What Does The Fox Say? By Ylvis
If you'd have told people back in 2012 that a Norweigian comedy duo would top the world's music charts by singing a techno song about fox sounds, they'd have said you were crazy. 
With the benefit of hindsight, we know better now. 
Even to this day, one can yell out, "What does the fox say?" and they'll likely hear a rousing chorus of ring-a-ding-ding's. 
We Are Number One from Lazy Town
Lazy Town is an Icelandic kid's show that is still firmly ensconced in the world of memery, though this particular song was popular for a sad reason. 
The actor who played this role got sick with cancer, so folks started a GoFundMe to help pay his medical bills. 
To help bring attention to this cause, many people made parodies of this song and pushed people to go help with anything they could give. 
The actor, Stefán Karl Stefánsson, sadly passed away in 2018 at 43 years old.  
Take On Me by A-ha
In 1985, this song, with its comic book-like music video, stormed the world. 
Since then, it's remained fairly popular, though it's spawned several well-meaning covers (two famous ones include one by Weezer and one by Family Guy). 
It mainly pops up at fantastical and hilarious moments in otherwise normal videos.
This song is also on our list of the best school-appropriate songs for kids.  
Into The Thick Of It from The Backyardigans
Sometimes I just have to scratch my head at why certain songs are elevated to legendary status. 
This song from the children's show, The Backyardigans, has certainly left its mark. 
It is catchy, and some people love the "ugh" sound that pops up. 
I didn't even know this was a meme until 100 high schoolers at a marching band camp I worked at freaked out when they heard the song over the speakers. 
Gangnam Style by PSY
Unlike most songs on our list, which were revived as memes, later on, Gangnam Style was born into the world as one. 
From the catchy-as-heck melody and impressive (and hilarious) iconic dance moves, there was no doubt in anyone's mind that this song would have a lasting impact on the world and inspire thousands and millions of covers and short-form content. 
Hide And Seek by Imogen Heap
When this 2005 ballad was featured on an episode on The O.C., it rose in popularity. 
In a typical arc of popularity, it probably would have disappeared not long after its short rise to fame. 
But when Lonely Island (more on them later) did a blatant parody of the song, the world saw new value in this tune as a meme song.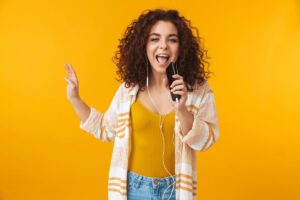 Get all the experience of singing lessons at a fraction of the price (and at your own speed) with 30 Day Singer.
Brightside by The Killers
There's something about emotional songs that are perfect targets for meme material. 
When this song came out in 2003, it didn't have much success. 
Fast forward 10 years later, it was suddenly quite popular. (This is a long time in the internet age.) 
The generic emotional lyrics are easy enough to twist into a joke, as the meme community has shown. 
A Thousand Miles by Vanessa Carlton
The 2002 hit by Vanessa Carlton is largely considered bland and safe by most critics. 
It's just catchy and emotional enough to get your attention, but everything else about it is vanilla. 
While it featured moderate success at the time, when the song was used in the movie White Chicks, people realized how odd it was that such a song was ever popular. 
Since then, it's been an easy target for parody videos and meme covers. 
Africa by Toto
Since this song came out in 1982, it's been the target for many (many) jokes. 
This is mostly due to the awkward and cringy lyrics. 
It's a little too on-the-nose, though you have to admit the melody is quite catchy. 
The meme culture around this song has stayed strong since the beginning of video memes, and it doesn't seem to be waning anytime soon. 
Every Time We Touch by Cascada
When the chorus kicks in for this 2006 Eurodance song, you can't help but move to it. 
It was insanely popular as a meme song to dance to a while ago, but it's less popular now. 
While it's not as legendary as other meme songs like Africa or Never Gonna Give You Up, there are still a number of people who still post dancing covers on Tik Tok. 
September by Earth, Wind, and Fire
I'm not sure exactly why this entire song has become a meme, but I love it. 
This 1978 song by Earth, Wind, and Fire has remained popular because it's a fantastic song. 
I think the music video itself may lend itself to meme culture in the modern-day. 
This song is not used for any specific purpose, but there are numerous parodies and funny videos paired with the song. 
Jack Sparrow by The Lonely Island
Warning! This song is really not appropriate for young kids, but it is an awesome and funny song! 
Lonely Island was a Saturday Night Live musical group that did a lot of parodies with celebrities. 
Almost all of them are meme-worthy, but the Jack Sparrow one takes the cake. 
Watch it and enjoy as Michael Bolton sings his way through some classic films while the rest of the group tries to get him to sing a serious clubbing song. 
Bring Me To Life by Evanescence
Some songs are just begging to be made into jokes. 
Evanescence already leaned probably a bit too heavily into their goth and dark theme in general, but with this song (and accompanying music video), it went a little too far. 
It's not a bad song at all, and many enjoy it. 
But when some of the lyrics are isolated (especially the "Can't Wake Up!" stuff), it does provide some pretty hilarious content. 
Let It Go from Frozen
Idina Menzel's performance of this song from Frozen launched a thousand memes and covers. 
Who doesn't know this song at this point? 
I've seen this done in a picture meme when telling someone to get over themselves. 
I've seen the song done as a cover, or the words changed, so it's a parody. 
It's versatile, and it's probably not going anywhere anytime soon. 
What Is Love? by Haddaway
This 1993 song may have been one of the first true bits of meme music ever. 
It was picked up in 1996 on a Saturday Night Live skit, The Roxbury Guys. 
The skit was hugely popular at the time. 
In 2005, a clip of the actors bobbing their heads to the song in unison was uploaded as a GIF, inspiring a viral sensation of others doing the same. 
Today, it still pops up as a popular GIF and meme. 
The X-Files Theme
The X-Files was a popular show, and its theme song has picked back up again in the meme world. 
The X-Files theme shows up in very small clips when things are meant to seem mysterious. 
Often, it's used to be funny by pairing the serious and mysterious sound with something mundane or fake mysterious. 
Heads Will Roll by Yeah Yeah Yeahs
Originally by the Yeah Yeah Yeahs, the song Heads Will Roll was one of the hit songs of the time and rose in popularity twice more when it featured on an episode of Glee and again with the movie Sing 2. 
While not strictly used as a meme, it's become a popular song (and remix, too) to do dance moves with social media users. 
John Cena Theme
Less of a song and more of a meme clip, the John Cena theme as part of his wrestling career is often inserted into memes. 
It often pops up unexpectedly or to accentuate something silly, being extra tough or awesome. 
Crab Rave
This 2018 song reached meme status from the instant it was released. 
Originally part of Monstercat's April Fool's Day social media campaign, it features a catchy melody accompanied by CGI dancing crabs. 
Do I need to say more?
Harlem Shake by Baauer
The Harlem Shake came out in 2012, and since then, it's remained popular as a tune to do crazy dance moves to. 
Tons of people have posted themselves wiggling to this tune; some of them funny and some of them impressive. 
Still, the most impressive is the original to me (though the one with the Norweigian Army is pretty sweet, too!). 
Darude by Sandstorm
I'm sure some cultural psychologists will look at different memes and popular songs through the recent years and talk about how they are reflective of our society. 
And one of those meme songs will be Darude. 
If you're not a fan of Finnish techno, you're like most people. 
But this 1999 song rose in popularity because of its use in League of Legends streaming. 
It's a "get psyched" song often played before sporting events as well. 
The meme for this song has reached trolling status too. 
It's common for people to mess with content creators or others in the comments section by claiming any song in any meme or video is always Darude. 
Ocean Man by Ween
The 1997 song was part of the creative inspiration for the show Spongebob Squarepants.
It was included as the end song in the Spongebob Squarepants movie, and ever since, it's been locked in the cultural minds of the millennial generation. 
This song had fallen out of popularity in the meme world a bit, but it was one of the earlier ones, hitting its stride around 2016 on Vine. 
Since then, the YouTube compilations of said Vines still remain somewhat popular to this day. 
I never realized this was a meme song until one of my students requested I play it one day when I brought in a trombone to show them. 
Roundabout by Yes
This progressive rock song from 1971 became popular again due to its use in the anime Jojo's Bizarre Adventure. 
It popped up in meme culture as the perfect "To Be Continued" song to play for comedic effect. 
The song is usually inserted along with a To Be Continued graphic at the climax of a short video to fake you out and imply fake tension and humor in the video. 
Let It Grow from The Lorax
I was shocked to find out this was a meme song, but it rose in popularity after the sad passing of the dame herself, Betty White. 
Maybe it was popular culture trying to deal with her death as they looked back at her collected works, and they latched onto her performance as the grandma in the Lorax. 
I'm not sure, but the meme is simple in execution, though I've seen two basic versions of it. 
The first is to change the verse to describe your own life. 
The second is to change the "Let It Grow" to something more aggressive against another thing you hate. 
(I came across one about Fortnight that was encouraging us to all "Let it die!")
We Don't Talk About Bruno from Encanto
I'm not sure if you've ever heard this song before. 
While there isn't a specific meme associated with this iconic song by Lin Manuel Miranda, I can see them playing around and searching for one. 
Will it end up being a meme where people change the name "Bruno" to other things they don't want to talk about?
Will we instead end up relabeling things to use the name "Bruno?"
One thing's for sure; this song isn't going anywhere.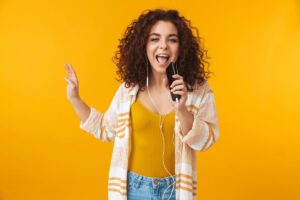 Get all the experience of singing lessons at a fraction of the price (and at your own speed) with 30 Day Singer.