Are you looking for soprano recorders for your music classroom but having a tough time deciding which ones to get? 
There are literally hundreds of brands out there, and if you buy a bad one, your students won't sound any good no matter how awesome your instruction may be. 
Fortunately, you don't have to. I've tried many kinds to make a list of the best soprano recorder brands. 
The best soprano recorder brands are ones with a strong reputation, excellent customer service, good pitch, tough durability, and affordable pricing. My picks for the best brands include: 
Yamaha 
Kingsley Kolors
Hohner
Aulos
Check out why these brands are so good and examples of their products below. 
You may also want to check out our Teaching Recorder Beginner's Guide. 
Yamaha: Reliable And Consistent Sound
Everyone has heard of Yamaha and its strong reputation for producing quality instruments at a variety of price points. This dedication to sound has transferred well to the soprano recorder field. (Check out the best books for soprano recorder.)
Yamaha, the company, has been around since 1887 when founder, Torakusu Yamaha, fixed his first broken reed organ. Not long after this, he also built the first reed organ in Japan. 
Though the Yamaha group has expanded into other areas, music and instruments remain their staple. 
Yamaha manufactures a wide variety of soprano recorders at different levels designed for different types of players. 
Yamaha YRS-23Y
The 23Y is the entry line model for recorders made by Yamaha. It still costs a little more than other student recorder models made by other companies. 
This model comes in one color, natural white. The 3-piece construction allows for adjustments to fit your fingers better, and this also allows for a better construction of sound.
I've used these records a lot with my students over the years. The sound is consistent across the mid and high range, but loses some power in the lower range. 
Its pitch is consistent with all other Yamaha recorders. The only complaint most folks have with this recorder is how it tends to crack easily. 
Yamaha YRS-302BIII
This is the flagship soprano recorder for the Yamaha brand and comes in at a medium-high price. The model comes in the standard black with white trim. 
It's a baroque recorder in the key of C. Like the 23Y, the 302BIII is also a 3-piece recorder for better customization of fingers and more consistent construction. 
The plastic Yamaha uses for this model feels like it has more weight and solidity to it. This results in a more mellow and pure recorder sound.
The sound is consistent from recorder to recorder, and they're all in tune with each other. With this model, the sound is full throughout all ranges. 
While this model doesn't break as easily, this is still this product's biggest weakness. 
Yamaha YRS-402B
For those with the highest purity of sound with plastic recorders, the YRS-402B may be exactly what you're looking for. At a high price (for a soprano recorder), you get a brown and cream recorder with stellar consistency in pitch, tone across all ranges, and durable construction. 
The 3-piece baroque-style recorder is made from ECO plastic for a more attractive and mellow tone. 
The windway of the recorder is also arched. This design choice makes it a little harder for beginners to play as you get more control over the tone when you play. 
If beginners don't know how to adjust their airway, they may end with poor tone and intonation. But for experienced players, this is a nice touch allowing for better pitch control and special techniques such as bending pitches. 
Kingsley Kolors: Great Value And Durable
Macie Publishing was founded based on the works of band director and elementary teacher, Ed and Macie Sueta respectively. 
Since 1974, their company has been focused on providing resources and products informed by how students learn rather than theoretical ideas. 
The smaller company places a big emphasis on a family-style business, and if you reach out to them, chances are you'll hear back directly from one of Ed and Macie's 2 children, now in charge of the company. 
Kingsley Kolors
The Kingsley Kolor recorder provides great value. Their price is lower and more in line with what students may be willing to pay. 
Still, for the lower price, the recorder still comes with quite a bit. 
The recorders are available in a variety of colors: 
Red
Blue
Orange
Yellow
Purple
Green
Fuchsia
Black
These recorders are plastic and use baroque-style fingerings. Macie Publishing designed these recorders for durability. 
Its one piece design does sacrifice a little in sound quality and customization, but these recorders will only break under extreme duress. For your young students, this may be exactly what they need. 
With the recorders come one of the nicest cases I've seen. The thick plastic back is almost like leather, and the front is another thick but clear plastic to see what's inside. 
On the case is a nice zipper as well. 
For sound quality, the recorders are in tune, but they have tone issues at the highest and lowest ranges. The lowest range sounds weak, and the highest sounds a little shrill. 
But my students rarely (if ever) play in these ranges.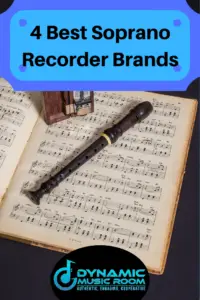 Hohner: Beautiful Sound
Matthias Hohner started this instrument company in 1857 in the land we now call Germany with the goal of providing quality instruments for all peoples. 
A lot has changed since then, but the mission stays the same with this company. Hohner is well-known for its quality instruments, especially the harmonica and accordion where it's the industry leader. 
But in the recorder field, Hohner's products are recognized as a premium option from student players to the professional level. Their goal is always to create the best sounding instrument at each level, and they do succeed. 
Hohner Kids Recorder
Don't let the title of this recorder model fool you! The quality of the Hohner kids recorder is still a step above almost every other student recorder out there. 
For a medium-high price, this 3-piece plastic baroque recorder is designed with sound quality and durability in mind. If your students do drop the little extra money for the recorder, they won't break it easily. 
Hohner built this instrument for beginner and advanced players alike. For your elementary students, this recorder will grow with them as they improve. 
There are different colors available, and the instrument is light-weight and easy to hold for your younger students. The case is nothing to write home about, so you may want to invest in a nicer case if you're serious about keeping it nice.
Check out my massive list of recorder songs for teaching.
Hohner 9550 Pear Wood 2-piece Recorder 
For even a bit more money, this Hohner 9550 recorder is the perfect step up for the serious players. While not professional level yet, this instrument will serve intermediate, advanced, and expert players alike. 
The pear wood material provides a beautiful and mellow sound. Hohner's design offers consistent tone and control over the entire range of pitches. 
The baroque fingering is standard, and the intonation is spot on. It's dark coloration looks classic, and the specially designed shape of the mouthpiece gives musicians a more comfortable piece to play on for their longer practice sessions. 
Your students may not need this recorder, but teachers and those interested in sticking with the recorder will be more than satisfied with its amazing sound. 
Hohner 9532 Baroque Pear Recorder
Perhaps one of the reasons the "lower" levels of Hohner's recorder sound so good is how they start with professional line recorders to base them on. 
This professional pear wood recorder comes in at a higher price, but the sound quality and playability has to be heard to be believed. Professionals and experts will love the control and tender sound coming from this recorder. 
Every little design element has been specially made for optimum sound and playability. From the curved windway, shaped mouthpiece, and scalloped finger holes, this recorder almost seems to play itself. 
On the downside, this great instrument is more fragile than its sturdier, lower-priced counterparts. 
Aulos: Respected And Tough
Aulos USA is a company entirely dedicated to making only recorder and recorder resources for over 50 years. This dedication has resulted in a number of great lines of recorder products for you to check out. 
The name, Aulos, is drawn from an ancient Greek flute popular at the time. Looking at the diagram and construction of the Aulos, a clear line is drawn from it to the Baroque recorder which, in turn, inspired the soprano recorders of today's music classes. 
This lineage is an interesting talking point, and the recorders from this company are quality products. 
I'll discuss two of the common models below, but there are many ones by this company you may wish to check out. 
Aulos A209B Soprano Recorder
This soprano recorder is Aulos' standard for classrooms. It's at a lower price than their other models, but the quality is still there. 
For design, Aulos made this with the intent of being played in school recorder groups. As such, the intonation is consistent across all recorders within each other. 
The design also funnels students into a specific timbre of sound allowing for better natural blend between 20+ recorders at the same time. 
On the flip side, this "funneling' results in a lack of control over the tone, so anyone beyond beginner or intermediate may not want this instrument. 
The recorder itself is brown to simulate wood and durable. Though it comes in 3 pieces, students won't find them breaking as often as other recorders (although the case leaves a lot to be desired).
Aulos A303ADB Recorder
For those wanting students to access a high-quality sound at a medium price, this may be the option for you. With this jump in price, you get a noticeably better sound, increase in durability, and clear step up in case and accessory quality. 
The dark brown color is now off set with a cream accent providing a more natural looking recorder. There is also a thumb rest and thick case with zipper included. 
The 3-piece recorder at this price sounds great, and you'll need to pursue a wooden one if you want a nicer recorder sound. 
Its intonation is solid and consistent with each recorder, and the tone is simply mellow across the range of the recorder. 
Conclusion
I hope you find this in-depth review of the best soprano recorder brands helpful. Any of this would be a great pick for your classroom. 
If you had unlimited budget and wanted purely great sound, I recommend the Hohner recorders. The sound in their higher-priced options is mellow and rich. 
For keeping costs down for students (while also having them last a long time), I just love the Kingsley Kolors. The price is affordable, and these recorders are crazy durable. 
Did I miss any brands you like? Let me know in the comments.