Are you looking for some sound technology to add to your music classroom? 
Has your admin given you a budget for speakers, but you're lost in the massive world of products available? 
I don't blame you. There are a ton of speakers out there and picking from them can be confusing. 
But that's why I made this resource guide for the best speakers for music classrooms. 
Our picks for the best speakers include the following: 
Read on for more details on these speakers and a guide to help you pick out which speakers are good for your classroom. 
The product links in this post are Amazon affiliate links which means I earn a small commission if you buy one of these products from Amazon. However, I can vouch personally for each of these products and never recommend anything I don't believe in. 
Direct Comparison Of The Best Speakers
Have a look at this chart for a direct comparison of the different products. Use this as your reference as you shop, but check out the reviews below for more detailed information. 
Product
Sound Quality
Strongest Features
Price
Best Used For
Monoprice
Good at standard

Great at premium
Surround sound

Multiple options available
Medium to High (depending on option)
Music teachers with a small-medium classroom looking for a little more to a speaker system.
Samson
Good-Great sound quality
Small and portable

Use as desktop speakers or Bluetooth
Medium-High
Music teachers with limited space (on a cart) but don't want to sacrifice sound quality.
Logitech
Amazing sound quality
Powerful sound

Fills up rooms easily
High
Music teachers with a room looking for the best sound.
Bose
Good sound quality
Affordable

Easy to use with a computer
Low
Music teachers looking for simple, but good, desktop speakers.
Ion
Good-great sound quality
Long battery and portable

Powerful sound
Medium
Music teachers who need to bring a powerful, portable speaker around.
UE Boom 2
Good sound quality
Can be carried

Long battery life
Low-medium
Teachers on a budget and teachers on a cart
What To Look For In A Classroom Speaker
There are different factors you may want to consider in your speakers whether you buy from our list or not. In this section, I'll talk about some important factors you may want to be aware of as you read the reviews below. 
Sound Quality
The first element we look for as music teachers is sound quality. One of my gen ed teachers wanted to show me their speaker when they heard I was shopping. 
They were so proud of the deal they got and how loud the speaker was. But when they played music on the system, I was shocked. 
The quality was so poor; I knew I would never buy that speaker. 
Each of the speakers on this has at least a good sound quality (or great in some cases). All companies will claim their speakers are amazing, so what it comes down to is the user experience and reputation of the company. 
Design
There are different types of speakers out there, but for music teachers, you may want to focus on these three kinds. 
Desktop – Desktop speakers are often the standard speakers with computers. These are usually the two smaller, rectangular ones.
For small rooms, these may be all you need, although the standard speakers typically have poor sound quality. However, you can upgrade and get nice ones. 
Surround Sound/Theater – The surround sound or home theater-style speakers are usually considered the best for overall sound. 
You would need to have a classroom you stay in, though. Small to medium classrooms probably don't need this type of speaker system either. 
This type of system usually consists of three parts: 
Central speaker
2-4 satellite speakers
Subwoofer
Portable – Another type you may be interested in are portable speakers. These are usually also called Bluetooth speakers, but the other two types can also be Bluetooth. 
Portable speakers can be carried and moved easily. They can have good sound quality, but smaller ones don't always have the ability to play loud. 
Portable speakers have many uses for any music teacher, but these are essential for those who travel between schools or classrooms. 
Note: I'm also aware of a speaker need for outdoor systems for things like marching band and auditorium systems. But this guide focuses on the music classroom. 
Bluetooth
Another factor to look for in a speaker is if it's Bluetooth compatible. Any speaker type can have it, but desktop speakers don't always have to. 
For music teachers, you may want to consider how you're playing music. Do you use your phone or do you play music from a computer? 
I use a combination, so I make sure my speakers have the Bluetooth ability and have an aux cord nearby to plug into my computers. 
Cost
Sadly, we're often given a budget on what we can purchase (if you're given one at all!). So you need to keep price in mind for these speakers. 
Yes, you can get speakers for dirt cheap, but the quality will be very poor, you may be better off just throwing your money out. 
On this list, I've included more affordable, but still good, options as well as higher-priced ones. But, Amazon and other companies will always be running sales, so make sure you click the links to check current pricing.
Reliability
Lastly, you'll definitely want a speaker that's reliable over time. It's no good if you drop $50 on a speaker just to have it break within a few months. 
The two best ways to avoid an unreliable speaker is to check the reputation of the company and follow up on what users have said about the speaker. 
You can do that on your own, or you can read about it in the reviews below!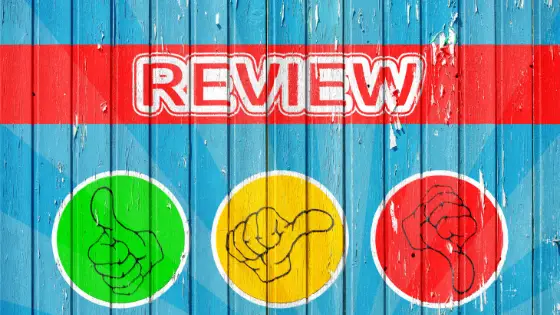 Review Of The Best Speakers For Music Classroom
In this section, I'll discuss my picks for the best speakers for the music classroom. I've either used these myself or had other music teachers recommend them to me. 
Monoprice 5.1 Channel Home Theater Satellite Speakers And Subwoofer – Black
The Monoprice speaker setup is an all-encompassing one. With this system, you get 1 central speaker, 4 satellite speakers, and 1 subwoofer. 
As a theater sound system, the Monoprice speakers will provide a surrounding and clear sound experience for your classroom. This makes it great for music teachers who want the best sound possible. 
The baseline model here is priced middle of the road. But you have some options if you're looking for a little more.
You can upgrade the 8" sub to a 12" sub for more bass sound (as a tuba player, this is what I went for). There's also an option for adding a 100 ft cable. 
You can also upgrade the whole system to the premium 5.1 system at a higher price. This premium option provides even more clear sound at loud and soft dynamics.
Additionally, all versions come with four C brackets for mounting the satellite speakers around the room. 
Pros For This Product: 
Great sound quality
Easy mounting
Affordable price for theater-style system
Cons For This Product: 
Logos may peel over time
Listening too loud will blow the speakers
Pair Samson BT3 MediaOne 3″ Powered Studio Monitors w/Bluetooth+Stands+Subwoofer
This package by Samson includes 2 studio-style speakers, stands for the speakers, and audio cables. 
These speakers are meant as serious desktop speakers. Between the good speakers and the subwoofer, you'll get a powerful sound from these 3" speakers. 
One of the best features of these speakers is their Bluetooth capabilities. You can plug them directly into your computer as needed, or move them around and pair them to your phone or tablet for a more surround sound effect. 
The versatility of these speakers is what accounts for their higher price, but Samson Technologies has a good reputation for speakers. You can trust them. 
On a personal note, I used these with one of my previous jobs when I was in the cafeteria and had to make sure I could move my speakers back into my office/closet. 
Pros For This Product: 
Great sound quality
Inclusion of stands and subwoofer is useful
Bluetooth is helpful and easy to use
Versatile in usage
Cons For This Product: 
Logitech Z906 5.1 Surround Sound Speaker System
Here is another 5.1 surround sound system, but this one comes from Logitech. Logitech has a stellar reputation when it comes to speakers, so you can trust its reliability. 
This system costs a bigger chunk of change, but it comes with quite a bit. 
In this system, you get: 
1 central speaker
1 subwoofer
4 satellite speakers
1 console to handle up to 6 input devices
1 remote
The console connects with standard digital and analog inputs. 
The remote is a nice feature as you can have better control over the sound from afar. With 4 satellite speakers (and the central one can be used as a satellite speaker too) you'll feel like you're in a movie theater or concert hall. 
The mounting for these speakers is simple, and the subwoofer is a step above most other ones at this price point. 
Pros For This Product: 
Amazing sound quality
Great sound power
Remote and console allow for multiple connections and easy use
Surround sound gives a feel of live performance
Cons For This Product: 
Higher price
May be trickier to set up
Bose Companion 2 Series III Multimedia Speakers
Desktop speakers are quite easy to use. All you need to do is plug them into your desktop or laptop and go. 
But, they tend to have poor quality. This isn't always the case as the Bose desktop speakers show. 
This speaker product by the legendary Bose company is very affordable and provides good sound for your computer. If all you need is a simple but effective speaker, you won't be disappointed with this one. 
It has a simple volume control knob and auxiliary cable connection. This is simple, but maybe that's all you need. 
These speakers don't take up much room, so you can keep them on a small desk or on your cart. 
Pros For This Product: 
Affordable price
Good power for size
Easy to use
Cons For This Product:
Not as quality as more expensive options 
ION Audio Block Rocker Plus
This portable ION speaker was built for outdoor events, but it works well in the music classroom environment. For a medium price, you still get a lot of advanced features you wouldn't normally see. 
Two of the biggest things this speaker offers are its long battery life (50 hours) and ability to connect through Bluetooth. Many music teachers at this point are running music through their phones or tablets. 
Another draw is the powerful sound of the speaker. ION's product has very nice sound quality and a strong sound projecting over spaces. 
The pull-out handle makes it easy to move despite its larger size, and the tough construction means that clumsy Kindergarteners aren't going to break it by bumping into it. 
You can use it to play radio, connect through Bluetooth, or via an aux cord. Heck, you can even charge your phone from its battery. 
Pros For This Product: 
Good sound quality
Long battery life
Bluetooth and portable
Strong sound
Durable design
Cons For This Product: 
A little bulky (although the wheels help)
UE Boom 2
Ultimate Ears (UE) and their Boom 2 is the speaker my wife (also a music teacher) uses in her classroom. This portable Bluetooth speaker is small enough to be carried in one hand, yet powerful enough to fill up a whole room. 
I borrowed hers and used it when I had to teach music in a gym, so I can speak to its projecting power. 
The sound quality is pretty good with a fairly strong bass, and the battery lasts for a while too. 
The Bluetooth pairing is simple to do, and you can also use the aux cord if you want to. 
UE claims this speaker is shockproof and waterproof. I don't know exactly how waterproof it is, but I've dropped it before (ok, several times) without a negative effect. 
Pros For This Product: 
Very portable
Loud sound
Lower price
Easy to use
Cons For This Product: 
 Some users report the speaker losing its connection functionality after a year
Conclusions And Recommendations
I hope you found this resource guide on the best speakers for music classrooms helpful. There are a lot out there, but with these 6 choices, you should be able to find one that suits your needs. 
Here is what I recommend for these different situations: 
Room and big budget: Logitech
Room and low budget: Monoprice, Bose, or Samson
Cart and budget: ION 
Cart and low budget: UE Boom 2 or Bose
Pro-tip: Make sure to check those prices for sales and to compare with buying one from another source. 
What speakers do you use in your classroom? Let us know in the comments below.