Do you want some boomwhacker ideas? 
Are you looking for new lesson plans to do with your elementary students?
Sometimes we get stuck in a rut. 
After teaching elementary music for over 10 years, I've been here a few times myself. 
One of the best ways to bust out of the funk is by doing something new or just plain fun. 
A go-to for myself, and most others, are boomwhackers. 
But how do we use them effectively? 
I asked around and reflected on my own experience to help you with these 4 awesome boomwhackers lesson plans. 
Great boomwhacker lessons include pitches using their color-coded play-style. Most music teachers do lessons in melody, harmony, beat, and science with these unique instruments. 
What Are Boomwhackers?
Boomwhackers are plastic colored tubes. 
They've taken the music world by storm because of their durability, affordability, and fun! 
Check out these boomwhackers on Amazon.
Each tube is cut to a different length giving it a different pitch. 
The boomwhackers play the diatonic pitches in C major. 
Each pitch is given a color to make it easier to create color-coded songs. 
This allows students to read quickly. 
Check out the notation in the lessons below, which are color-coded. 
(Did you know Flat.io does this for you?)
They're now immensely popular in the music teaching world, but not everyone agrees on how useful or good they actually are. 
Pros For Boomwhackers
Durability
These things are tough. 
Yes, when squeezed or stepped on, they will collapse, but they'll bend back out fairly well. 
Other than this, they're designed to be whacked either on the shoe, hand, floor or together. 
In an elementary world, this durability is as good as gold. 
Price
A single set of handbells or a single xylophone may cost anywhere from $50-250. 
Boomwhackers are much more affordable. 
It's possible to get complete sets for a fraction of this price. 
Still, it's best to buy these in bundles where possible. 
The link from above is to a great bundle on Amazon, so be sure to check it out. 
Fun
Don't lie. 
We all love to smack things. 
Even if you say you don't, we all know kids love hitting things. 
It's the reason we give babies pots and pans to bang on and play with. 
It's the reason almost every single kid, at some point, dreams of playing the drums. 
Hitting things is fun!
We play boomwhackers by hitting them on things or hitting them together. 
It's simple fun, but kids of all ages love it. 
I've even done this with college students too, and they get excited!
Color-coded
From a teaching standpoint, their color-coded nature is quite helpful. 
Put the notation up for students to read, and they'll do it much quicker by matching the color of the notes to the tubes they have in their hands. 
When practicing chords and harmonies, show the colors to get them playing the right ones faster. 
I've even had students tell me (years later), they still think of chords in colors matching what our boomwhackers showed. 
Cons For Boomwhackers
Sound Quality 
As a music teacher, I want my kids to experience high-quality sounds. 
Boomwhackers don't sound great. 
Yes, it's possible to play them in a way that sounds OK, but it's just a pitched thump most of the time.
Normally, I'll play handbells, which sound better and serve the same purpose. 
Check out these Rhythm Band Handbells on Amazon. They're hands-down the BEST option for an elementary music room. 
Still, the benefits outweigh this negative, at least on occasion. 
Dexterity 
As an instrument, they don't really teach much about the finesse of playing music. 
It's pretty brutal the way in which we play them. 
Even the "pros" who play them where it sounds so cool are basically just hitting them. 
Dangerous without procedures
Depending on your class, a boomwhacker lesson may go awry quickly! 
They're big, colorful tubes that look kind of like lightsabers! 
Setting up procedures beforehand and following through every time is critical to keeping things under control. 
4 Awesome Boomwhackers Lesson Plans
Here are 4 simple but awesome lesson plans (check out my Kodaly lesson plan template) for boomwhackers. 
I kept it general to allow you room to adapt for other songs and lessons as well. 
You may also want to check out the Boom! Boom! Book filled with movie and TV themes arranged for boomwhackers. 
Playing A Simple Song
The first activity you may want to try is playing a simple song. 
Of course, it's not as simple as putting the notes in front of the students and handing out the boomwhackers. 
Here are the procedures I go through when playing a simple melody with students: 
Show the notation
Read the rhythms using rhythm syllables
Sing with solfege (where applicable and possible)
Split into groups for each boomwhacker note
Play slowly out of rhythm by pointing to each group one at a time in order of the melody
Slowly perform in tempo while students say the letters or solfege
Speed up gradually to at-tempo
Remove the singing and only play
One song that works perfectly for this is Old MacDonald. 
Please note the sheet music was made in Flat.io. 
They have an easy layout option to color-code the notes exactly for this purpose.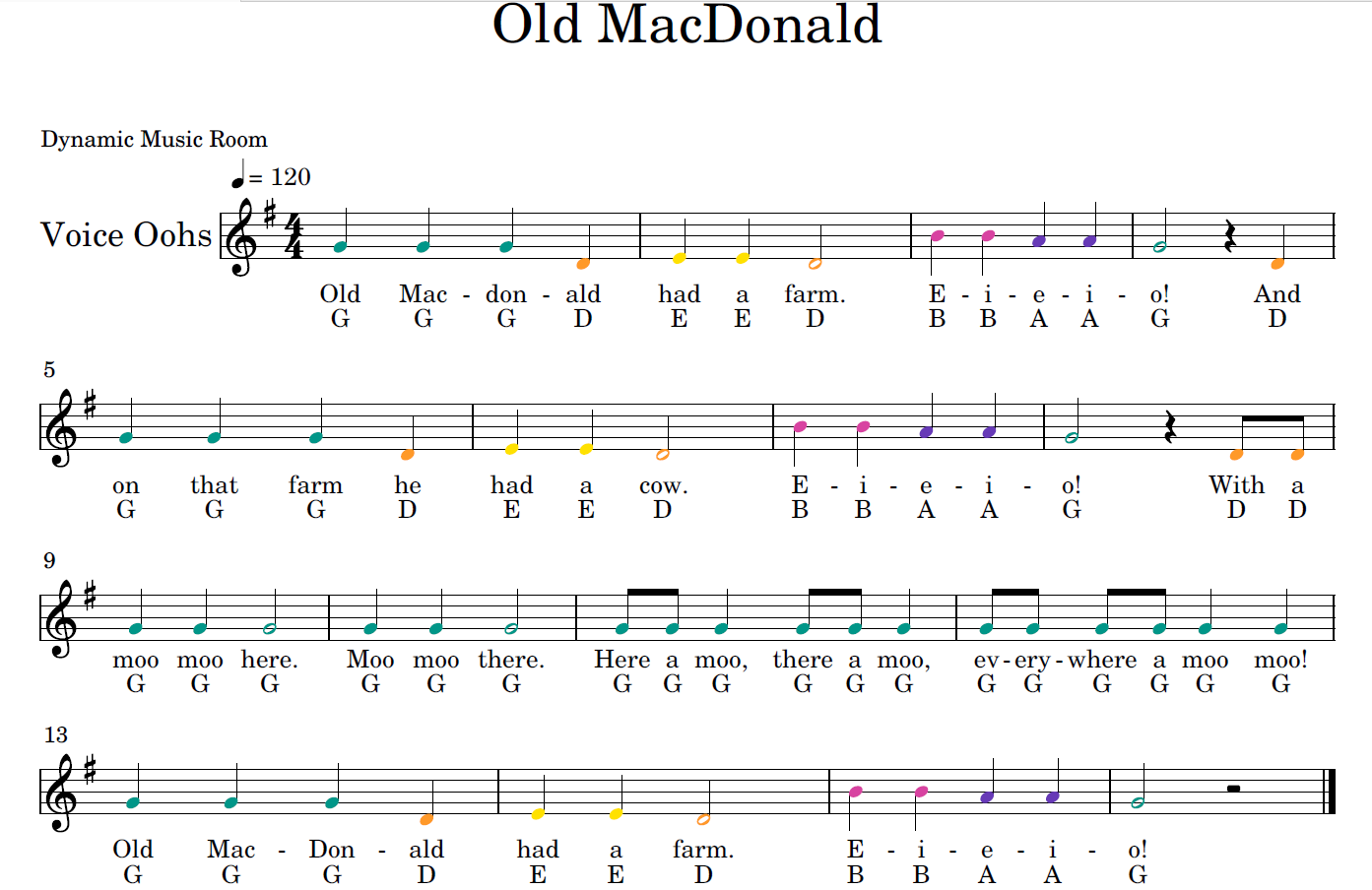 Adding In Some Harmony
This may be a lesson you do with your older elementary students. 
I've also done this with college students to help explain how harmony works. 
Start by talking about what chords are, specifically looking at triads. 
Talk about the C triad, F triad, and G triad. 
Facilitate students to figure it out and then play what each one sounds like. 
Label each one as I, IV, and V. 
Explain how they work together to make songs sound finished.
Look at the colors and labels of Twinkle Twinkle. 
Play through the harmonies without the song. 
Then, add the song in. 
Note: This song also works great in the melody section. 
Keeping The Beat: Boomwhackers Lesson Plan For Preschool
You may also want to check out other Preschool music with instruments.
Experienced music teachers know that half of preschool music is just keeping them entertained. 
To this end, we need to repeat a lot of the same activities with new "gimmicks." 
One of the gimmicks for steady beat is done easily by letting the kids play boomwhackers. 
They sound cool as a drone underneath any number of lower elementary songs. 
Try this with Froggy in the Meadow.  
This activity is easily paired with any songbook or elementary music books.
Click the link to check out my list of 27 favorites.
The Science Of Sound
Here's another one to do with your older students. 
I usually do this with Fourth grade or above. 
In my state, this is where the general education teachers cover sound waves, so this pairs nicely with their teaching. 
Discuss how sound waves work, faster waves are higher. 
Have them look at the boomwhackers and predict which ones will be higher and lower in pitch than the others. 
Go through, play, and write down the conclusions. 
In the process, students will discover the longer a vibrating object is, the lower its pitch. 
Connect this through other instruments such as xylophones. 
I enjoy pairing this lesson with this video below. 
Final Thoughts
I hope you find these boomwhackers lesson plans useful in your classroom. 
Whether playing a simple song, harmony, beat, or learning about the science of sound, boomwhackers are an excellent addition to any music teacher's instrument list. 
Don't forget to check out the boomwhackers on Amazon if you're interested. 
Looking for more instruments? 
Check out the best instruments for elementary students.