Do you want some fun circle games to use in your music class?
Are you tired of using the same activities over and over?
We all get stuck in a rut sometimes with our favorites. This doesn't mean we need to get rid of them, but it means we need to add some variety to our resources and songs. 
After hearing people ask for more ideas, I decided to look back on my over-a-decade of teaching and to present to share 6 of my favorite circle games for music class. 
Sally Go 'Round The Sun
Little Sally Walker
Simple Gifts
Let Us Chase The Squirrel
Apple Tree
Charlie Over The Ocean
Let's dig into the notation and explanation of the games below.
What Is A Circle Game?
A circle game is a game played in a circle. Usually, it's paired with music and uses challenging motion or movement with your hands. It's most commonly used in younger grades, but older grades enjoy it as well. 
These games may or may not use a partner; it depends on the activity itself. 
Circle songs and movements have been a part of numerous cultures from around the world since the beginning of time. 
Music teachers use this type of activity to build awareness of steady beat, accompany with instruments, introduce rhythm and pitch notes, and tech form. 
Of course, teachers also use them because they're fun! 
Folk dances in a circle formation may or may not be true circle games; it depends on the teacher's point of view. 
Personally, I consider folk dances in circle formation an advanced version of the typical circle game. 
They may be played standing or sitting on the floor; the key is that the students are in a circle shape. 
6 Of My Favorite Circle Games For Music Class 
In this section, I'll be sharing my favorite circle singing games to use in your music class. 
If I don't include the notation here, I'll include a link to the dedicated article I posted on my website.
Sally Go 'Round The Sun
This game is a blast to play and perfect for younger grades. I usually do this with first graders. 
Here is my version of the game. 
Students stand in a circle and walk to the right as the song goes. 
On the word "Boom," students jump and turn around to go the other direction. 
Switch up the sounds used in the song. Each sound means something different. 
Boom = jump and turn around.
Whoop = spin in one whole circle and keep going the same direction.
Ha! = clap and keep going the same direction.
Wooo (in a descending pitch) = crouch down and continue moving while crouched.
Wooo (in an ascending pitch) = stand back like normal and keep going.
Little Sally Walker
This game is one a lot of students love to play. It's basically a copy cat game. 
I use this one in Kindergarten and First, but I know even Second and Third graders enjoy it. 
Students stand in a circle, and the leader skips around the circle until the words "stopped in front of me." 
The leader stops in front of someone and does a dance move. Then they switch with that person while the whole class copies their moves. 
Pro-tip: You may find it helpful to give movement suggestions. Good examples include:
Clapping your hands
Patting your knees
 Doing the dab
Disco moves
Jumping
This is chant; check out this video for how to say it.
Simple Gifts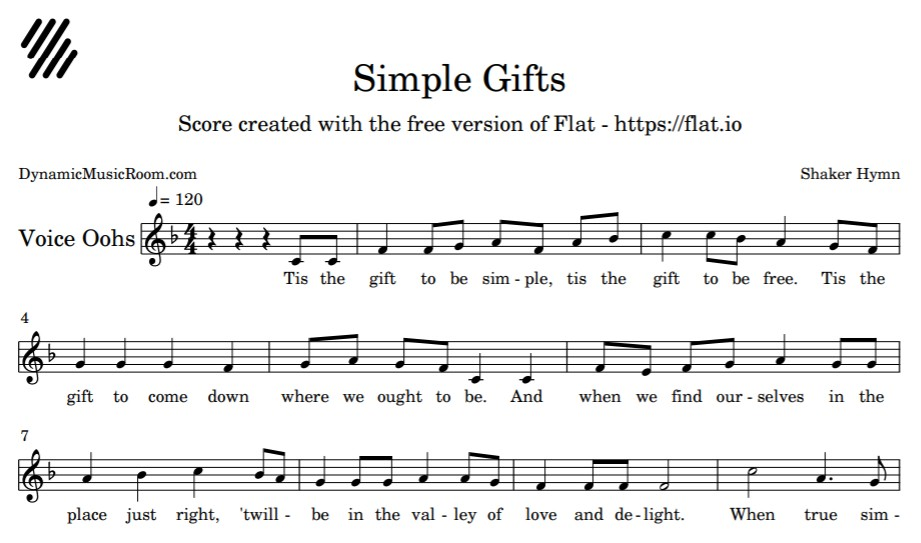 Here is a singing game for the older students, one I made up myself. 
This one encourages collaboration as well as the other elements of the song, specifically form. 
It will likely take a couple of weeks to learn all the words to this one, but it's worth it. 
Plus, it's just an amazing song. (The complex rhythms of eight note anacrusis and dotted quarter note help too!)
This fun game helps older students get motivated in developing a more extensive range of pitch matching. 
Phase 1 – Just The Moves
Students walk to the right with their left hands in the middle. (16 beats)
"…where we ought to be…" clap and turn around with right hand in the middle. 
Walk to the left (8 beats) and clap/stop on the word "right."
"Twill be in the valley of love and delight." Two slow bows. (8 beats)
Quick, small hands waves to the beat. (8 beats)
Big two-beat motions up and down. (8 beats) 
Turn in a circle to the right for 8 beats (clap on 7).
Turn in a circle to the left for 8 beats (clap on 7). 
Phase 2 – With A Parachute
Repeat the same moves with a parachute. Steps 5 and 6 become shaking the parachute, first small, and then large. 
Encourage collaboration by giving students score based on how well they remember the moves, if they're with the beat, and if they remember the song (after they've heard it enough to learn it). 
Phase 3 – Add Items
Put items on top of the parachute, such as scarves, bean bags, or small stuffed animals. 
Start with a few and add more if they keep most of the items on. 
Explain that more items will stay on if they stay together to the beat. This is absolutely true and increases focus. 
Let Us Chase The Squirrel
Check out this full Let Us Chase Squirrel lesson plan. 
I love this singing game for second and third grade. 
It's a chase game, which is always fun to play. 
Here's how I play it: 
One student is a squirrel; another is a dog. 
The rest of the students stand in a circle with their hands joined. 
As the class sings the song, the dog (inside the circle) escapes and chases the squirrel, and tries to tag them. 
The squirrel may go in and out of the fence to escape the dog. 
If the dog tags the squirrel, the game is over, and the dog wins. When the song goes through once, the game is over, and the squirrel wins. 
Then, they pick new students to take their roles. 
It's simple but a ton of fun. 
Apple Tree
This classic song for Kindergarten and First grade is much like London Bridge, except the bridge is now a tree. 
I also play it where the students who get captured add on to the tree, so it gets larger and larger until all students are part of the tree. 
Check out this video for a demonstration. 
Charlie Over The Ocean
Charlie Over The Ocean is an echo song, chase game, and a circle game. Triple whammy! 
This is perfect for K-2 students.
Play it just like Duck Duck Goose. 
Check out more details for Charlie Over The Ocean. 
Circle Game Resources
If you want more circle games, here are my favorite resources. 
Disclaimer: Some links may be affiliate in nature, which means we earn a small commission if you click and buy at no extra cost to you. Thanks in advance! 
The Book of Beginning Circle Games – It doesn't get much more on-the-nose than this. 
This book is chocked full of circle games for you to try out with your students. 
These ones are pretty simple, so perfect for your preschool-second grade students. 
The Book Of Simple Song and Circles – This is made by the same people as above (Dr. Feierabend of First Steps in Music). 
It's perfect for songs and circle games for preschoolers; it may be a little light on the older students, though. 
Folk Dances From Around The World – This book is more focused on folk dancing, but there are a number of circle games for all ages to try out. 
On top of this, it adds some exposure to other cultures, which is crucial for diversity in today's schools. 
Final Thoughts
I hope you found this list of circle games for music class helpful. 
These are a traditional and fun way to introduce concepts and build cooperation. 
I hope you found something new in this post!