Have you heard about Flowkey, but you want to know more before trying it out? 
Are you looking for a detailed Flowkey review to help you decided if it's worth it?
As a music teacher and private lesson instructor, I've helped many people improve and learn the piano. Over the years, I've noticed two big problems with my students and other learners.
I've seen this even in myself! 
Lack of motivation
Lack of direction
This is especially true when I see people attempting to learn piano on their own. In fact, most people will quit trying to learn within a month. 
What's the problem? 
The program, book, app, or lessons they're taking don't equally address the lack of motivation and lack of direction. 
Enter Flowkey. 
When one of my students first introduced me to Flowkey, I blew it off. But as I thought about it, I realized I needed to give online learning programs like this more of a chance. 
So I decided to look into it more closely to give a better opinion on whether or not this can help my students. 
I then decided to write up this detailed Flowkey review for all of you to determine if it's what you need.  
Even trying it out myself, I found myself improving and having fun. 
In this article, I'll dig into why I think Flowkey is exactly the piano learning app you and your students need. 
Disclosure: I'm an affiliate for Flowkey, but I do believe the program is great as I'll discuss below.
What Is Flowkey?
Flowkey is a piano learning and playing app created through the Yamaha corporation. It's available through a browser-based program, Apple app, and Google app. 
I'll go over my favorite features in more details below, but the main elements of this program that make it stand out are: 
1,500+ songs
Thorough and video responsive courses for all levels of players
Piano-focused instruction
Some apps try to have it all, and there's nothing wrong with this, but Flowkey decided to provide the best instruction possible on one thing, piano. It really shows with the details and courses. 
Flowkey is a subscription-based program with a free and premium level. 
The free level gives access to 8 popular piano songs and a selection of the courses. Check it out.
The paid version gives you access to all of their thousands of tutorials, sheet music, and piano lessons
Flowkey Review: Pros And Cons
Now that we know a little more about what Flowkey is, it's time to look at the pros and cons. 
I approach this from the perspective of an experienced music teacher who knows what kinds of things help beginners and advanced players improve. 
Let's get started! 
7 Pros For Flowkey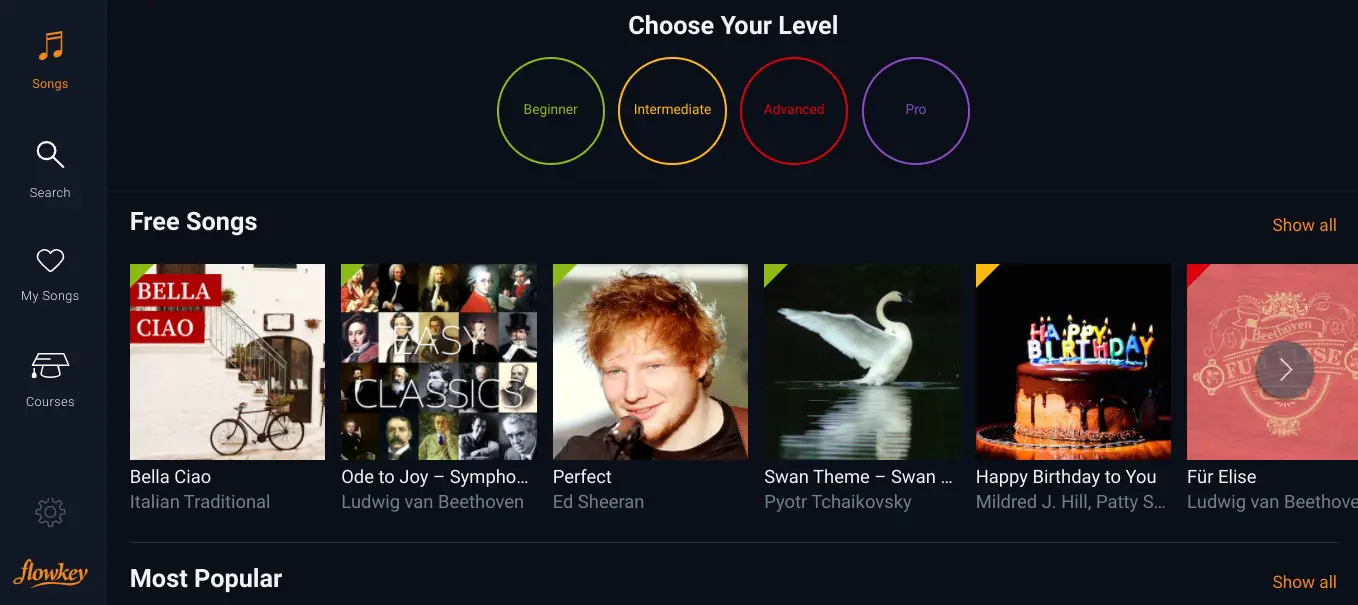 Organized And Massive Song List
Let's take a look at the best features for learning proper technique even with an absolute beginner.
The first and biggest draw for me with Flowkey is its absolutely massive song list. They have a selection of over 1,500 songs all organized by category and ability level, so you should have no problem finding your favorite song at your playing ability. 
Once I first signed up for the program, I'll admit I got lost searching through the deep catalog. 
Their categories include the following all tagged with Beginner, Intermediate, Advanced, and Pro levels: 
Romantic
Classical Music
Pop Hits
Film and TV
Game Music
Jazz
Melancholy
Evergreens
Happy
Rock
Partners
Groovy
Kids
Traditional
R&B
Energetic
Mellow
Christmas 
Asian Pop 
Smooth
These song lists go over much more than the chords for each song. It also includes lessons and tools to anticipate what questions you may have while learning to help you tackle the song of your dreams. 
Full access to this online piano course gives you instant access to all these easy songs and hard songs.
The free trial and free songs are limited, but they'll give you a good idea of how the music lessons and learning experience work with Flowkey.
Responsive Course For Well-Rounded Piano Training
As a music teacher, I'm also looking for apps offering some form of course for new players. Most programs will offer courses, but they are missing out on some key aspects of well-rounded piano playing. 
I can't tell you how many times I have students come to me after learning from an app, and they almost always are missing some important piece of the piano puzzle. 
Then, I had a student ask me about Flowkey. 
I checked it out and…wow! 
The courses covered specific technical details all piano players need to improve. Trust me, this isn't very common with online programs. 
Beginners especially will get a lot out of these courses, but I found it helpful as an experienced player to go over them too. 
The courses cover such things as: 
Posture
Hand positions
Technical exercises
Music theory
Improvisation
And more!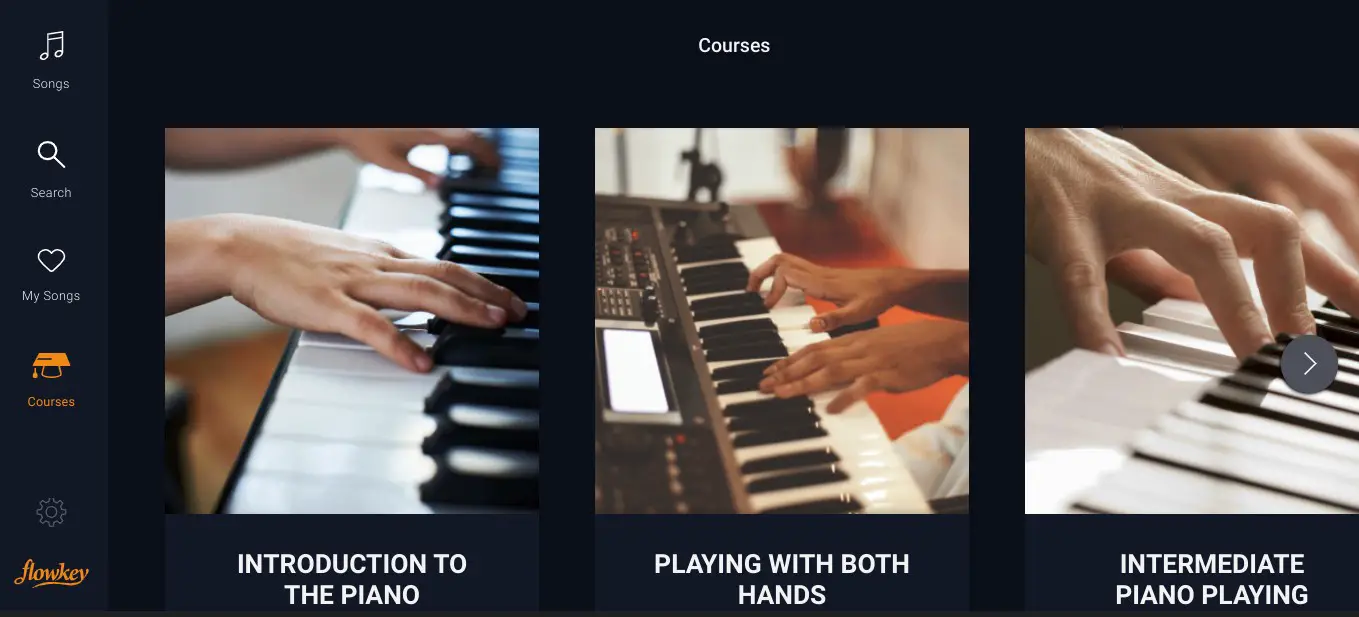 Embedded Video Tutorials
As I said before, even though I'm a music teacher, this doesn't make me a great piano player. 
I would consider myself solidly OK, but I still learn piano best by reading the music AND watching someone actually play it. 
It's only with a lot of practice does the skill of seamlessly reading fingerings and playing come along. 
Fortunately, with every song and lesson, Flowkey includes a video (adjustable by speed) of someone playing the piano parts while the notation goes by. 
Best of all, the notes light up as the person plays them making it easier to see. 
Even though I've been a musician for over 20 years, I'm not ashamed to admit how much watching the player helped me. 
(Don't worry music teachers, the notes are still there!)
If you haven't picked up on it yet, the user-interface is so intuitive even your youngest and oldest students will pick it up with little effort. 
If you're young or old yourself, don't be afraid. It'll help you learn it, and the online help is great at answering questions. 
Looping
For each of the literal thousands of songs available to learn, you have the ability to set up loops for practicing. 
These loops are needed to master difficult sections more effectively. 
While looping certainly isn't a feature exclusive to Flowkey, it is simple to do and an important part of anyone's musical improvement. 
In fact, this is one of the best ways to learn new chords and other music theory elements.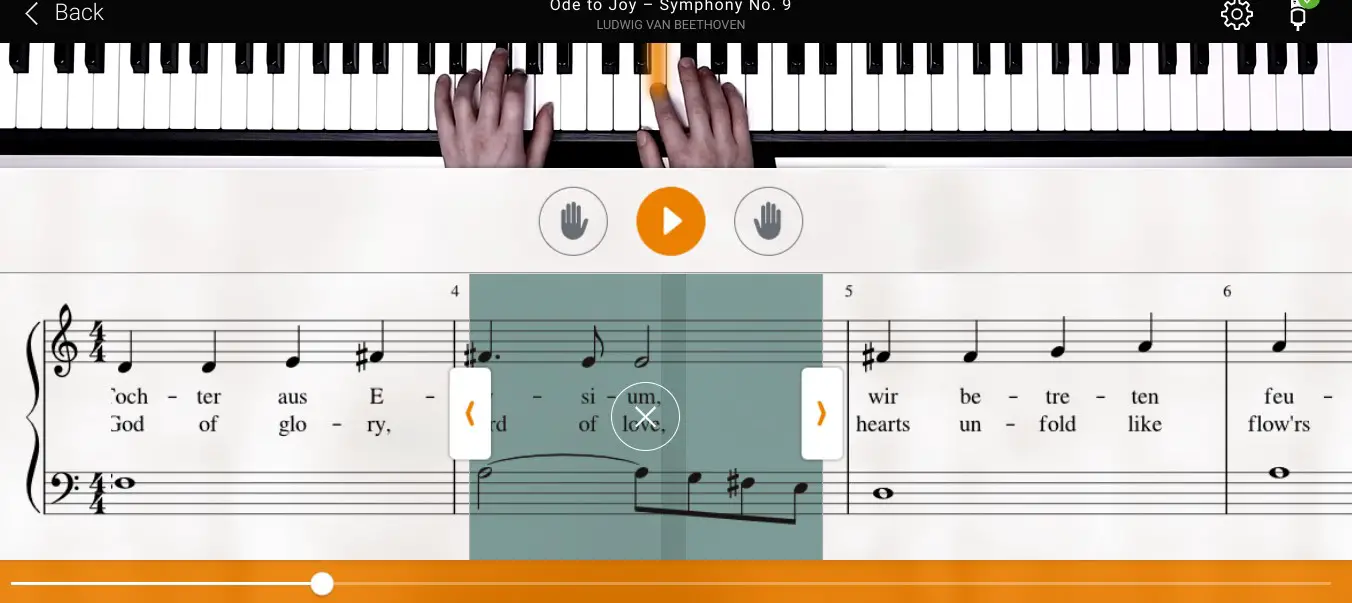 Wait-For-You Practicing
When I was a kid in school, I played along on my main instrument (tuba) with many recordings. It's one of the best ways to improve.
But I always struggled when difficult sections came up. If I missed something, the recording went on without me. 
Sounds like I needed some wait mode playing like there is with Flowkey. 
If you give Flowkey access to your microphone, the program will listen to your playing and (when selected) wait for you if you get stuck. 
Flowkey also connects with MIDI keyboards for even more accuracy and also practicing with headphones on. 
This tool, in particular, is great for developing sight reading skills. 
When you sight read, you play the music on looking at it the first time. 
It's a tough skill to develop, but the way it waits for you to follow along really does help with confidence in sight reading. 
Highlighting Keys
I mentioned it a little above, but I'm bringing it up again. The highlighted key, while you play and read, is awesome. Sure, there are other programs and videos doing a similar thing, but most don't track while you play. 
Most of the video and highlighting effects aren't as "clean" as Flowkey's either. 
Maybe I'm just getting old (answer: yes), but some videos and other programs are hard for my eyes to see. Flowkey's highlighting is simple and clear enough even for me to read without struggling. 
Tempo Change For Practice
"Practice it slow until you can play it fast." 
I've heard some version of this advice from every music mentor I've ever had. Flowkey knows this and offers an easy-to-use tempo changing setting. 
What really makes this feature stick out for me is the quality of video and audio stay (almost) the same. 
They call this slow mode. 
Often, when you change the speed of a video or song, the audio becomes distorted or changes pitch, and the video gets chunky. 
Flowkey's has almost no perceptible changes allowing you to better play along. 
It almost makes me think they recorded it a bunch of times at different tempi. Almost.
Cons For Flowkey
Price
The price may be something that scares you off from Flowkey. 
I think this is a mistake on your part, though I do understand it. 
Think about it from this perspective: 
Weekly lessons cost, on average, $25 per week. 
Yes, you get a live piano teacher which is something you can't replace. 
But over a year (52 weeks) you're looking at $1,300 in lessons. 
One year of Flowkey costs $240 per year if you pay by month and $120 if you pay for the whole year in one sitting. 
Online Format
The online format may not be everyone's cup of tea, but it works well for learning piano. 
Given time, the tools will help you break bad habits and learn entire songs you never thought possible.
But giving it the time is all on you and your motivation. 
Less Direct Feedback
You'll get feedback from the program, but it won't be able to tell you if you're using bad posture or the wrong fingers. 
For advanced players, this won't be a hug problem, but you've already got it down. 
For beginner and intermediate level players, this may hold you back. 
Still, it's worth checking out for these players too, but you may want to review the courses as needed and ask a piano teacher to check you out on occasion. 
Is Flowkey Worth The Money?
It all depends on what you'll use it for, but in my opinion, it's more than worth the price. 
If you pay $25 per private lesson (which is on the low end), you'll end up paying $100 per month. 
As of now, Flowkey costs $20 per month if you pay monthly (even less if you pay by the year). 
So in pure terms of fiscal responsibility, Flowkey is worth it. 
But if you buy it and never use it, then it won't be worth it. 
However, if you're serious at all about learning a little more piano, it's worth a shot. 
You can always sign up for a month and then cancel the subscription if you don't like it anymore. 
There is a free version of the Flowkey app with limited songs and courses to try out too.
Is Flowkey Or Simply Piano Better?
Both piano learning programs do a great job, but Flowkey is better for most people. 
While the practice and learning tools are similar, Flowkey beats out Simply Piano in two major areas. 
It has a much larger song library. 
The lessons and courses move faster and more effectively. 
The song library is critical for motivation. 
If all you do is play out of books, you won't stay motivated to keep learning when the learning gets tough. 
After all, we don't start learning a new instrument because we love the exercises. 
We start because we want to play real music. 
Flowkey gets you there with its large list of specific songs.
Flowkey also does a better job of moving your skill level along the learning process (especially when it comes to practicing the right hand and left hand piano parts).
The lessons are better paced by moving quickly and developing a wide range of musical skills. 
Does Flowkey Have Full Songs?
Flowkey has full songs in their library (several thousand at last count!). 
Each one is sorted by genre and difficulty level, including classical music, popular songs., and jazz. 
And even better, each one comes equipped with learning tools to help you master them quickly. 
I go into more details on those tools in the section above. 
It may not have every single current song (getting the rights takes time), but it adds more new songs quite often. 
Chances are, you'll be able to find many songs you love to learn to play on the piano. 
The free trial also has a lot of songs, but not nearly as many.
Don't take it as a sign that the full program won't have a lot.
Is Yousician Better Than Flowkey?
Don't get me wrong: I love Yousician. 
But when it comes to piano, Flowkey is much better overall. 
Yousician is good for learning bits of piano, but it's not really comprehensive. 
The song library is much weaker too. 
I love Yousician for ukulele or guitar (especially with the complete beginner), but for the piano, the tools and courses from Flowkey are the way to go. 
Yousician doesn't really help you with reading sheet music either.
Can You Share Flowkey?
When you buy Flowkey, you are not allowed to share the login with multiple users. 
They do let you log in via various devices, so you can practice with whatever you've got on hand. 
In practice, password sharing is tough to police, though it is a violation of the terms and conditions. 
If you have multiple users in your house, though, it's OK to share in a single home. 
For the best results, use a MIDI keyboard with a tablet (or built-in screen if you're that fancy) to make practicing as easy as possible. 
This doesn't mean it won't work with acoustic piano and only digital piano.
It's just that the piano apps can connect with a digital keyboard for instant feedback.
Final Thoughts
Is Flowkey for everyone? Maybe not. 
It IS a good option for anyone looking to learn how to play piano or play it better using an online program or app. 
With its specializing in piano, massive song list, well-rounded courses, and huge list of user-friendly features, it's certainly one anyone at any ability level should at least check out. 
Your favorite songs have never been so closely in your reach. 
What are you waiting for?