Are you looking for an easy song to play on the recorder?
Do you want a little more help mastering B-A-G?
Whether you're a teacher or a player yourself, Gently Sleep is a beautiful and straightforward tune you'll want to check out. 
But you may want some help in the process of learning this song. 
We've got you covered with this simple guide for how to play Gently Sleep on the recorder. 
Gently Sleep – Recorder Karate is a simple song using B-A-G, which are the most common notes to start learning recorders. This recorder melody uses largely step-wise motion with a skip at the end of each phrase. 
Let's dig in! 
Gently Sleep – Recorder Karate Notes
In this version with recorder, we'll use the notes B-A-G. 
For help with a basic recorder fingering chart, click the link.
Here's a brief explanation of how to play each note.
Because this song uses only three notes, it's one of the best easy songs on the recorder. Click the link to check out more.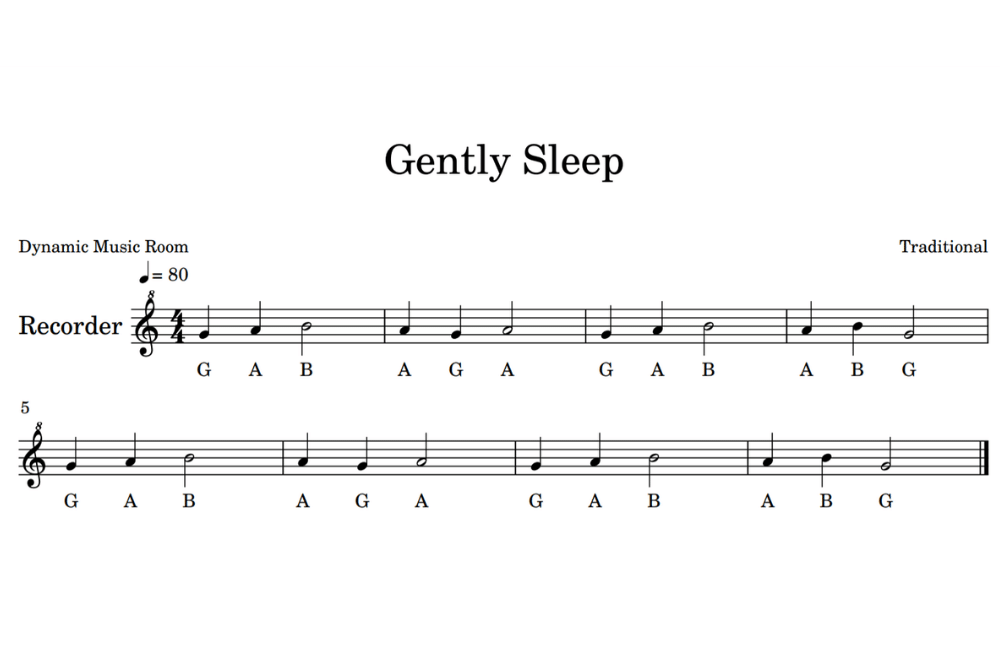 How To Play Gently Sleep On The Recorder
While this isn't a trick song to learn by any means, you may want a little help with the learning procedure. Here are the steps I've used with my students for over a decade. 
#1 First Two Measures
It's always good to start at the beginning or with the section you'll be most successful at. For this song, it's both. 
Take a look at the B-A-G-A-G-A and put it together. Take care each note sounds good by making sure you: 
Cover the holes
Use soft air
Use a gentle "T" tongue to start each note
Learn more at my video on how to make the recorder sound good. 
#2 Connect To Second Phrase
With this phrase mastered, I always like to have my students recognize when musical elements occur again. 
This is a critical skill for any musician and makes learning all songs easier. 
For this instance, the exact phrase appears again in the 5th measure, and the opening is the same as the second pairs of bars at 3 and 7. 
#3 Master The B-G Leap
Next, you need to master the tricky B-G leap. It's not that hard, but it may take some concentrated practice depending on your ability. 
Go back and forth from B-G-B-G to get those two fingers (the middle and ring) moving together to make the leap smooth. 
Then, put it together with the A for the whole line. B-A-G-A-B-G. 
#4 Put It Together
Finally, it's time to put it all together. 
If everything so far had been challenging, I'd advise you to begin by fingering and saying the letters without playing. 
This will help you master the coordination without worrying when the sounds aren't quite right. 
Then, give it a shot with playing the whole thing. Reflect and practice the complex parts as needed. 
Congrats! You did it!
Video For Learning Gently Sleep
I don't currently have a video on this song (yet), so for now, check out this simple video on playing the music. 
Final Thoughts
I hope you enjoyed learning Gently Sleep. It's a simple but great song to learn. 
Make sure to check out our other recorder questions, information, and song guides in the sections at the top of the page. 
Keep on playing!