Do you struggle with finding useful song resources? 
Are you looking for songs to use when following the Kodaly method?
Folk songs and quality music is a vital element of the Kodaly approach to teaching music. 
But with so many songs out there, which ones should you choose? 
It's hard to sort out the excellent song resources from the bad ones. 
This is a struggle I went through as a music teacher for over 10 years as well, and I want to help you navigate the world of folk songs a little easier with this guide on finding Kodaly songs. 
Kodaly folk songs were always intended to be the music of the students' cultural heritage. For this reason, it's up to you to decide which songs to use. This being said, here are 4 great resources: 
American Folk Song Collection
Kodaly Song Analysis Directory
Dynamic Music Room Songs and Lessons
Kodaly Song Web
Look ahead for links and reviews of these 4 resources along with a guide for how to pick songs. 
Resources For Kodaly Songs
In this section, I'll link to the relevant resource and go over its pros and cons. 
American Folk Song Collection
This is the big one. 
Holy Names University was the first major Kodaly certification program in the United States. 
They began this digital collection. 
The list is massive and sortable by concept and theme. 
They are always adding to the collection (not really adding, just digitizing what they already have). 
Check out the video review I did of the platform at the top of this section. 
(Don't forget to subscribe to the YouTube channel if you like the content!). 
Kodaly Song Analysis Directory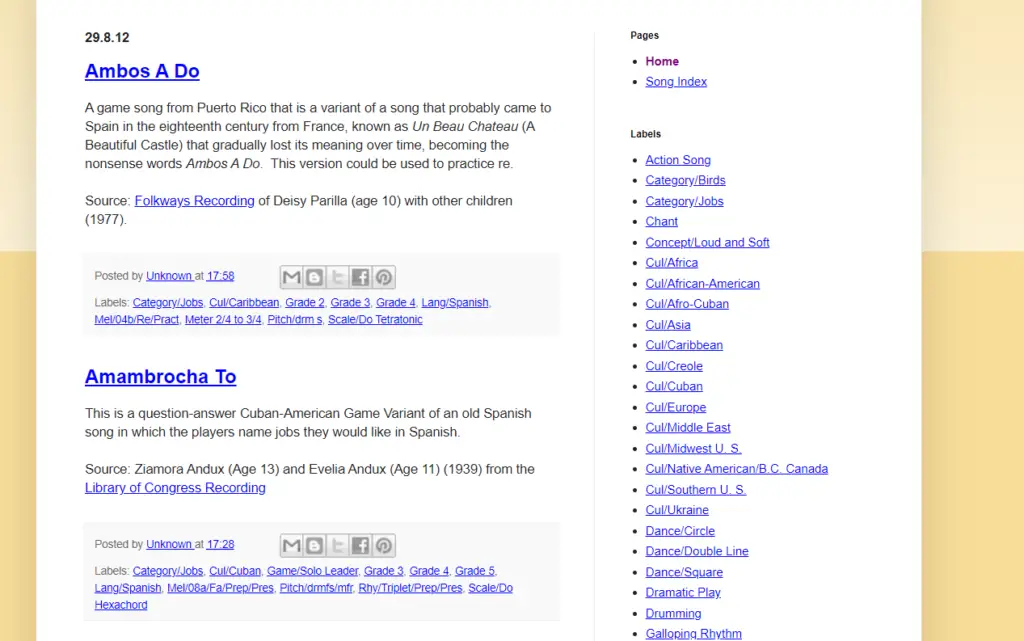 This is a database for Kodaly teachers to input and search for songs. 
Because it's largely self-run, there are some great, quality folk songs and some composed ones that aren't as good. 
Still, the list is extensive and searchable by concept, activity, and theme, so don't give up on it. 
Approach it with a discerning eye and use your professional intuition. 
Dynamic Music Room Songs and Lessons
Is it lame to include the resources on this website in a list of helpful resources? 
Maybe? You tell me! 
On the menu bar above is the Songs And Lessons category. 
This contains every post I've written focusing specifically on, you guessed it, songs and lessons. 
While not directly searchable by concept or theme, you may find it helpful to peruse the list. 
I also typically include a lot more detail and help than just the simple sheet music. 
Check it out if you've got the time! 
By the way, I also create and sell eBooks and the like. 
In fact, right now, I've got a sale going on one. 
Click the timer above to check it out!
Kodaly Song Web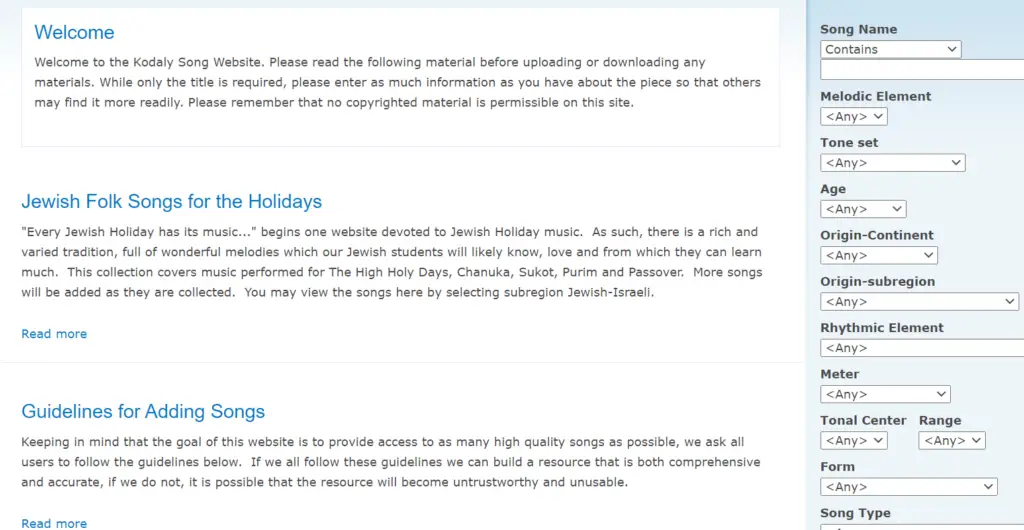 The Song Web is another great list and resource. 
You'll need to log in to get full access and contribute yourself. 
I like how this website also compiles the songs into useful lists. 
Sure, you can sort your way to these lists, but having it made for you saves time. 
Check it out at the link above. 
How To Pick The Right Kodaly Folk Songs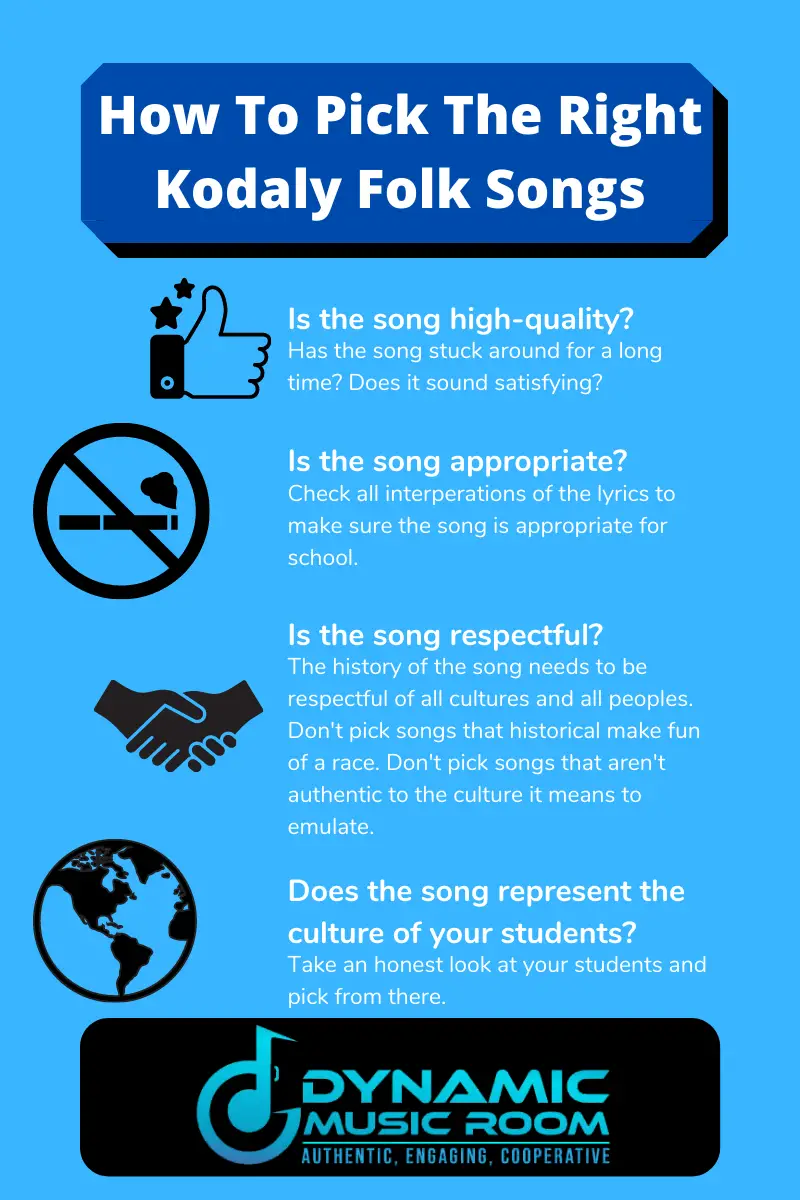 With literally thousands of potential songs to choose from, how do we know what the right ones are? 
This is an age-old question, and it's one music teachers struggle with, especially in the modern-day. 
This section goes over what I consider the essential aspects of songs to watch. 
It isn't a comprehensive list, and there are more you may wish to consider. 
But it's at least a place to start. 
Is The Song Quality?
The first thing I encourage you to consider is the quality of the song. 
Is the song high quality? 
This is mostly up to your professional experience, but there are a few tips to try. 
#1 The song is over 60 years old. 
Songs over 60 years old have stuck around because they have some higher-level quality. 
Folk songs are great options, and popular music that's remained relevant is also a safe choice. 
#2 Sing the song 100 times and don't hate it. 
If it's good enough to listen to over and over (and you will sing it over and over), then it's good to use. 
If you get sick of it after 10 or 20 repetitions, your students will too. 
#3 What's the emotional reaction to the song? 
There are songs in human history that when they come on the radio, almost every person gasps and exclaims:
I love this one! 
These are songs like Ode To Joy, Here Comes the Sun, and Sweet Caroline. 
If there is a strong reaction by most people, the song must touch something in us as humans. 
Again, these are tips and not rules. 
If you think a song is quality enough for your students, you're probably right. 
Just make sure the next criteria are met as well. 
Is The Song Appropriate?
This one may seem obvious, but I'd be lying if I said I've never missed the mark on this one. 
Consider the song from every perspective. 
Is there some way to take it inappropriately? 
Consider as well the history of the song. 
Is it still appropriate? 
For this point, I'd edge on the side of caution. 
You don't want to end up in trouble. 
Even worse, you don't want to make your students feel unsafe. 
Is The Song Respectful Of All Cultures And Peoples?
This question is a hot-button issue right now, and it should be! 
Some of our treasured folk songs have sketchy histories. 
To this end, we need to be vigilant on the histories of these songs so we don't accidentally teach songs that are offensive to a group of people or culture. 
Yes, most of these songs are still fun, but it wouldn't be hard for your students to find out about these songs with the prevalence of technology. 
How would you feel if a trusted adult was teaching you a song that made fun of your race or culture?
In short, it's best to play it safe and, you know, not choose racist or fake songs. 
Check out this fantastic document on songs with a questionable past. (This opens to a Google Doc, you'll want to make a copy of.)
It tracks a massive list of songs and backs up why they are questionable with research. 
You may also want to follow Decolonizing the Music Room for more advocacy and other information. 
Does The Song Represent The Culture Of Your Students?
Here is an often-forgotten criterion in picking songs. 
This is partly what Decolonizing the Music Room attempts to remedy, and I'll admit I need to be better in this area as well. 
One of the Kodaly principles is that the music you teach should reflect the culture of your students. 
Be honest about this. 
Most of the song collections used by any methodology in the past stick with Anglo-American music. 
This doesn't reflect the culture of our students. 
It doesn't reflect the culture of our country. 
We need to do better at including music from all cultures and reflect on what our students are. 
Even if you teach in rural America, you should still include various music to expand your students' horizons. 
Other Song Collections To Buy 
If you're looking to buy some Kodaly folk song collections, there are some you may wish to check out. 
Keep in mind, as of now, most Kodaly collections are mostly Anglo-American. 
Some of them may still contain questionable songs. 
It's up to you to discern which ones are right for your room and which ones aren't. 
This being said, the books are still great resources. Just avoid those questionable songs like the plague.  
Here are some of the classic choices. 
Disclaimer: These may be affiliate links, which means we earn a small commission if you click through and buy. This comes at no extra cost to you, so it's a win-win! Thanks!
Click the image or button to check it out. 
Final Thoughts 
Now you don't need to feel so lost when searching for Kodaly songs. 
These resources are all great options, though I honestly use the American Folk Song Collection the most of them all. 
Go use the criteria I mentioned above to find the perfect songs for your students. 
You may also want to check out the best kodaly method books.