Echo songs are one of the best ways to start a music class, and it doesn't get much more iconic than this catchy and fun song. 
It's easy to play and a blast to sing for younger grades. 
I present this often enough, so I decided to look at My Aunt Came Back and share what I've learned in using this song for over 10 years. 
Look ahead for sheet music, lyrics, and directions on how to teach the song. 
My Aunt Came Back Sheet Music
Here's the sheet music to take a look at. As always, feel free to use and share the image with your kids or whomever, but a link back to this page is always appreciated. 
Following the notation is a breakdown of the notation and the concepts inside. 
For this song, though, I don't focus on teaching any specific musical concepts and just use it as a great way to make music fun and provide a good musical experience.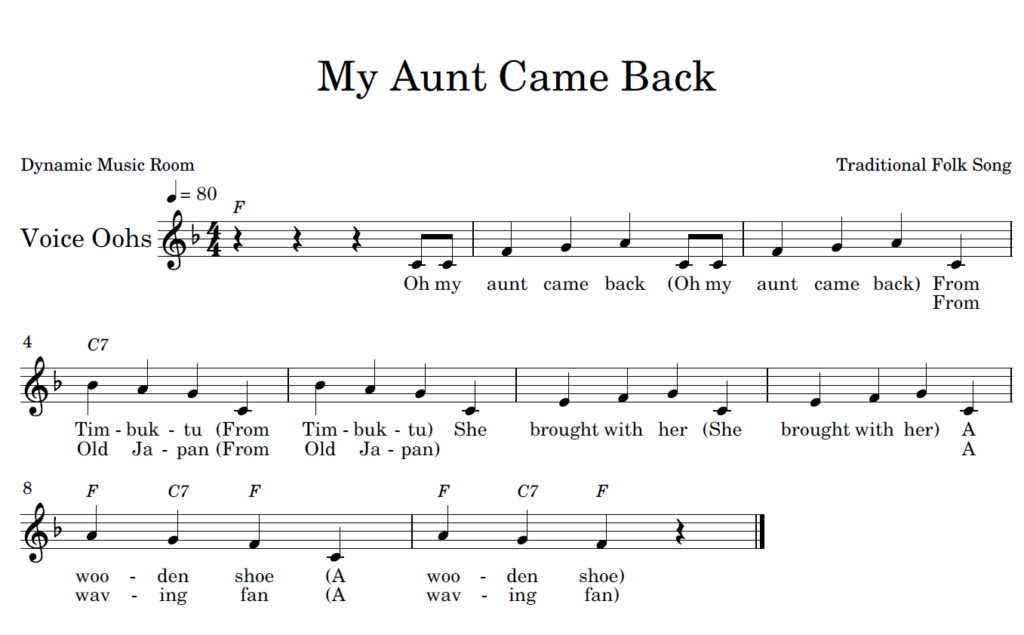 Where I First Heard It: Presented at a Michigan Orff Chapter Share. 
Grade Level: Kindergarten and First Grades
Type: Echo song and adding game
Tonal Center: Do
Range: Major 7th
Tone Set: s, t,Drmf
Rhythm Set: Paired eighth notes, quarter notes
Form: a
Suggested Key: F Major
Pitch Focus: Do
Rhythm Focus: quarter vs. eighth notes
My Aunt Came Back Lyrics
Every phrase is echoed in this song, so where I put in the ellipses is where the students would echo. 
The end of each verse adds on the last phrase of the previous verses. 
1. Oh my aunt came back… from Timbuktu… she brought with her… a wooden shoe…
2. Oh, my aunt came back… from Old Japan… she brought with her… a waving fan…
3. Oh, my aunt came back… from Old Algiers… she brought with her… a pair of shears…
4. Oh, my aunt came back… from Guadalupe… she brought with her… a hula-hoop…
5. Oh, my aunt came back… from the county fair… she brought with her… a rocking chair…
6. Oh, my aunt came back… from the city zoo… she brought with her… a nut like you!
My Aunt Came Back Directions
Each verse has a move, and it's added to the previous one. Each verse gets more complex and silly! 
Here's a quick chart to help you remember the moves. 
| Lyrics | Motion |
| --- | --- |
| A wooden shoe | Tap your foot |
| A waving fan | Wave one hand |
| A pair of shears | Move two fingers like scisssors |
| A hula-hoop | Wiggle hips |
| A rocking chair | Move your upper body back and forth |
| A nut like you! | Point at each other!  |
The joke of this game is that the last verse calls you out for looking so silly while making all the previous moves altogether. 
Cross-curricular Connections With This Song
If you're interested in adding some cross-curricular learning, I love to pull up a map of the world. 
Then, I show the kids where we live and the other points of interest from the song. 
If you want to, it's also a great time (while you've got the map up) to talk about where the students live: 
City
County
State
Country
Continent
Planet (lol)
My Aunt Came Back Chords
The chords for My Aunt Came Back are easy; it's only an F major and a C7 chord! 
For classroom instruments, the piano and ukulele are the easiest. 
Ukulele:
F Major

Index finger, third string, first fret
Middle finger, first string, second fret

C7

Index finger, fourth string, first fret
Piano: 
You may also want to check out the Green Grass Grew All Around. Click the link for our sheet music and lesson guide.