I truly believe in the importance of music dictation, so when Terri Lloyd of Frau Musik USA pitched me this guest post idea I knew it would be a good one. Thanks for writing this, Terri!
Music classes are busy places! There is so much to do and so little time. Music dictation in the elementary grades is something that can easily get put on the back burner or left out altogether. 
Don't let it slip through the cracks. Dictation is an important part of developing music literacy.
This is why I wanted to share these 7 simple music dictation games for elementary grades. 
Why Using Music Dictation In The Elementary Grades Is Important
Just as learning to read and write go hand-in-hand, so does music reading and dictation. Think of dictation as a "musical spelling test." 
In order to develop true music literacy, students must be able to "hear what they see and see what they hear," (John Feierabend, founder of First Steps In Music and Conversational Solfege). To "hear what you see"  is sight singing. 
Conversely, students must be able to "see what they hear," or write what they hear. Music Dictation is a crucial part of developing true music literacy.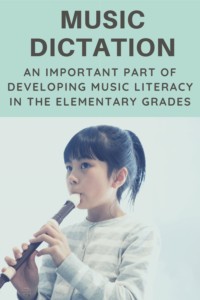 Create Successful Music Dictation Experiences
Students must be prepared prior to undertaking dictation activities. Just as you would not give a spelling test to a preschool child who is just learning their alphabet, do not begin dictation activities until students are ready. They need lots of experience with the targeted music elements before undertaking dictation activities.
After students can accurately echo and reproduce, name and read the targeted music elements, you are ready to introduce some "What Do You Hear" activities. These activities are an intermediary step toward dictation in which students are presented with 2 or more patterns and they choose which pattern they are hearing. 
Once they have mastered What Do You Hear Activities, your students are ready to write what they hear.
Make Dictation Fun
Nobody likes to erase their answers when they make mistakes. Using manipulatives for music dictation activities makes dictation fun and correcting mistakes is a breeze. 
Below are seven different ways to do music dictation, and none involve the standard pencil/paper method.
Rhythmic Dictation
Popsicle Sticks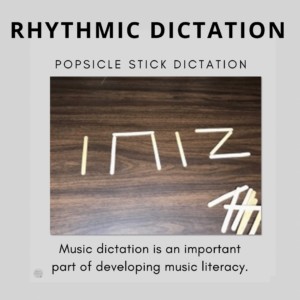 Popsicle sticks work great for rhythmic dictation activities. It is easy for students to create stick dictation for quarter notes (ta), eighth notes (ti-ti), and quarter rests. To "erase" their answers, all they have to do is sweep their sticks up into a pile. 
I always have students point and check their answers as I repeat the pattern. They almost always find any mistakes by themselves.
If they are sitting on the floor too close to each other, their answers tend to run into one another. I have students use a carpet square as their "desk." This identifies each person's space and their answer.
 By keeping their answers "formatted" on their carpet squares, I can easily scan the room and do informal observational assessments to see who may need help.
Pretzels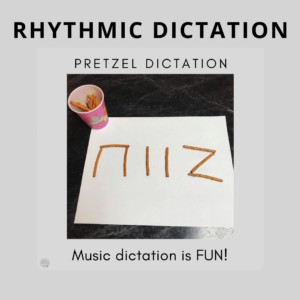 Using pretzel sticks is a great extension to popsicle sticks. I prep the pretzel sticks by having them ready to pick up in a small paper cup.
We used clean typing paper as our place matt to keep the pretzels clean. To erase their answers, they simply sweep up their pretzels and put them back in their cups.
Your students will love pretzel dictation. Just make sure they don't "eat their homework" before you are done with the activity. 
Chair Dictation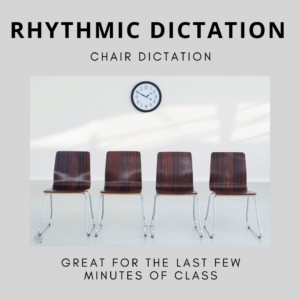 Chair dictation is fun to do in groups. If you have never done chair dictation before, give it a try.
Set out four chairs evenly spaced. Each chair represents one beat. Students then "notate" the rhythm with their bodies by representing the correct sounds or  "notes" on each beat or chair.
Quarter note = 1 person on a chair
Eighth notes = 2 people on 1 chair
Half note = 1 person covering 2 chairs
Dotted half note = 1 person covering 3 chairs
Whole note = 1 person covering  4 chairs
Rest = Leave chair empty.
This game is lots of fun and can progress very quickly. It is a perfect way to work in a bit of dictation at the end of class.
Note: For students' first dictation experiences, I always say the rhythm syllables. When students master that, we "level-up" to a challenge level where I simply play the patterns on a hand drum.
Melodic Dictation
Melodic Manipulatives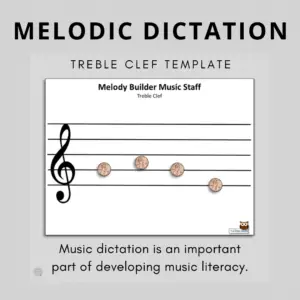 A laminated treble clef staff and pennies work well for melodic dictation activities. Inexpensive bingo chips work as well. 
A small piece of yarn or a laminated paper strip may be used to create a ledger line if necessary. Click here if you would like to download a printable staff that is perfectly sized to use with pennies.
Write & Wipe
This same laminated staff may be used as a write and wipe activity. Print your staff manipulatives on card stock and laminate.
Students may use dry erase markers to write what they hear. Writing with markers is fun and erasing is easy, but it can get messy sometimes.
Floor Staff
Using a floor staff can turn melodic dictation into a group activity. If you do not have a music rug with a staff, you can create your own by using black electrical tape on the floor. Use paper plates to create notes or students themselves can serve as the notes to write the melodies they hear.
Note: Make sure all students are viewing the activity from the same vantage point so the music doesn't appear upside down for some.
Boom Digital Task Cards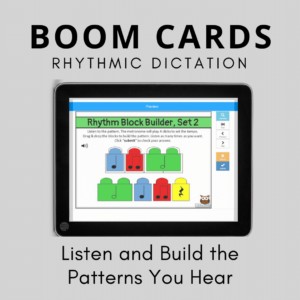 Boom cards are great for dictation. I have made both rhythm and melodic sets. Boom cards are an online platform housed at BoomLearning.com. They are self-checking and give immediate feedback to students.
 It is easy to differentiate lessons with Boom cards because students can progress at their own pace. They can repeat a set of cards as many times and needed. 
Teachers can also create their own Boom cards and tailor them to the exact needs of your classroom. 
If you want to learn more and see a set of dictation cards in action click here to read about Boom Task Cards in Elementary Music. 
Conclusion 
There are many ways to integrate simple music dictation games for elementary grades. Start with rhythmic dictation. 
Choose one activity and add it to your lesson plans. You will see music literacy levels rise and your students will be the beneficiaries.
Terri Lloyd is a recently retired elementary music teacher with 30 years of classroom experience. She is currently working as a member of the music staff at her church, in the community as a performer, as a blogger, and a mentor to other elementary music teachers. Terri is an experienced curriculum writer. She creates and provides resources through Teachers Pay Teachers at her store, Frau Musik USA.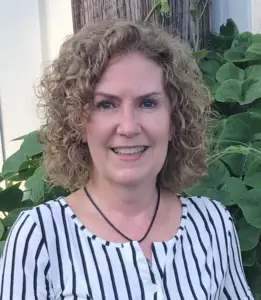 Learn more about Terri at FrauMusik.com.