Finding the perfect song for any situation is a big part of a performer's tool bag.
One of my favorite tricks is to sing songs with names in them.
If an AMY is important to the event, you can bet I'm bringing out one of these awesome songs with Amy in the title or lyrics.
Let's look at the video example of each and a brief description of what the song entails.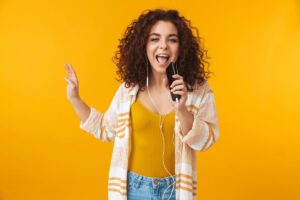 Get all the experience of singing lessons at a fraction of the price (and at your own speed) with 30 Day Singer.
Songs With Amy In The Title Or Song Texts
#1 Amy Amy Amy by Amy Winehouse
This is one of the most popular Amy Winehouse songs, coming thirteenth on her first music album. She portrays a provocative image of herself with her science teacher, who she considers attractive.
She believes there would be a serious love relationship or connection between them regardless of their age and occupational differences.
#2 Amy Hit the Atmosphere by Counting Crows
Counting Crows sing about Amy, a girl they far will never return, in a comforting and melancholy way.
While people are still debating the song's real meaning, the group's leader said it was about a young girl he encountered in San Francisco who began using heroin and whose whereabouts are unknown.
#3 Amy Never Misses by A Small Victory
Small Victory is a five-piece punk rock band that uses the name Amy to substitute drugs in this song. They highlight how difficult it is to deal with the addition of lyrics, like how lonely they get for her and sometimes need her.
They also highlight the losses that drug addiction brings by singing about how many ruined bridges they must rebuild.
#4 Once In Love With Amy by Dean Martin
This song was originally from 'Where's Charley,' a 1948 Broadway show, but Dean Martin covered it in a jazz version, making it more unique.
It is about a lady called Amy and the singer's infatuation with her.
He sings that although other people might see her the same, she is different from him, and she will love only him.
#5 Saving Amy by Brantley Gilbert
When we lose loved ones, the pain and grief are usually on the people left behind. Brantley Gilbert, however, changes the scene in this song by singing from the deceased point of view.
She sings as a husband who leaves his wife, Amy, behind, looking down at her and asking God to save her from grief. He also thanks God later in the song when they reunite.
#6 Amy by Green Day
Green day sang this song as a touching tribute to the amazing late Amy Winehouse and released it as a special song on their tenth album. They also sing about the consequences of too much partying.
Billie Joe Amstrong, the band's lead singer, said he did not know Amy Winehouse personally but always loved her songs and talent, adding that the song was easy to write.
#7 If You Seek Amy by Britney Spears
A first look at this hit song makes it harmless, but a closer look reveals a pun with a different obscene meaning.
Britney Spears sings about her struggles with how the media portrays her and always looking for dirty details.
The lesson of this song is turning the critique around on its head. Everyone wants to be like her.
So why talk? They're just jealous.
#8 Amy's In The Attic by Insane Clown Posse
Insane Clown Posse is a horror hip-hop duo that tells the story of a person remembering how they accidentally killed a young girl named Amy as they played in a playground earlier in life.
The narrator then hides the girl's body in the attic but later loses his mind because of hallucinations about the girl.
#9 Amy Run For The Hills by Courtship
This song is one of the songs with a different approach to how other artists sing about relationship breakups.
The duo said the song is about people knowing a relationship will not work out.
However, instead of breaking up with Amy, they urge her to keep running for the hills without stopping.
#10 Amy, I by Jack's Mannequin
This is a song about a breakup, but instead of focusing on the separation or making up afterward like other breakup songs, it talks about the in-between and the struggles the narrator experienced.
The narrator, however, still hopes they will get back together by saying he never worries because it never breaks.
#11 Has Anybody Seen Amy by John and Audrey Wiggins
This 1994 song by siblings Audrey and john Wiggins is about remembering a former lover called Amy.
The narrator remembers their past love and travels to where they met but only found unfamiliar surroundings with no Amy.
#12 Amy Stay Away by Jonny Marrero
This groovy and psychedelic song is about finding the right partner at the wrong time. The narrator finds a girl called Amy, seemingly perfect for him, but warns her to stay away because he is currently broken.
He sings about his struggles with drugs and how much he loves being by Amy's side, but he knows it will only ruin things.
#13 Amy's Back in Austin by Little Texas
Little Texas is a country group that makes every song interesting to listen to. This song narrates the story of a man who was left by his lover late at night.
The two run away from Texas together but soon start struggling, driving the girl to leave her boyfriend due to being homesick.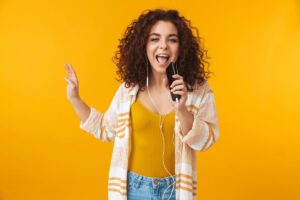 Get all the experience of singing lessons at a fraction of the price (and at your own speed) with 30 Day Singer.
#14 Fat Amy by The Waist Deep
This touching song is excellent for anybody struggling with bullying or body shaming because they are plus size.
The narrator in this song has a niece called Amy but has been nicknamed Fat Amy.
He assures the girl of his undying love for her regardless of her size or what people call her. This song's slow and alternative sounds make it exciting and calm.
#15 Miami, My Amy by Keith Whitley
This country romantic hit song is about the difficulty of long-distance relationships.
The narrator has a girlfriend, Amy, who lives in Miami.
He travels to Los Angeles but receives a call from Amy asking him to go back to her, and he immediately gets on the plane back to Miami.
#16 Chasin' Amy by Steve Helms Band
The song is about a young boy remembering his relationship in high school with a girl called Amy. After graduating, he is left with the memories of how simple and lazy they were and all the fun things they had together.
Although he has not seen her again in months, the narrator holds the memories close, keeping hope alive.
#17 Amazing Amy by Lil Wayne
This track is about a being in a relationship with a lady who's crazier than other women. It gained a lot of popularity for its references from 'Gone Girl,' a thriller movie released in 2014.
#18 Amy's Song by Switchfoot
This is a Christian rock song about a made-up Amy character. 
She is someone who loves God with all she has. 
She does her best to worship him, even in the middle of a fake and material-focused world. 
Bassist Tim Foreman, a band member, said that in this song, Amy had found answers in Christ to all her troubling questions.
#19 When My Amy Prays by Vince Gill
This is among the most famous songs by Vince Gill and even won him a Grammy award.
He sings about Amy Grant, his wife, a Christian singer.
He says that although they had different spiritual upbringings, he finds his faith through her because he feels so blessed when she prays and for having her as a wife.
#20 Airline Amy by Weird Al Yankovic
In this song, Al Yankovic writes about a flight attendant, Amy, with whom he falls in love. He mistakes her doing her job as being in love with him and assumes they have a pseudo-relationship.
#21 Amy's Eyes by Charley Pride
Written by Jamia Prater Hunt and Terry Brown, this is Charley Pride's third track in the album Moody Woman.
He sings about his separation from his wife and how much he can see the pain through his daughter Amy's eyes.
The pain reminds him that his wife is gone, and he sends her a picture Amy drew to remind his wife of the things that are missing.
#22 She's No Amy by Ryan Turner
Ryan Turner tells of the pain of being with someone who is not the one. The narrator in this song has a girlfriend and sings about how perfect she is.
However, he says she is not Amy and wants to say goodbye but can't because she is better than being lonely.
#23 Hello Amy by The Everly Brothers
Written by Don Everly, the Everly Brothers first released this, our number twenty-three song in 1964, but The Deep Set covered it in 1968. the song is about a man in a relationship with Amy, but they broke up.
He meets her again, says how much he has been thinking about her and asks if she is still his.
#24 Amy by Bobby Darin
Bobby Darin expresses the narrator's love for a girl named Amy with sweet and romantic words.
He describes her as soft as snow and lovely as indigo, saying paradise smiled when she kissed him, even though only once.
He then continues asking her to love him, even for a day.
#25 Amy by Elton John
The narrator in this song is a young boy who has a love interest in an older woman called Amy. He says his dad warns him about his love for Amy, but he does not care because he loves her anyway.
#26 Amy by Ryan Adams
Like other heartbreak songs, the narrator in this hit song is reminiscing about all the good times he had with an ex-girlfriend called Amy.
He regrets letting her go and still goes to the places they went together to look for her because he is still in love with her.
#27 Amy's Song by Matt Simons
Written by Amy Kuney and performed by Matt Simon, this song is about Amy Kuney's real-life story of growing up in a Christian and conservative environment and the struggles of being a gay woman looking for validation and acceptance in that environment.
While she wrote the song in a lot of pain, she knows many people struggle with the same situation and hopes to send comfort through the music.
#28 Amy's Heart by Phonique and Ruben
This heartbreaking song is about a girl, Amy, who is 17 years old but dealing with many people bullying and harassing her.
The narrator says she is out of control and is trying her best to get the bullies off her.
He adds that he has met her once but hopes the next time they meet, she will have changed how she keeps memories.
#29 Amy by Allstar Weekend
This love song is about a narrator who has been in love with a girl, Amy but has been afraid of telling her, fearing he might ruin things.
He describes her as funny and with a smile as bright as a new sunrise, finally deciding to take the chance and announce his feelings.
Songs By Artists Named Amy
#30 Sing Your Praise To The Lord by Amy Grant
This is a powerful praise song where Amy Grant sings, encouraging listeners to give their lives to God and how wonderful it is to praise God.
#31 Round Midnight by Amy Winehouse
In this art song, Amy says how sad she feels, and while she is okay during the day, her feelings worsen after sundown and around midnight.
Further Reading: 21 Awesome Songs With a Fast Beat (Uptempo)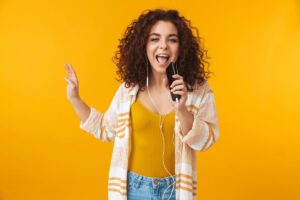 Get all the experience of singing lessons at a fraction of the price (and at your own speed) with 30 Day Singer.