This is a guest post by VEEPN.
Are you looking for the top YouTube channels for piano enthusiasts?
Look no further! With so many options, figuring out which channels are truly worth your time can be overwhelming. But have no fear, we've done the research for you.
Check out our list of great piano bloggers to subscribe to. They post featuring covers, tutorials, and original compositions.
Get ready to take your piano skills to the next level with these best piano bloggers.
#1 Alim Beisembayev
Discover the remarkable journey of Alim Beisembayev, the first-ever Kazakhstani winner of the Leeds International Piano Competition.
In 2022, Alim achieved numerous 'firsts,' including debuts at the BBC Proms and Wigmore Hall, as well as releasing his debut album. Now, he graces the cover of the Feb/Mar issue of Pianist, discussing his meteoric rise to fame.
Don't miss out on this opportunity to pre-order the issue! And catch Alim live on his tour, performing his new album, Transcendental Etudes, in the UK, France, and Spain.
Want the best piano players to listen to? You may need to organize access to any website, as these are representatives of different nations.
All you need is to change location in Chrome using an extension. You can change your virtual location in a couple of clicks and use the free trial version of VeePN to open all the sites in the world.
It also serves as a VPN as additional protection against hackers and data interception.
#2 PianoTV
Looking to learn how to play the piano? Meet Allysia Van Betuw, the Canadian musician and piano teacher behind PianoTV.
With over 130K subscribers, Allysia has been creating informative and engaging piano tutorials on YouTube since 2015. Whether you're a beginner or an advanced player, her channel is packed with tips and tricks to up your piano game.
From practice sessions and composition processes to challenges and advice for piano teachers, Allysia's content covers it all. With over 380 videos and counting, she posts 2-4 videos a month on average, and the channel has amassed over 11 million total views.
If you're looking to improve your skills on the piano, Allysia and PianoTV is your go-to source. With their dedicated following and consistent growth, the channel is set to reach over 154K subscribers by 2023. Start learning today and unlock your full potential on the piano!
#3 Illia Ovcharenko
In 2022, a young Ukrainian pianist won First Prize at the Honens International Piano Competition, earning $100,000 CAD and a three-year Artist Development Program.
This program includes debut recitals at top concert houses, opportunities to perform with leading orchestras, professional management, residencies, and recordings.
The pianist will be performing at Carnegie Hall on January 10th with a diverse program featuring Scarlatti, Schumann, Avner Dorman, and Debussy. Stay tuned for more upcoming performance dates!
#4 HDpiano
Discover the ultimate resource for piano tutorials of your favorite songs by top artists like Bruno Mars and Alicia Keys with HDpiano. With an active channel that posts 2-4 new videos each week, their tutorials have become a huge hit and attracted over 1.36 million subscribers.
Established on August 8, 2008, HDpiano has already shared over 1,200 videos and accumulated a whopping 186 million views and counting.
And their growth shows no signs of slowing down – they're projected to reach 1.47 million subscribers and 230 million views by early 2023.
#5 Yunchan Lim
Start your 2023 with a remarkable debut by Yunchan Lim, the youngest winner of the Van Cliburn Gold Medal. After his stunning performance of Rachmaninov's Third Piano Concerto, he's hailed as a pianist beyond his years.
Catch him at Wigmore Hall in London on January 18, where fans will surely line up for a chance to witness his talent in person.
#6 The Piano Guys
Discover the amazing success story of The Piano Guys, one of the most popular YouTube channels today, boasting over 6.99 million subscribers.
Founded in 2008 by a group of talented musicians, a music producer, and a Yamaha dealer, The Piano Guys create beautiful videos of piano music across different genres, from pop to country and rock, filmed in breathtaking locations around the world.
Based in Utah, they have captured hearts worldwide with their stunning performances, and continue to astound viewers with 329K views every day, despite having just 131 videos. With their impressive growth rate, experts predict they could even surpass 7.13 million subscribers by 2023.
#7 Alexandra Segal
Israeli pianist Alexandra Segal won the piano section at the prestigious George Enescu International Competition in September 2022. Her remarkable performance of Prokofiev's Concerto No 3 in C Major Op 26 secured her victory.
As part of her prize, Segal will perform in the 2023 and 2024 editions of the George Enescu International Festival and Competition, in addition to being featured in concerts during the Romanian Philharmonic seasons. We are eagerly anticipating Segal's exceptional performances!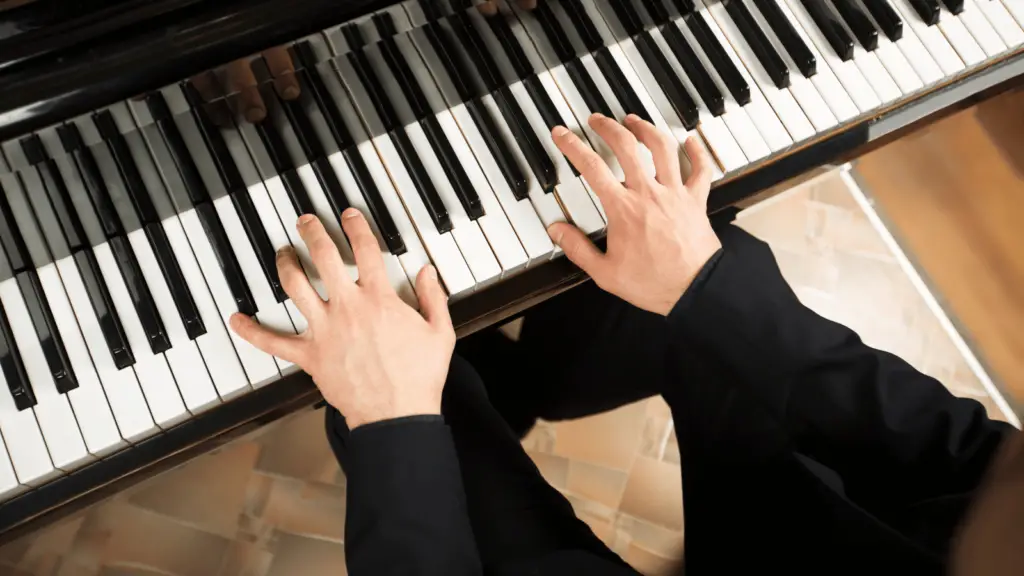 #8 Dmytro Choni
Meet Ukrainian pianist Choni, a rising star who has already made his mark on the competition circuit. He recently thrilled audiences with his performance at the 2022 Van Cliburn Competition, where he won a Bronze Medal, following his 4th Prize win at the 2021 Leeds International Piano Competition.
But what stole the show was his emotional reaction during the finals, where he couldn't hold back tears as the Ukrainian National Anthem played. Choni is undeniably a brilliant pianist with a bright career ahead of him.
Conclusion
The piano is a timeless instrument that has been used for centuries to create beautiful music. In today's world, there are countless amazing pianists and opportunities for aspiring musicians to explore.
From the award-winning performances of Yunchan Lim, Dmytro Choni, and Kenji Miura to the tutorials of HDpiano, there are plenty of places to learn and get inspired.