Are you interested in learning more about the Kodaly and Suzuki methods? 
Do you see a lot of similarities, but you also want to learn the differences? 
The Kodaly method and the Suzuki method are two of the most popular elementary music teaching strategies. 
Both of them have their pros and cons, but in my years of teaching and coaching other teachers, I've learned there is no one-size-fits-all method. 
Different personalities learn towards different methods. 
This is why I decided to write this detailed Kodaly vs. Suzuki comparison.  
The main difference between Kodaly versus Suzuki is how the Kodaly method approaches with singing first and focuses on elementary music classes as a whole. The Suzuki method is sequential like the Kodaly method, but it focuses more on instrumental playing and mastering specific songs before moving onto the next. 
Let's dive into the details and the rest of the article.
Brief Summary Of The Kodaly Method
The Kodaly method was founded by salty Kodaly in the middle of the 1900s. 
Without getting too much into details, here are some of the most important elements of the Kodaly method. 
Music for everyone. 
This is the slogan of the Kodaly method, and it's believed by Kodaly-inspired teachers that all students should receive quality music education from qualified music instructors. 
As part of this instruction, some of the fundamentals include singing first because singing is the most efficient and effective way of developing into hearing and understanding of musical concepts. 
The Kodaly method also focuses on sequential instruction. 
This means teachers move from the simplest to the hardest concepts. 
Music in the Kodaly method should be picked from the students' native land. 
It should exemplify quality-music of their cultural heritage. 
The Kodaly method also places emphasis on varied teaching techniques to reach all types of learners, most often through a teaching cycle called prepare present practice where teachers approach concepts from many different learning styles. 
As I mentioned before, this is a very brief summary of the Kodaly method. 
For more details, check out the detailed article on the Kodaly method. 
Don't forget, we write a lot about the Kodaly method and have a whole category based on it. 
Check out the menu item above. 
Brief Summary Of The Suzuki Method
In some ways, the Suzuki method is similar to the Kodaly method. 
The Suzuki method was developed in the mid-1900s as a way to teach private lesson students from a younger age. 
It's remained popular and is one of the most common methods of teaching young students how to play different instruments. 
It's most commonly seen with violin and piano students, but there are forms of the Suzuki method for almost every instrument, including the singing voice as well. 
The driving ideas behind Suzuki include learning music like we learn a language and creating loving experiences with parental support. 
Common principles of The Suzuki method include:
Starting music young
Listening to music
Offering encouragement
Parental support
Repetition of material
Sequential more difficult songs
Learning with others when possible
For more details, head over to our review of the seven most common music teaching methods.
You may also want to check out the official Suzuki website at the Suzuki Association of America.
Kodaly Versus Suzuki Method
Now that we know a little bit about each method, let's take into the two compared. First, look at this brief list of what they have in common:
Starting music young
Sound before symbol
Teaching sequentially
Modeling learning music based on how we learn a language
Choosing quality songs
Qualified music teachers are important
Positive musical experiences
Now, let's look at their main differences:
| | |
| --- | --- |
| Kodaly | Suzuki |
| Singing first | Singing or instrument (traditionally instrumental) |
| Focus on whole classes | Private or small group instruction |
| Repetition is good, but so is variety in learning styles | Much repetition of songs and techniques |
| Uses notation and icons earlier | Doesn't get to music reading until later |
| More movement and play | More about performance |
| Typically less parental involved  | Heavy parental involvement |
Kodaly Vs. Suzuki Chart
As the pros and cons show, the differences are very minimal. In fact, many Kodaly teachers are also Suzuki teachers when they teach private lessons. 
The two may exist in harmony (pun intended) as most of the music methods can. 
This Venn diagram chart may also help you understand how they compare to one another.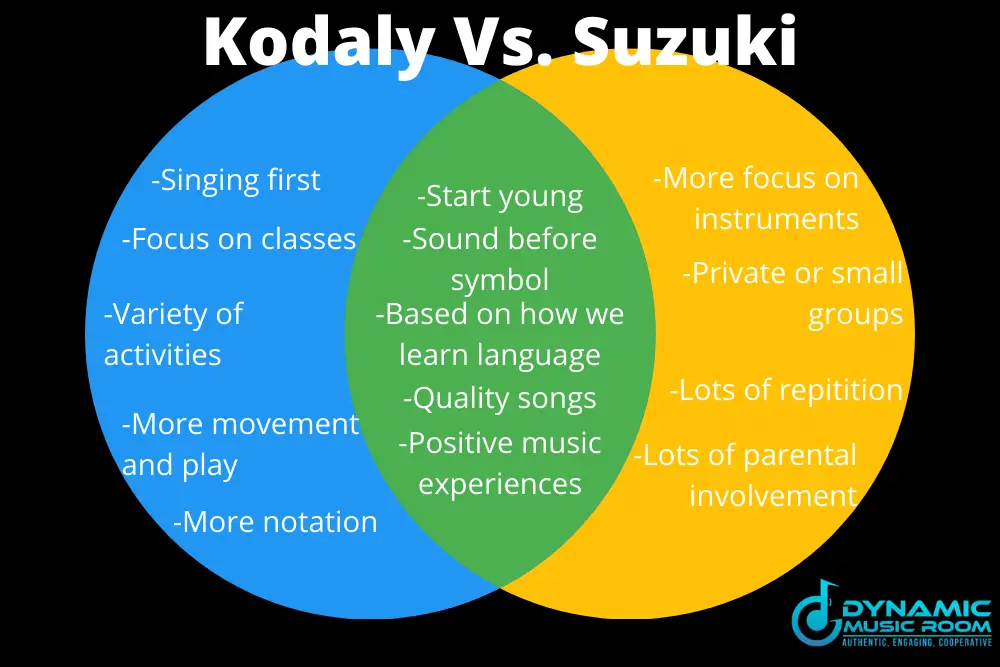 Kodaly And Suzuki Resources
For more information on each method, you may want to check out some resources about the different methods. 
I've used each of these in the past and can attest to their helpfulness in learning the two methods. 
Of course, nothing compares with going through courses on the methods, but this is a good start. 
Disclaimer: Links may be affiliate in nature, which means we earn a small commission at no extra cost to you. Thanks in advance if you do click through and buy! 
The Kodaly Method I and II by Lois Choksy
It doesn't get better for American Kodaly than this book. 
In my opinion, it achieves an excellent balance of lofty pedagogical discussion and practical lessons and examples. 
I strongly encourage anyone interested in Kodaly to get the first and second books. 
Nurtured By Love By Suzuki and Suzuki
This book is a fun and thoughtful read. 
It's basically the writings and speaking of Suzuki translated into English. 
The book is affordable and fascinating but a little lacking in the practicality of application, which is why I recommend you get this AND one of the other books based on the instrument you're teaching.
They go well together. 
Final Thoughts
I hope this Kodaly versus Suzuki comparison helped you see the differences and learn a little bit about each of the methods. 
Both are great ways to teach young students and older students alike. 
The Kodaly method focuses on singing and route classes of music.
The Suzuki method is more for private lessons and emphasizes repetition and sequence. 
Which one you use is completely up to you, and neither choice is wrong. 
Look into each one in more detail and find the right fit for you.