Are you looking into teaching music, especially elementary music and want to know how people do this? 
Did you get moved into a music position with no idea where to start? 
I get it, don't worry. A friend of mine was a classroom teacher until her principal moved her to the music room, and she came to me with a panicked look and blurted out: 
What are the methods of teaching music? 
The methods of teaching music can be broken down into the 4 most popular ones and 3 other notable ones each with their own goals and tools: 
Orff-Schulwerk
Kodaly-Inspired Teaching
Dalcroze Eurhythmics
Suzuki Method
Music Learning Theory (Gordon)
World Music Pedagogy
Conversational Solfege
For help navigating these muddy waters, read on!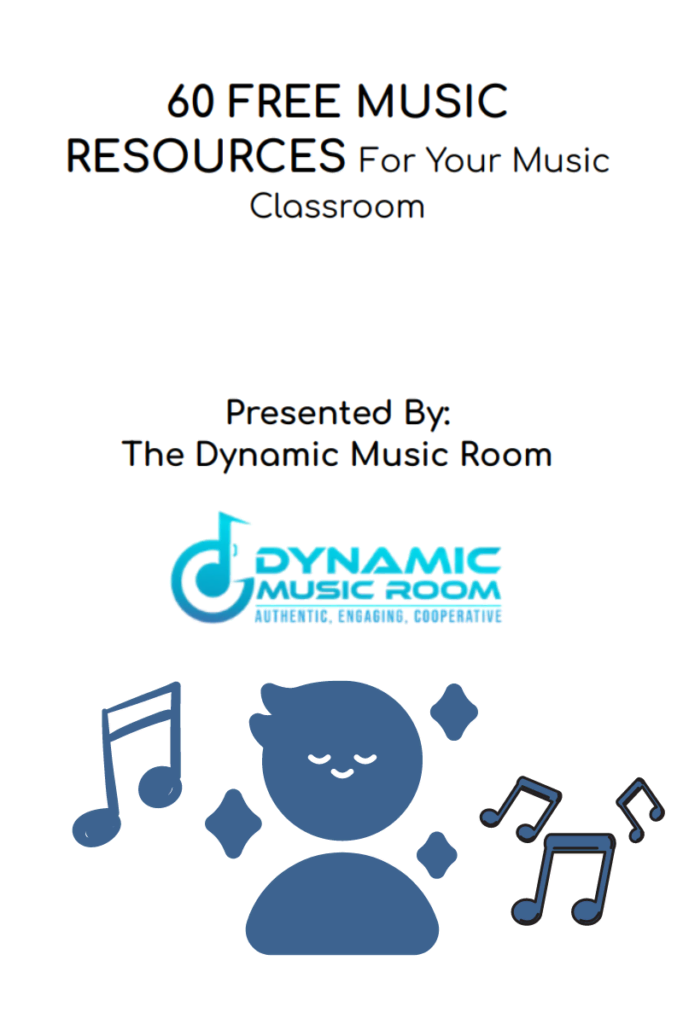 Save time with these 60 FREE Music Resources to use in your room right away!
Stop searching the whole internet to find good activities. I'll help you cut to the chase with my favorite 60 FREE resources.
7 Methods For Teaching Music
In this section, I'll give a brief overview of the history and teaching goals of the method. I'll also provide information one resource for each method considered by many to be the capstone or bible of the method. 
Note: Most of these "methods" actually dislike the word "method" to describe what they do, but for ease of communication, we'll call them all a methodology. 
Disclaimer: All information will be pulled directly from a linked major organization's description of their own method. I don't claim to be an expert on each method. 
All music methods place an emphasis on songs and engaging activities. Check out my 30 Favorite Songs to use in your classroom by clicking the link.
Orff-Schulwerk
In Orff Schulwerk classrooms, children begin with what they do instinctively: play! Imitation, experimentation, and personal expression occur naturally as students become confident, life-long musicians and creative problem solvers.

American Orff-Schulwerk Association
History 
Carl Orff, music composer, and Gunild Keetman, movement instructor, developed an approach to build full musicianship of all students by combining the following elements:
Music
Movement
Speech 
Drama 
Tools
Orff teachers want to provide their students a positive experience in music and means for personal expression. Orff teachers typically place more emphasis on improvisation and creativity than literacy, but this is not exclusively the case. 
Teaching tools include: 
Play, imitate, experiment, and create steps
Use of instruments and part-work to create deeper sounds
Project-based learning
Language-rhythm connections
Movement, movement, movement
Note: The Orff process is best known for its use of classroom xylophones and non-pitched percussion. However, this is a simple stereotype; the process involves much more than that. 
Notable Resource
To look at one of the main resources for Orff teaching techniques, Elementaria by Gunild Keetman is a great place to start. 
This book offers some examples of teaching using Orff, but it also explains (in easily understood language, I might add) the philosophy and tools of the process. 
Kodaly-Inspired Teaching
If we ourselves sing often, this provides a deep experience of happiness in music. Through our own musical activities, we learn to know the pulsation, rhythm, and shape of melody.

Zoltan Kodaly, 1964
History 
Zoltan Kodaly, a composer from Hungary, was shocked to discover how little the children in his home country appreciated music and the poor quality of their musical skills. 
With a goal to fix this in mind, he and his graduate students set out to adapt the work of Jeno Adam for the children of Hungary, and the Kodaly method was born. 
Kodaly-inspired teaching differs depending on culture and teacher preference, but these elements remain constant: 
A focus on singing first (it's the most "natural" instrument)
Include folk music of the people where you live
Quality music including classical music and recordings of different genres and style
Only the best music and teachers for the students
Teaching concepts in a sequential way with a variety of tools
Tools
Kodaly-inspired teachers will often include a lot of natural folk games along with literacy instruction. Their goal tends to be to give students a lot of musical experiences while building their independent musicianship. 
As such, Kodaly teachers place more of an emphasis on singing and music literacy (reading, responding, writing, improvising, creating). 
Teaching tools include: 
Collection of authentic folk songs
Sequence of concepts
Prepare, present, practice steps
Solfege and rhythm syllables
Folk dancing
Part-singing
Notable Resource
There are many books out there for Kodaly, as with all of these methods, but the standard Kodaly text over time is The Kodaly Method I by Lois Choksy.
This was one of the first resources written for Kodaly in America. It offers examples of the method, and gives specific philosophy and teaching techniques for use in your classroom. 
There are different recommended beginner books depending on which program you go to for Kodaly training.
What is Kodaly training? Learn more in our guide.  
Dalcroze Eurhythmics
Dalcroze Education is a playful, experiential approach to teaching and learning music.

Dalcroze Society Of America
History 
In the late 19th century, Swiss composer and music teacher Emile Jaques-Dalcroze noticed a lack of expression in the performance of his students. 
To create a better musician, he focused on developing a method using these main components: 
Rhythmic movement (also called eurhythmics)
Ear-training and aural skills
Improvisation
Tools
Dalcroze eurhythmics teachers focus on space and movement as the most effective way to physical show and practice expression at higher levels. 
You usually see eurhythmics teachers using different movement-to-music-lessons throughout the class time while training aural skills and music literacy. 
Teaching tools can include: 
Improvised movements
Spacial awareness
Laban movements
Rhythm syllables
Fixed-do solfege
Live performances by the teacher
Movement props for building awareness
Notable Resource
There are a number of books for Dalcroze teachers, but one which remains popular is Rhythm and Movement: Applications Of Dalcroze Eurhythmics by Elsa Findlay. 
She studied with Dalcroze himself and worked hard to write an easily applied and understood explanation of its tenets. 
Suzuki Method
Every child can learn.

Suzuki America
History 
In the middle of the 20th century, Shinichi Suzuki started a movement for standardizing music instructions for Japanese students with the belief that every child can learn. 
As a violinist, he focused this method on the private lesson model which remains the main source for music instruction in Japan today. 
This method then spread around the world and remains popular for lesson teachers today. 
The core of his method is focused on these elements: 
Mother-tongue approach (learning music like we learn language)
Parent-involvement
Repetition
Starting early
Graded instruction
Listening
Individual and group learning
Delayed music reading 
Tools
Suzuki teachers use a lot of repetition to reinforce important concepts for their instruction. A typical lesson involves different strategies to help students review posture and then learning and practicing by rote. 
The most iconic piece of Suzuki may be the leveled performance pieces. Almost all instruments move through the same songs which are designed to build musical technique and facility at the instrument. 
Another interesting piece of the Suzuki method (check out Kodaly vs. Suzuki) is the inclusion of individual and small group lessons. Suzuki believed this was key to learning best. 
Notable Resource
Besides the standard instruction books, Nurtured by Love written by Suzuki is a musing and philosophy behind the choices and ideas guiding the method. 
Music Learning Theory (Gordon)
Through audiation students are able to draw greater meaning from the music they listen to, perform, improvise, and compose.

The Gordon Institute For Music Learning
History 
In the 20th century, Edwin Gordon sought to study with researched data exactly what aspects of music education were effective. Doing this, he questioned everything that came before and looked to confirm or debunk. 
From this bulk of research, Gordon developed the Music Learning Theory method of teaching music. 
This method focused on teaching comprehensive audiation, Gordon's word for the ability to understand music in the mind and think music inside. 
Tools
Gordon changed tweaked many of the same elements music educators have been using for centuries in the way he thought best resulted from his research. 
Common tools for MLT include: 
Audiation – inner hearing and mental music understanding
Froseth syllables for rhythm
Solfege and movable do
Music aptitude – assessments guide instruction to students' blind spots
Singing and rhythmic movement first
Whole-part-whole learning sequence
Start early
Equal emphasis on all modes and meters
Notable Resource
There have been several books published in recent times on Music Learning Theory, but Learning Sequences in Music: Skill, Content, and Patterns by Gordon remains one of the key explanations of the method. 
World Music Pedagogy
They sing. They play. They dance. They come from their K-12 and university classrooms to seek out the music of the world's cultures.

World Music Pedagogy
History 
World music pedagogy is a newer certification program put on by the Smithsonian Folkways, a branch of the Smithsonian dedicated to preserving folk music of the world and spreading its knowledge. 
While not a complete educational method, WMP is an excellent supplement for including more world music and performance. 
Tools
With the goal of diverse performance and experience, world music pedagogy connects music of the world with students through listening, movement, and percussion performance. 
Common tools include: 
Singing songs from different cultures
Playing games from different worlds
Folk dancing
Listen to recordings and watching videos
Engage in meaningful discussion about world history, culture, and music
Emphasis on percussion performance
Notable Resource
The World Music Pedagogy book series is the bread and butter of this method. There are also trainings available around the United States. 
Conversational Solfege
True music literacy develops the ability to hear what is seen and see what is heard.

John Feierabend
History 
After Zoltan Kodaly traveled to Interlochen, MI to present his ideas to music teachers in America, John Feierabend was inspired. After learning more about the method, he decided to adapt the Kodaly sequence for American culture and label it Conversational Solfege. 
Tools
At one of his workshops, I heard Dr. Feierabend describe Conversational Solfege as how Kodaly would have designed his method if he had come from America instead of Hungary. 
Many of the tools and techniques are similar to the standard Kodaly-inspired teaching, but it has isolated the method into its most important elements with the goal of true music literacy. 
Tools include: 
Tuneful, beatful, artful skills for life
Solfege and rhythm syllables
Sequence starting with mi-re-do and balancing duple and triple meters
Singing first
Folk dancing
Positive musical experiences
12 stages of music literacy readiness
Authentic song material 
Notable Resource
Obviously, the most iconic resource of this method is the Conversational Solfege series by Dr. Feierabend. I also personally enjoy the DVD explanation of the method as well.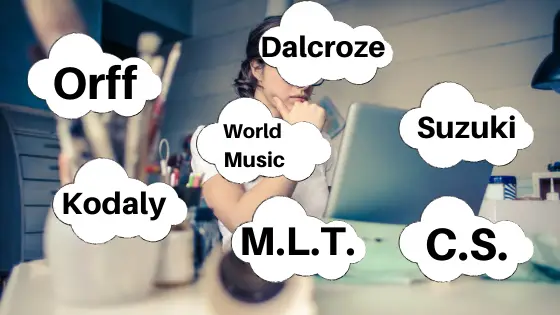 Common Elements Of All Methods
Despite their differences, there are some common elements each of the methods shares with one another that show they're not so different at the end of the day. 
Here are some common tools and goals you may find across all the methods: 
Focus on building independent musicianship
Sequence of activities moving from simple to complex
Inclusion of movement as part of the teaching process
Sound before symbol 
Instruments used as an extra tool for learning
Authentic music from different cultures is important
Solfege systems
Folk dancing/structured movement
Building positive musical experiences
Fostering personal expression
With this small list of commonalities (I know they're many more you could name), it's easy to see that every method has its heart in the right place. It may be the different methods are more fitting the type of teacher you are or the students you have. 
Often, many of these methods can be used in combination with each other. The Alliance For Active Music Making is another good source of how some of these methods can work in relation to each other. 
Conclusion
I hope you enjoyed learning about what methods of teaching music are out there. 
Though many may argue about which is best, each one has the end goal of competent and meaningful musicianship in mind. Not to mention the extra grade bump that comes with studying music.