Do you love Miss Mary Mack but want to learn more about its history? 
Have you heard the song but you want to learn how to play the hand game? 
There are a handful of songs for kids dominating our musical culture and Miss Mary Mack is one of them. But when my kids asked where it came from, I wasn't happy with the lack of detail in my answer. 
I decided to fix this and dug into Miss Mary Mack's origins to share with you.
Miss Mary Mack is considered the most popular hand clapping game in the English language, but its exact origins are unclear. Two strong theories either place it as a slave song singing about freedom and the Union ship, the Merrimack, or a slang song about flirting and kissing. Regardless, by the 1920s, the song was firmly set in African American communities until it spread throughout the South in the 1970s. 
Read on for more details on the potential histories of the song, the hand game, and the jump rope game. 
Miss Mary Mack Lyrics
The lyrics and notation for Miss Mary Mack are simple and catchy. There are several melodic variants of the song (included in these two videos). 
In my professional opinion, the Ella Jenkins melody is most likely to be the more historically accurate version due to its tone set better matching folk songs of the time. 
Common Lyrics: 
1. Miss Mary Mack (Mack, Mack!)
All dressed in black (black, black!)
With silver buttons (buttons, buttons!)
All down her back (back, back!)
---
2. She asked her mother (mother, mother!)
For 15 cents (cents, cents!) 
To see the elephants (elephants, elephants!)
Jump the fence (fence, fence!) 
---
3. They jumped so high (high, high!) 
They touched the sky (sky, sky!)
And they never came back (back, back!) 
'Til the Fourth of July (July, July!)
---
4. She asked her mother (mother, mother!) 
For 5 cents more (more, more!)
To see the elephants (elephants, elephants!)
Jump the door (door, door!)
---
5. They jumped to the flow (flow, flow!) 
They stubbed their toe (toe, toe!)
And that was the end (the end, the end!) 
Of the elephant show (show, show!)
Alternate Melody For Miss Mary Mack Hand Game
Miss Mary Mack Origin
The origin and history of Miss Mark Mack is unclear. We know the song and games were around during the 1920s in poor African American communities and a popular hand game of the time. 
In all likelihood, the song is much older than this. 
In the American South, the song continued to gain popularity and became a staple of schools and playground games in the 1970s. This song and others like it, such as Down Down Baby, have been pointed out as precursors to common genres such as Hip Hop and R&B. 
The common consensus narrows down potential origins in one of two ways, although it's possible the theories are related to each other in some fashion. 
Civil War/Slavery Theory
The most prevalent theory is related to slavery and the Civil War. It is thought the titular name, "Miss Mary Mack," is a variant of the Union ship, Merrimack, which fought for freedom. 
The ship was known to be one of the earliest ironclad ships and built with silver rivets (all black with silver buttons?). 
Also known at the same time was a song sung in England with the lyrics: 
Betsy Blue came all in black
Silver buttons down her back
It's entirely possible this song predated Mary Mack and was changed to include a variant name of the ship. 
Flirting Kissing
The other notable theory still involves the Betsy Blue precursor, but African American communities changed the lyrics to include Mary Mack. 
With emphasis placed on the word "mack", a slang term still somewhat in use today to refer to kissing and flirting. 
This type of flirting variants of songs are commonplace in folk tunes. Think of the song with the lyrics: 
Jenny and Bobby sitting in a tree. 
K-i-s-s-i-n-g. 
Other Notable Ideas
There are a few other ideas of note in Miss Mary Mack's history. 
Named After A Titanic Passenger – There was a passenger on the Titanic named Mary Mack. The timing of this aligns with when we see the song becoming extremely popular in the 1920s, but the connection is tenuous. 
Seeing The Elephant – It's thought the stanzas about the elephant don't show up until the 1920s. "Seeing the elephant" was a common American phrase meaning a great venture ending in complete failure.
This phrase was born of the Gold Rush time when many headed West to find their fortune and failed. 
Could Be A Riddle About Death – The English original (first verse only) could have been a rhyming riddle to which the answer was a coffin. All dressed in black with silver buttons down her back could have been a reference to Mary (or Betsy's) burial clothes.
May Be Related To "Down Down Baby" – In one 1888 book, the first verse is followed not by elephants but by a different phrase.
The Counting Out Rhymes Of Children uses the lyrics: 
I love coffee. I love tea.
I love the boys, and the boys love me.
I'll tell mom when she comes home,
The boys won't leave the girls alone.
Mary Mack May Have Been A Prostitute – As with all folk songs with potentially "flirty" lyrics, there are some who believe the character was a prostitute. 
This isn't unheard of (Lucy Locket being famous for this) in folk songs, but the likelihood of this song being one is much less credible.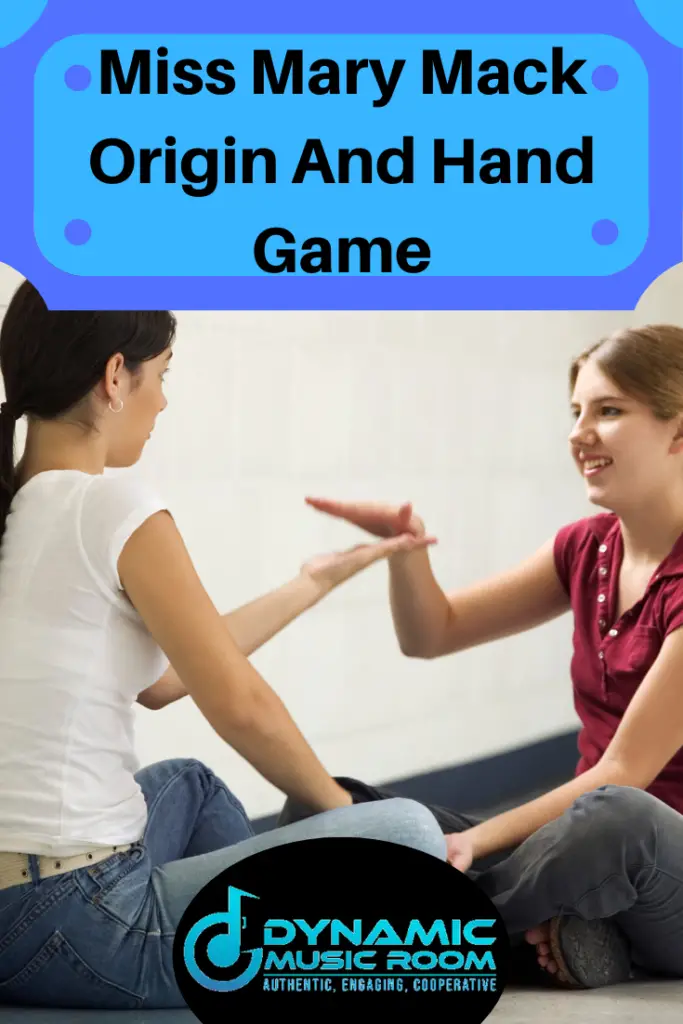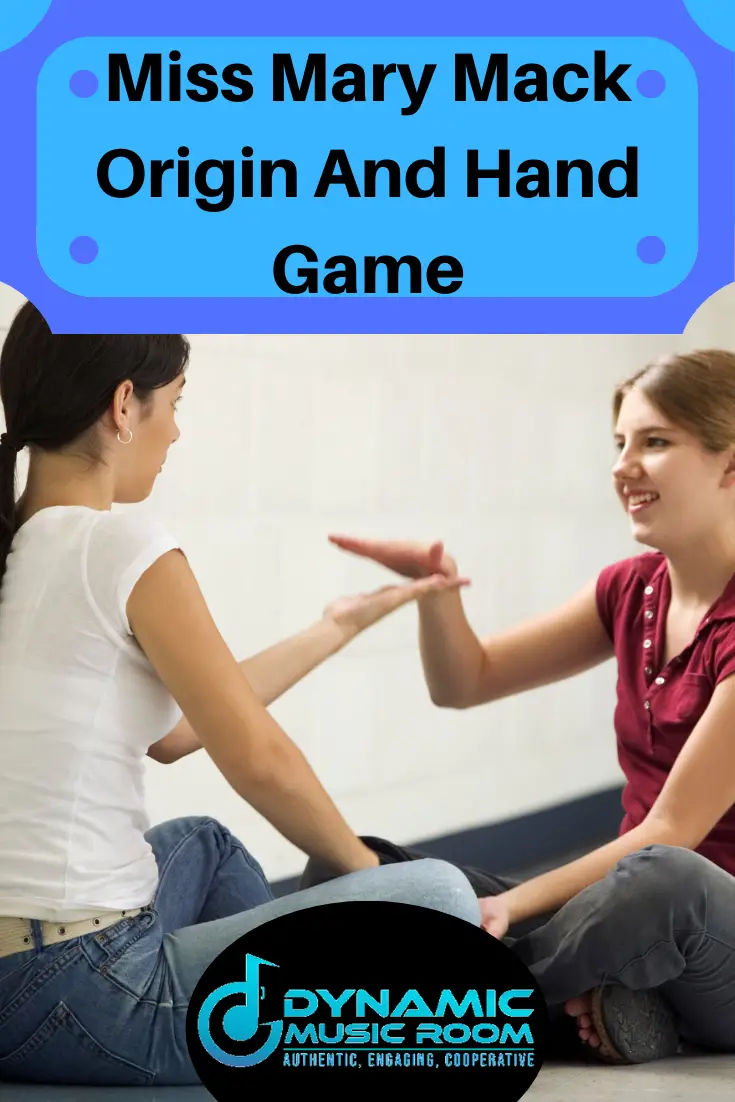 Miss Mary Mack Hand Game
There are a ton of variations to the Miss Mary Mack hand game. I'll take the most common one and walk you through the levels I used to teach the game to my students. 
I usually save this for 2nd grade on up. 
Note: "Miss Mary…" starts on the and of 4. The rhythm counts: and 4 and 1. 
Level 1
And = Clap
4 = Pat
And = Clap
1 = Pat
And = Clap 
2 = Pat
And = Clap 
3 = Pat
Level 2
And = Clap
4 = Both hands partner
And = Clap
1 = Pat
And = Clap 
2 = Both hands partner
And = Clap 
3 = Pat
Level 3 
And = Clap 
4 = Both hands partner
And = Clap 
1 = Pat 
And = Clap 
2 = Right partner
And = Clap 
3 = Left partner
Level 4
And = Cross arms
4 = Pat 
And = Clap
1 = Right partner
And = Clap 
2 = Left partner
And = Clap 
3 = Both hands partner
Miss Mary Mack As A Jump Rope Song
Though the hand clapping game is much more prevalent, Miss Mary Mack is also a common jump rope game. Essentially, this game is played by jumping rope and getting faster and faster until the person fails. 
Your goal is to see how many verses you get through before messing up. 
Check out this Care.com list of jump rope games if you want more of these.
Conclusion
I hope you found the Miss Mary Mack origin as interesting as I did. Now I feel better able to educate my students and connect what we do with the history of our musical culture. 
Did any of this surprise you? Let us know in the comments.