Do you want to use musical materials with a proven history of quality? 
Are you looking to connect your students' musical understanding with their culture and the culture of others? 
Folk songs are an important part of any music classroom. But with so many out there, it's tricky to sort through the list of hundreds and thousands of songs to find the ones your students will get the most from. 
I've applied my own experience with folk songs in teaching and singing them for over 20 years to create this list of 17 folk songs every kid should know. 
Good folk songs have 3 specific qualities. My picks for the folk songs everyone should know are: 
Down By The Bay
Johnny Works With One Hammer 
Charlie Over The Ocean
Aquaqua Dela Omar
Simple Gifts
Little Black Bull (Hoosen Johnny)
Noble Duke Of York
Hot Cross Buns
Mary Had A Little Lamb
De Colores
The Water Is Wide
Check out the rest of the article for my 3-step quality step for finding good folk songs and a quick breakdown of these good folk songs. 
Note: This list of songs is largely just my opinion, but many of these songs are quite popular in many music classes all over. This isn't a complete list of folk songs to teach, but a list of my personal faves I feel are essential for my classroom.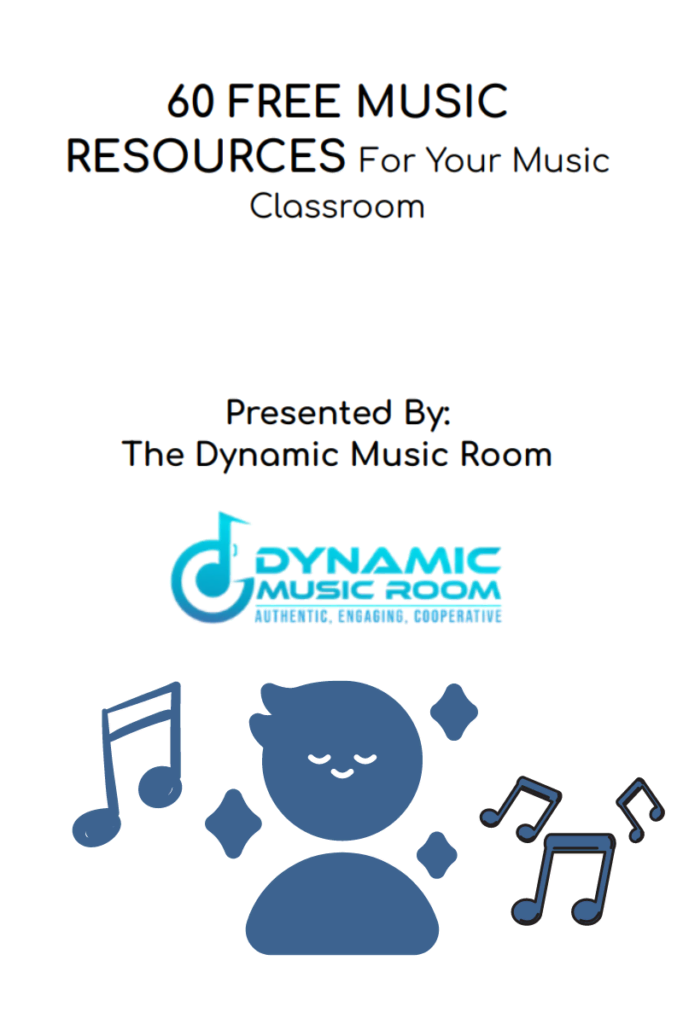 Save time with these 60 FREE Music Resources to use in your room right away!
Stop searching the whole internet to find good activities. I'll help you cut to the chase with my favorite 60 FREE resources.
3-Step Test For Quality Folk Songs
The debate has raged for quite a while now: what makes a good folk song? 
I've heard all kinds of elements to look for in folk songs, so I made up this short 3-step test. If there's a song meeting all 3 qualities, you know you have a winner. 
Even if only one or two are met, the song may still be a good one if you want to do it and your students respond. 
However, if there's a song with none of these, you may want to skip it. 
I go into this in a lot more detail elsewhere (including in one video on the Dynamic Music Room YouTube channel). But here are the basics. 
At Least 60 Years Old
Look for a song at least 60 years old. 100 years would be better. 
It's not just because I like old songs or new songs are garbage. But when a song remains popular and relevant for this long, it's because it has some indescribable quality making it better than the rest. 
There are songs coming out in modern day, and some of these do have this quality as well. But it's harder to tell without the test of time. 
Sticks In Your Ear
High quality songs and folk songs stick in your ear. They may be difficult to sing at first, but they actually will hang around your brain easily after a little practice. 
Some people, including Dr. Feierabend, creator of First Steps in Music and Conversational Solfège, use what they call the 100 time test. 
If singing the song 100 times doesn't drive you crazy, it's probably good. 
Authenticity
The third quality is equally important and a debated topic in our current-day music education groups. We must ask ourselves: 
Is the song authentic? 
If the song was composed to emulate another culture's song, we should probably avoid it. This cheapens the actual music of the culture and encourages a false perception of the culture. 
In many cases, you should do some basic due diligence on your part to check if a song is authentic. 
This doesn't mean you need to dig into deep research on each and every song you do. But if you find two different places agreeing on the source of the song, it's probably OK. 
However, do stay aware if other information comes out on the origins of the song and be ready to stop using it if it proves to be inauthentic. 
Speaking of finding culutrally sensitive and authentic folk songs, these are 2 resources recommended by Decolonizing the Music Room I've found helpful in bettering my music choices.
Step It Down:…Afro-American Heritage
De Colores and other Latin American Folk Songs
Note: The links are afiiliate which means we earn a small comission at no extra cost to you. Win-win and thanks!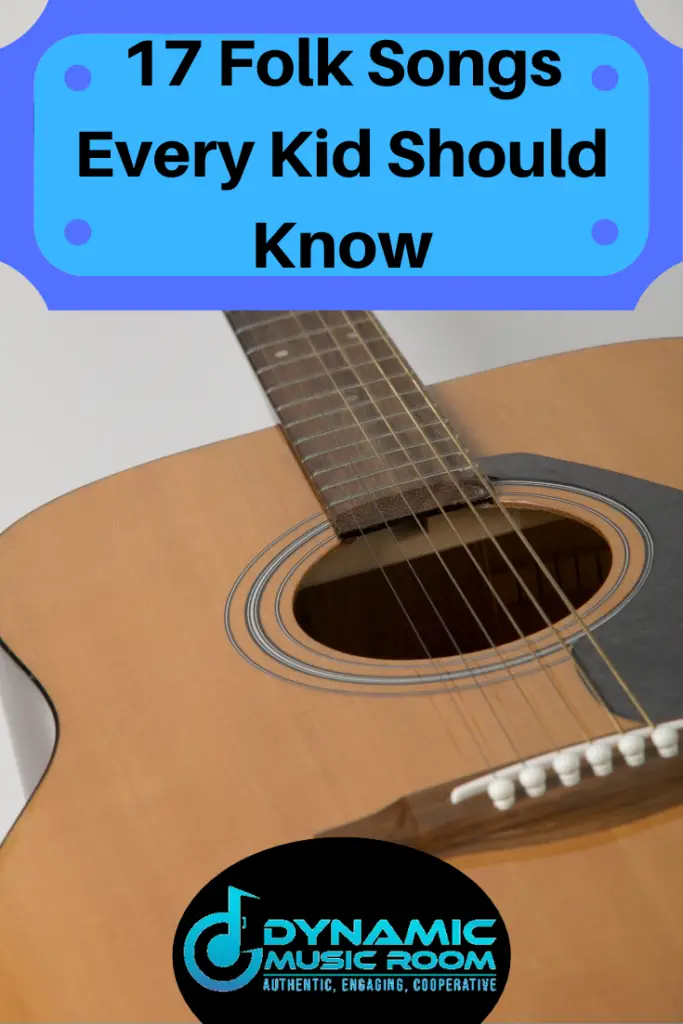 17 Folk Songs Every Kid Should Know
Down By The Bay
This song is a great echo song I do with my 2nd-3rd grade kids. It allows for creativity in the end, it's silly, and it has a beautifully chromatic line in the middle. 
I first heard this song from my grandma who got it from Raffi. Now, this song is a staple of our trips up north, and even all us adults like to sing it around the campfire. 
Check out this Down By The Bay book version by Raffi I like to share with my kids. 
Johnny Works With One Hammer 
This song is a staple in most music classrooms. It's an additive song which means it has motions or lyrics building on one another. 
This song is perfect for PreK-1st graders to reinforce steady beat. 
I also made up a story to go with it. Check it out in my 9 fun music activities for Kindergarten.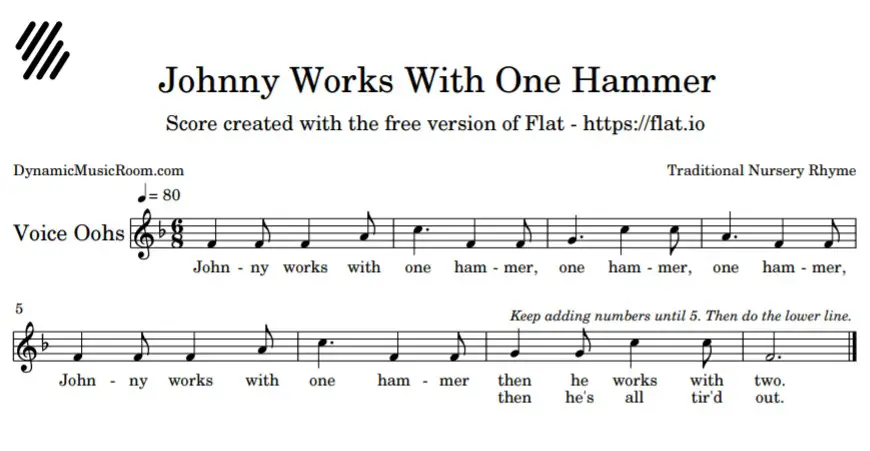 Button You Must Wander
For some reason, I don't see this one around in schools as much as some others on the list, and it makes little sense to me! This song is a great finding game for older students. 
It covers pentatonic, is instantly catchy, and uses ABA form. 
The game is basically Hot and Cold. One student hides an object in your room, and one has to find it. 
The class gives hints by singing louder as the finding student gets closer and softer as they get farther.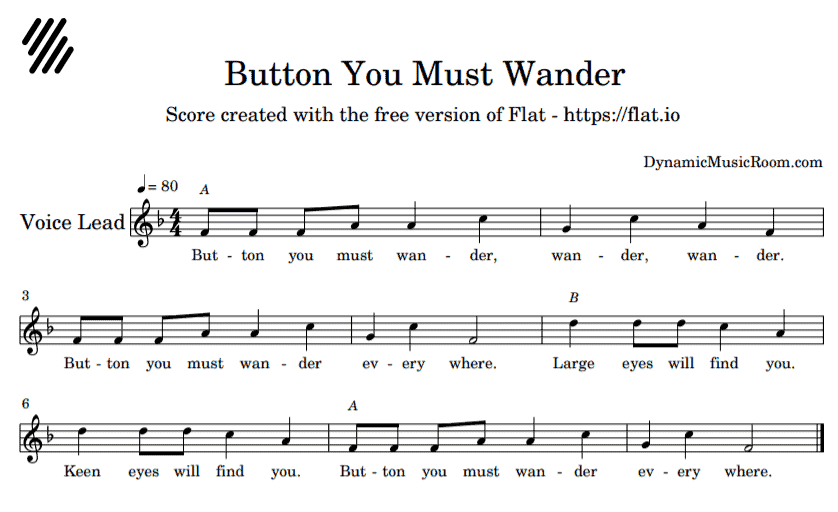 Charlie Over The Ocean
For my littles, Charlie Over The Ocean is always a blast. It's an echo song with the same game as Duck, Duck, Goose. 
Students either change the lyrics to match their name, or they can change the item caught to match something the "it" person likes. 
This song would also be a great one to add to an ocean or water-themed concert. 
Look for this song in Feierabend's Book of Echo Songs. 
Row, Row, Row Your Boat
Everyone knows Row, Row, Row Your Boat and for good reason. The song is instantly easy to sing and provides a great introduction to canon for middle elementary (2-3) students. 
Skip To My Lou
This song is often forgotten in today's music classrooms, to our detriment. This song is steeped in the history of American music, and there are numerous folk artists throughout the past 100 years who have performed their own versions of the song. 
It's fun for younger students to sing and play, but I also like to bring different versions of the song in with older students to compare and contrast. 
My favorite version has to be the one by Pete Seeger. Bonus! He even talks about what folk music is to him. 
Aquaqua Dela Omar
This elimination game comes from Israel. Much like other elimination games, students sit or stand in a circle and sing while passing the clap around the circle the beat. 
On the number 5, the students are out (unless they pull their hand back at only the right time). Continue until you have one winner. 
My older students adore this game, and it's always a favorite of the tricky 10-year-olds.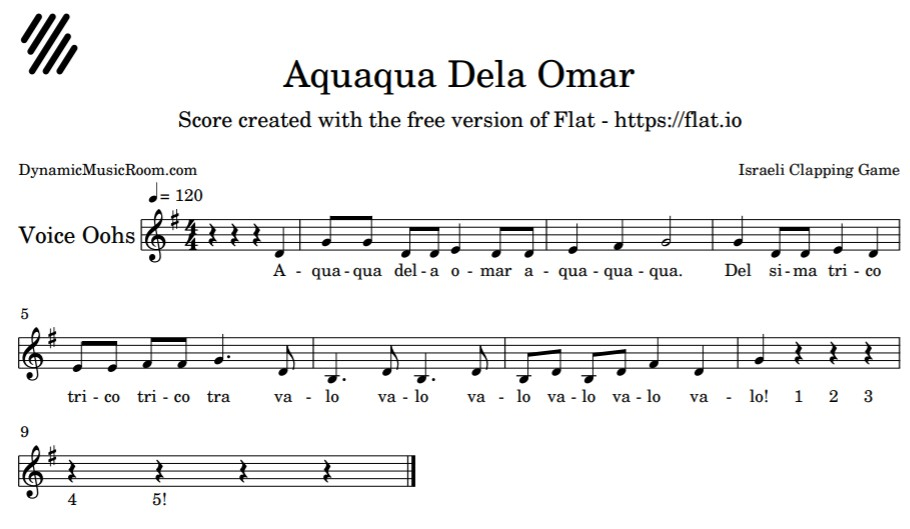 Green Grass Grew All Around
This is another fun additive song. It combines echoing and a small simple song at the end to create a tricky song even younger K-1 students could achieve with practice. 
This version of the song is pretty fun, but there are tons of video options out there. 
This song is also done in the Lomax the Hound of Music DVD put out by PBS Kids. 
Miss Mary Mack
I love this song. It's a fun echo-ish song for 2nd-3rd, but the older kids may want to challenge themselves with the clapping game. 
The video below shows the clapping game well, although it uses a derived melodic variation which I suspect is slightly inauthentic. 
Check out this recording by legendary folk singer, Ella Jenkins, too. This one shows what older texts and sources show to be more authentic. 
Simple Gifts
Simple Gifts is a fun Shaker hymn with a beautiful melody. This is the simple circle game I created to go along with it when I use it to teach the older students.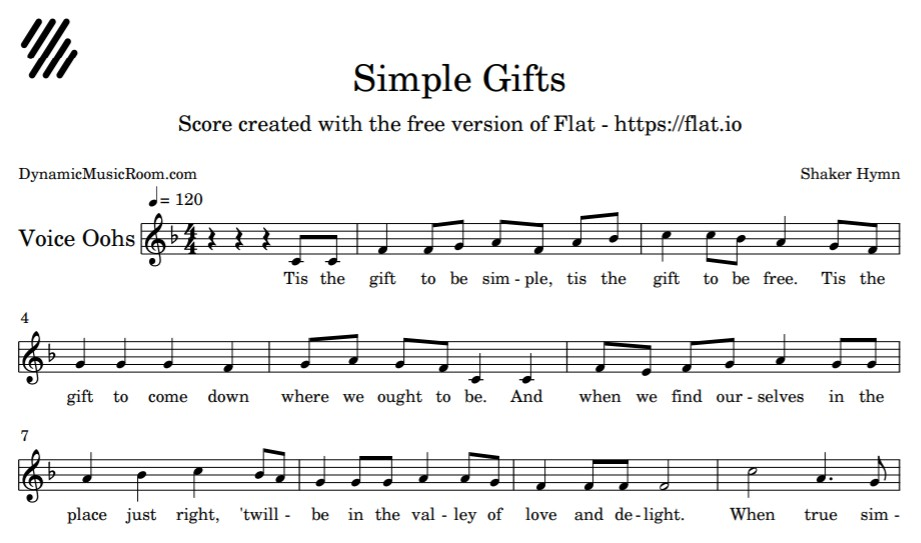 Game Directions: 
In a circle with a parachute, students walk to the left for 16 beats. 
Students turn and walk to the right for 16 beats. 
Students face the middle and do small shakes to the microbeat for 8 beats. 
Do large up and down to the macro beat for 8 beats. 
Turn in a circle to the right for 8 beats. 
Turn in a circle to the left for 8 beats.
Once students can do this, add bean bags/scarves/stuffed animals to the parachute.  
Note: If no parachutes are available, play this just in a circle.
The Crabfish
This book and song I first heard from a John Feierabend workshop is awesome. The song just sticks in your head like nothing else. 
I also like sharing the Crabfish book along with the song. The illustrations are well-done, and the students love it. 
On top of this, the melody is quite modal, so you're exposing students to something beyond major or pentatonic major. 
Little Black Bull (Hoosen Johnny)
Hoosen Johnny is a fun folk song coming from Illinois. Believe it or not, this catchy tune actually was written and sung by lawyers who won a case over cattle laws. 
It was also a favorite of one of Abraham Lincoln's closest advisors and was likely well-known to Honest Abe as well. 
Personally, I love this song and made researching its history part of my folk song presentation for my Kodaly training. 
Again, I'm a personal fan of Pete Seeger, so his version here is one of my favorites. 
Noble Duke Of York
This song is a lot of fun to sing and play. I'll do this with K-2 kids, and I have two different sets for moves I do with this. The inspiration came from a movement game I learned from my host teacher, Paul Rose, retired from Mt. Pleasant Public Schools. 
Circle Set: Easy
Students move in for 3 and clap on 4. 
Students move out for 3 and clap on 4. 
Students spin one time for 7 beats and clap on 8. 
Repeat steps 1-3. 
All turn to the right and skip around the room following the teacher or other leader for 32 beats. (Make sure to return to the circle by the end) 
Longways: Easy-Medium
Students move in for 3 and clap partner's hands on 4. 
Students move out for 3 and clap their hands on 4. 
Students right hand turn with partners one time for 7 and return to spots clapping on 8. 
Repeat steps 1-3.
Head partners take hands and sashay down the aisle to the end for 8. 
Repeat step 5 three more times with the next head partners.  
Another version is found in Rise Sally Rise (formerly called Jump Jim Joe). 
Hot Cross Buns
It doesn't get much more classic than Hot Cross Buns. This song is a great one for beginners on recorder and has great rhythmic and melodic elements.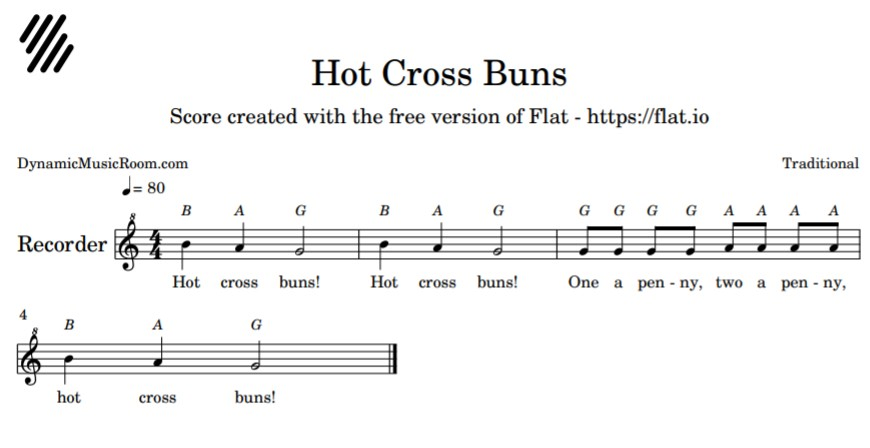 Mary Had A Little Lamb
Another adorable song using Mi-Re-Do for you to use with your kids. Everyone knows this song, and it's a lot of fun. For more information on the history of the song and its solfège, check out the Mary Had A Little Lamb with solfège guide. 
De Colores
This beautiful Spanish song with a strong connection to Mexican culture. It's also used at rallies for the United Farm Workers Union. 
De Colores is also featured on numerous TV shows for including a recent episode of the PBS Kids show, Luna the Moon. 
My favorite version is this one by folk singer and folk historian, Jill Trinka. Find it in her book, My Little Rooster. 
The Water Is Wide
This beautiful song has roots as far back as Scotland in the 1600s. It's also related to Child Ballad 204. 
But it's been published and altered in many beautiful forms which make for great singing as well as comparing and contrasting. 
I save this for older kids, and you'd be surprised how these too-cool-for-school-kids respond to the beautiful melody. 
I have too many versions of these I love, and I don't want to pick another Pete Seeger one (though he's my favorite). But this James Taylor one is also amazing. 
Conclusion
I hope you enjoyed this list of 17 folk songs every kid should know. These songs are blast to do in your music class, and I encourage you to check them out. 
Push your singing to improve even more with the 30 Day Singer program. It's affordable, online, and accessible for beginners and experts alike.