In the age of distance and online learning, music teachers need to adapt how they teach to engage their students. 
Now, while I'm a firm believer in active non-technology learning, I'd be a fool to ignore how useful note-reading games are and how much they engage students. 
Recently, I was searching around for more game ideas when I noticed most of the websites gave options based on Flash and no longer worked. 
This irked me a little bit, so I came up with this list of 9 fully functional note reading music games with a brief description and review of each.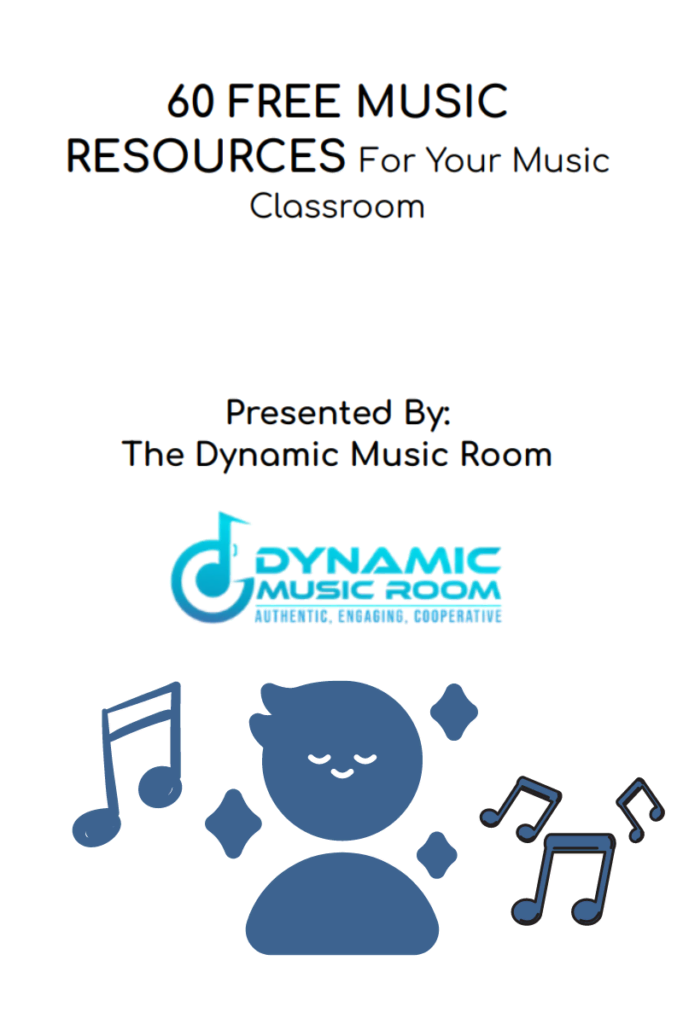 Save time with these 60 FREE Music Resources to use in your room right away!
Stop searching the whole internet to find good activities. I'll help you cut to the chase with my favorite 60 FREE resources.
MusicTheory.Net Simple Guessing Game
Overall Score: 6/10
Pros: 
Simple
No ads
Lots of option
Cons: 
No way to save settings and send them to students
Not as "game-y"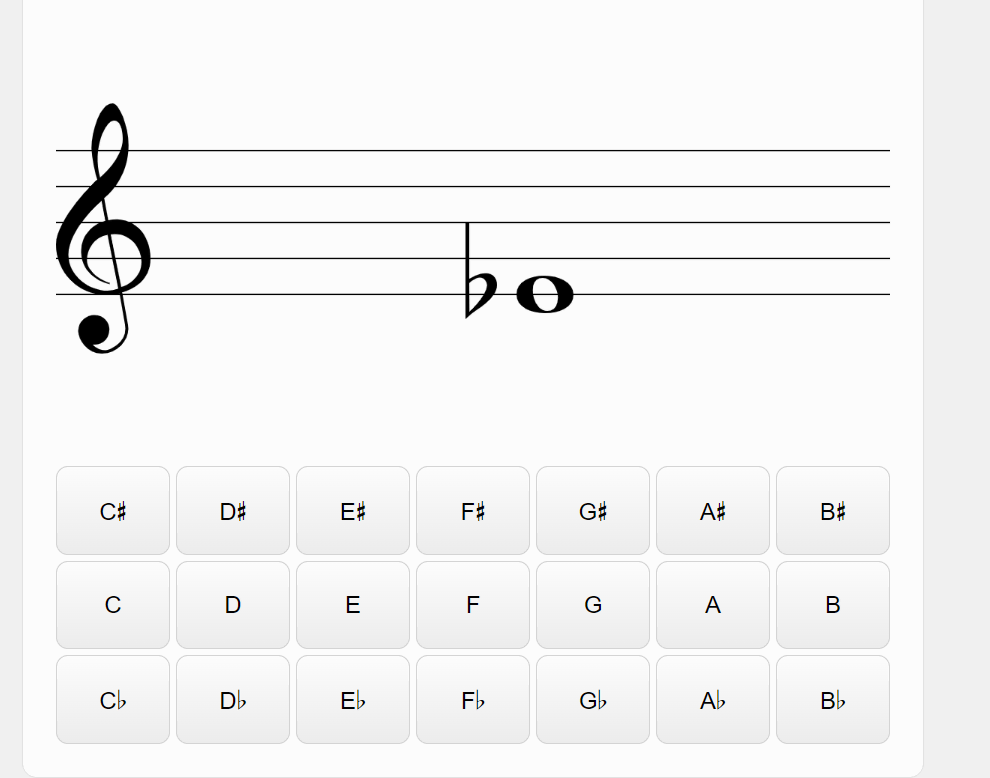 Not every game needs to be flashy to be functional. 
This trainer on Music Theory is simple and free. 
It works well with a number of great settings options to train your students. 
There are no ads bombarding your students, either. 
My biggest complaint is that you can't save and share specific settings for the trainers. 
It'd be nice to simply send a link to your students so they can play at a specific setting. 
Notation Training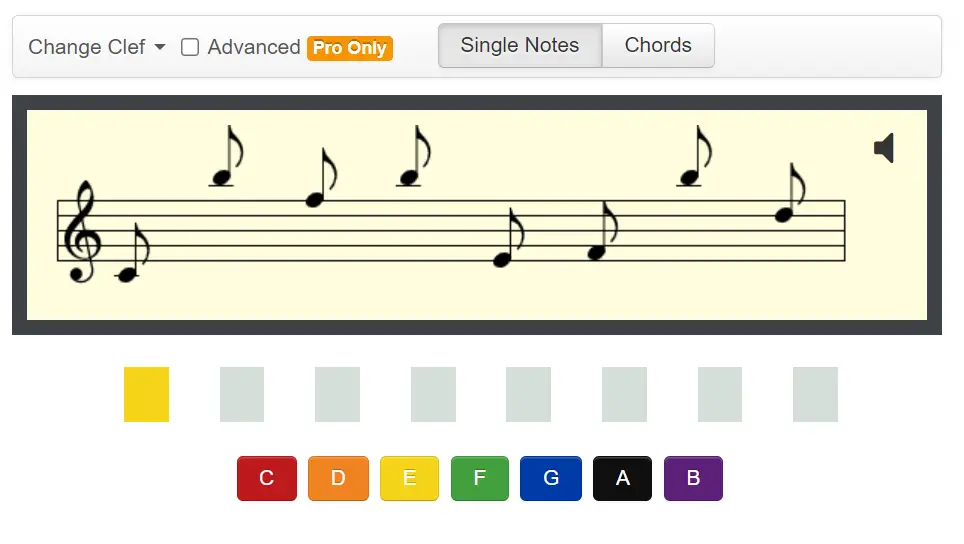 Overall Score: 5/10
Pros: 
Colorful trainer
Clear with many options
Has the option for chords
Cons: 
No ledger lines
No accidentals
This game is a bit more visually appealing than the last, and it's simple. 
You have the option to practice with treble, alto, tenor, and bass clefs. 
There's also an option to train by naming chords. 
This is great for piano and guitar students. 
But it doesn't feature ledger lines or accidentals. 
Music Cards
Overall Score: 1/10
Pros: 
Cons: 
No way to stop students from just clicking through
Directions aren't clear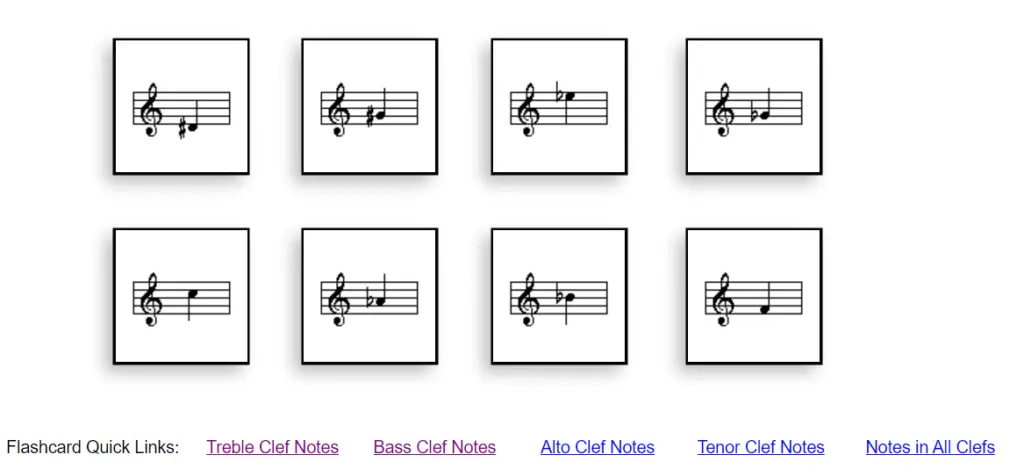 This musical staff trainer will certainly do the job, but that's about it. 
Basically, all you do is mentally guess the correct note and click to see the answer. 
There's no way to ensure students are actually making a guess and not clicking through. 
It's also not immediately clear how you keep going once you've clicked through. 
But it's free, and it works online, so it's worth a shot if you're looking for something new to check out. 
Note Trainer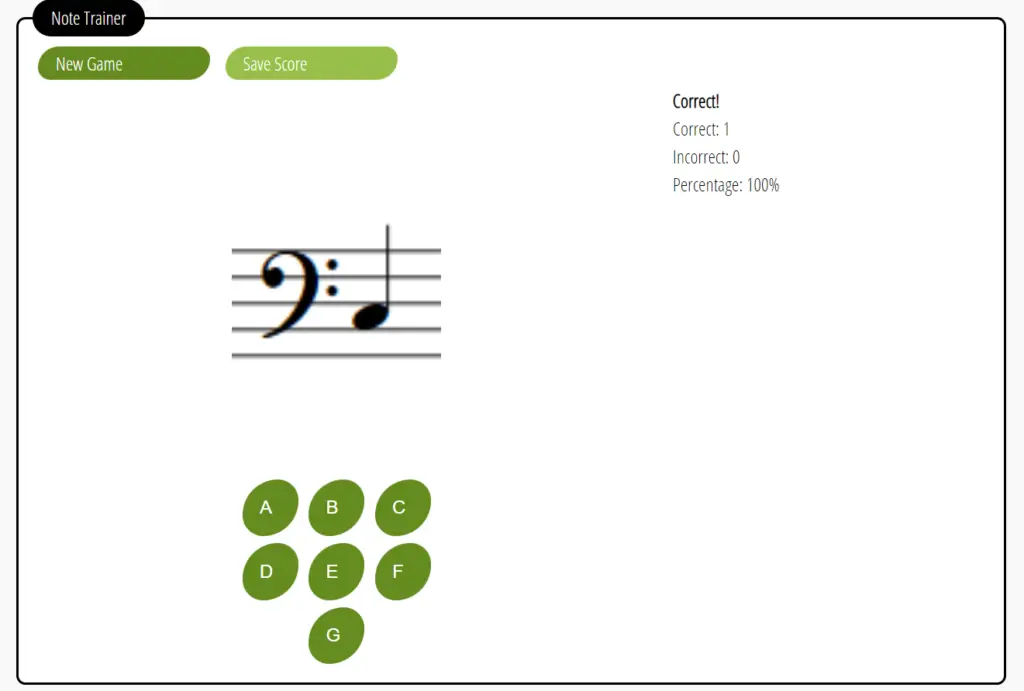 Overall Score: 6/10
Pros: 
Tracks score percentage
Mixes up the clefs for more of a challenge
Clear
Cons: 
Starts with alto and tenor clefs automatically picked
This trainer shows off a bit more of a game. 
It tracks your score and percentage as you go. 
I encourage a little bit of healthy competition with my students here by asking them to share their scores with me.
One unique feature of this game is that it will mix up different clefs, so you're not just choosing one clef (if that's your thing). 
My biggest complaint is that it starts with alto and tenor clefs selected, so if you don't go beforehand to disable them, you're stuck looking at these rare clefs. 
Name That Note
Overall Score: 10/10
Pros: 
Fun to play
Visually appealing
Different challenge levels
Cons: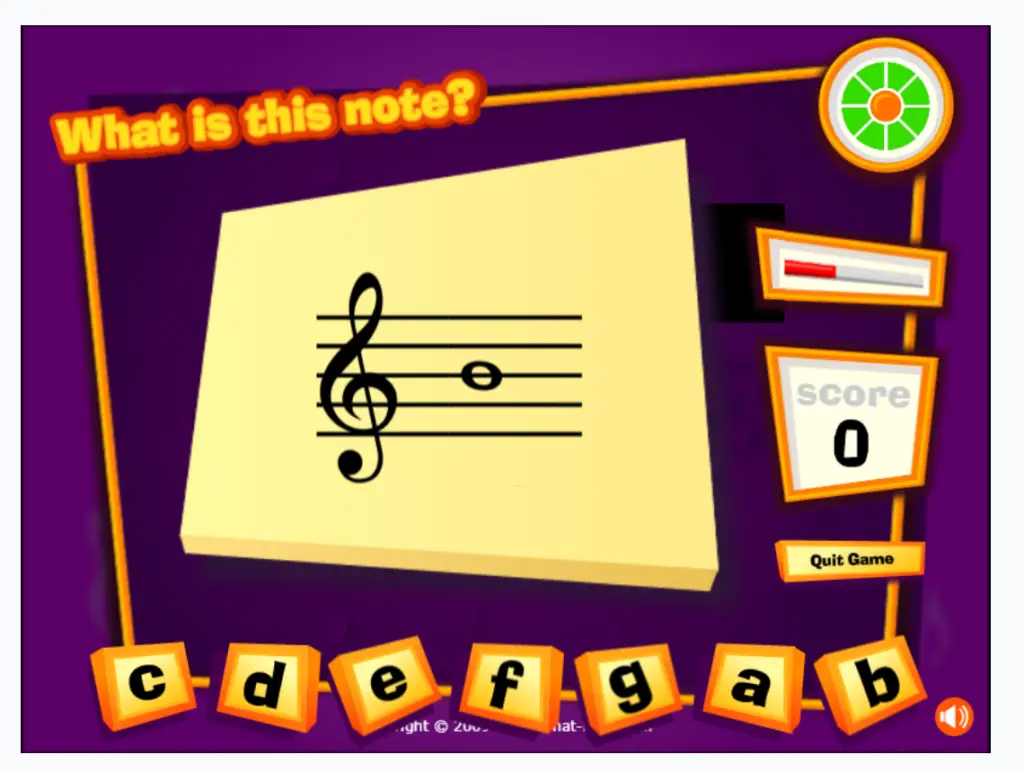 This is my go-to note reading music game. 
It's fun to look at, and it still works. 
There are other versions of this game where you need Flash to operate it, but this website manages to keep it functional. 
It's visually stimulating and fun to play, with different levels for all sorts of learners. 
It's even timed to keep the game aspect going strong.  
Other Reading: How To Donate Pianos To A Good Home
Staff Wars – iPad and Android Apps
Overall Score: 9/10
Pros: 
Super fun
Well-thought-out
Kids love it
Cons: 
It costs $0.99 to download and play
There used to be a free one for computers, but the links don't work now
Staff Wars is all the rage lately. 
Basically, you're doing note-reading games with a Star Wars theme. 
It's visually appealing and definitely a fun game for kids to play. 
But the free aspect of the game is gone at this point. 
The download links to the original are largely gone, and it's now available as an app on iTunes and Android. 
Sadly, it costs $0.99 to get. 
But it does work on Chrome, so if you have the ability to buy it for your students, it's well worth it. 
Treble Cat (Lite) – Apple Store
Overall Score: 8/10
Pros: 
Fun and engaging
Builds learning gradually
Easy to play
Cons: 
Only available on Apple devices
The "Cat" games are fun for learning music, and they've been around forever. 
Treble Cat is another entry in their series focused on learning the treble clef staff. 
What I love about this game is how it builds your knowledge gradually. 
It's not as engaging as Staff Wars, but it is free. 
Sadly, it's only available on Apple devices, so you may be limited in how you can use it. 
The Lite version of the game is free, and it's more than enough for music classes. 
There is a full version for $8, but I'd only recommend that for private lesson students. 
Music Racer
Overall Score: 5/10
Pros: 
Associated with instruments
Great for band students
Special fingering mode
Cons: 
Clunky and complex to get started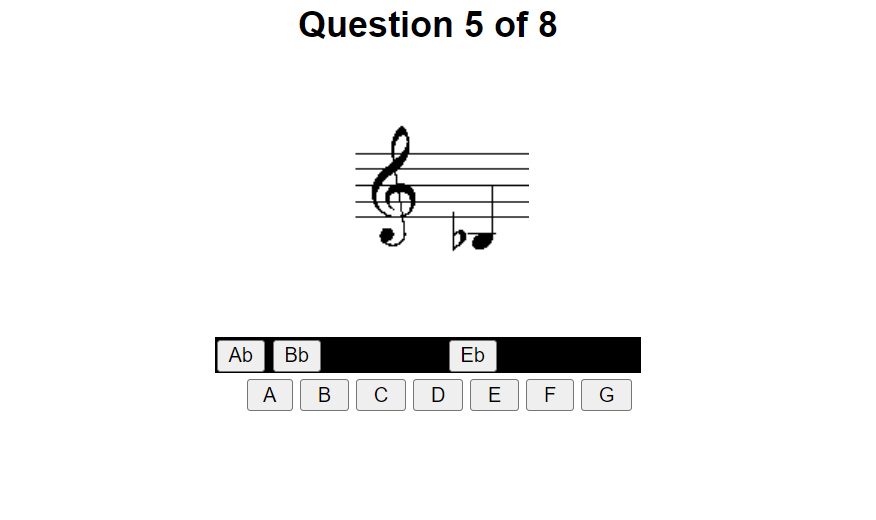 Music racer doesn't look amazing, and it isn't the easiest to get started. 
But when you do, it's great! 
This particular game features music staff training by instrument, so while it works well for your elementary students, it excels in the secondary and with band students. 
It even features a mode where you need to pick out the correct fingerings for your instrument. 
Where was this game when I was in school? It would have been a huge help! 
Session Town Game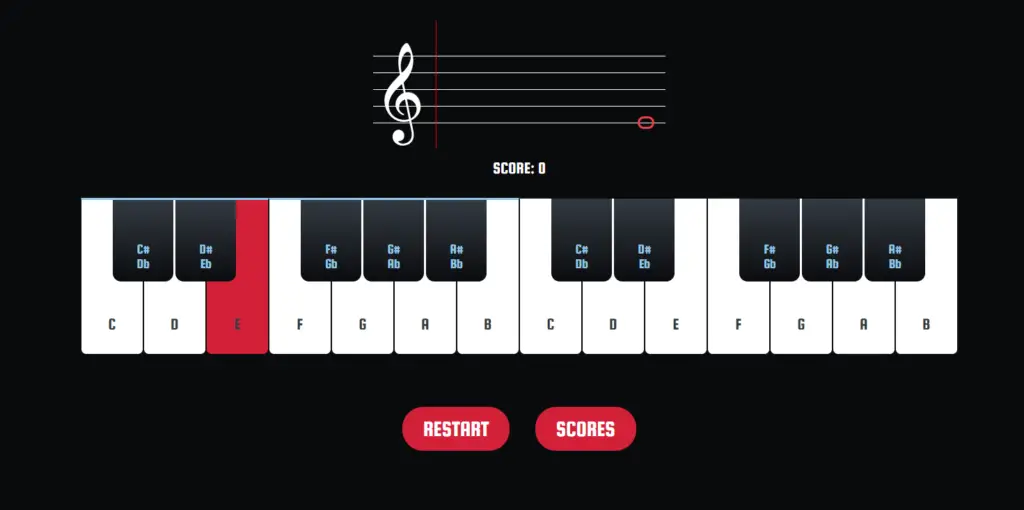 Overall Score: 6/10
Pros: 
Great for piano
Similar to how you read real music
Many different levels and modes
Cons: 
Too many clicks to get to the game
Goes by fast for brand new readers
The games on this site are well done. 
They are visually clear and appealing. 
It also features a ton of different levels and training exercises. 
Better yet, it's all focused on the piano, so it's great for these students too. 
I love how the notes come across the screen. It mimics how we read real music and gives it a sense of urgency in the game. 
As a user experience, it's a bit tricky to actually get to the game. 
There are a lot of selections you need to make, but once you're there, it's worth it. 
Need some help on piano? Check out Flowkey with their easy-to-follow lessons and literal thousands of songs with learning tools.
I've been playing music for almost 20 years now, and I still use it to help me learn new songs (and it's fun too!).