Have you been switched over to elementary music?
Are you looking for help with teaching general music?
Most people go through college and become a music teacher because they want to teach band, choir, or orchestra. 
They don't consider the chance that they'd need to teach elementary. 
But when roughly half the jobs are general music in the elementary grades, chances are you'll have some job at some point covering these grades. 
Or you may be a general education teacher forced to switch to cover music until your school hires one. 
Whatever your reasoning, I'm here to help. 
Once I got the elementary music bug in my undergrad, I've dedicated my life, including a specialty minor, Master's Degree, multiple summers of extra certifications, and over 10 years of my life to teaching elementary music. 
I'm happy to help with this guide for music in elementary school. 
Teaching general elementary music doesn't have to be scary. It's a balance of setting appropriate curricular goals, learning to develop effective lesson plans, setting up consistent classroom management, and embracing your personality's fun side. 
Check out the detailed guide below.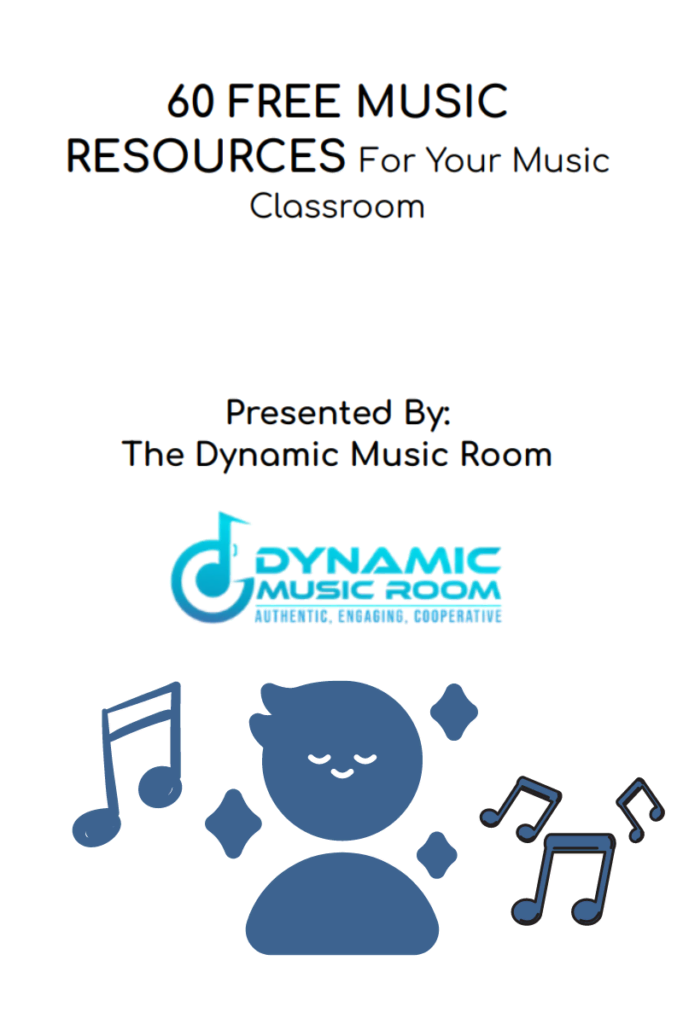 Save time with these 60 FREE Music Resources to use in your room right away!
Stop searching the whole internet to find good activities. I'll help you cut to the chase with my favorite 60 FREE resources.
Guide For Elementary General Music
This section covers what I consider the most critical elements of teaching elementary music. 
The guide is partially subjective and doesn't cover every single aspect you may want to consider. 
Still, this is the right place for anyone to start. 
Curriculum Goals In Elementary Music
It may seem silly, but if you have the time, think about your program's goals. 
This is crucial for making real learning happen over time. 
If you're thrown into this at the last minute, don't spend much time on this. 
For now, buy a resource (check the later section) and follow along. 
Still, you'll find it extraordinarily helpful to give these considerations at least a little thought. 
Start With The End
The first step I recommend is to think about the final grade level you see. 
For me, this is 5th grade. 
Imagine it's the end of the school year (under "normal circumstances, not 2020-2021 ones). 
As your students head off into the ether, consider this: 
What do you want them to know?
Which musical ideas do you think they need to live fulfilling lives?
How do you want them to act regarding music for the rest of their days?
Don't set the bar low. 
Shoot for the moon! 
Set your big goals. 
I want my kids to appreciate music in all its forms. 
I want my students to recognize major instruments and call them by the right name. 
My students must be able to clap in time and sing Happy Birthday without making people cringe. (Stolen from Dr. Feierabend, founder of Conversational Solfege). 
Then, get more specific. 
What skills or knowledge do you want your kids to have?
Students should be able to read and know treble clef note names. 
I want my students to be able to read so and so rhythms. 
I want students to be able to sight-sing simple songs in major and minor using notation. 
Please start with the end goal; it'll give you a better idea of spreading concepts out.  
Break It Down By Grade
With the end goals in mind, think about the logical steps it would take year by year to get there. 
Now, we're looking at the end goals for each grade. 
Guess what? 
You already did the final grade you teach!! Now, the job is that much shorter. 
Break It Down By Month
Next, the concepts are broken down even farther into month by month. 
This is what general education teachers often call a pacing guide or units. 
During this process, keep in mind any concerts you have or how your schedule goes. 
I see all of my kids at two schools once per week. I do one concert in the winter for both schools. 
My colleagues (in the same district) see their kids twice per week at one school; then they switch to a different school at the semester. 
They do one concert in the winter and one in the spring. 
Our pacing guides look way different. 
Find one that works for you. 
For an example of one I'd written up, check out the PDF below.
Note: This isn't perfect by any means. Some perfectly acceptable ones are more detailed and less detailed. 
It all depends on your teaching style and method of teaching. 
Lesson Planning In The Music Room
With a firm set of goals in mind, it's time to dig into the essential part of teaching elementary music, in my opinion: lesson planning. 
With good lesson planning, management falls into place, the goals accomplish themselves, and you allow for more teachable moments in your lessons because you've set up the recipe for success. 
Pick Quality Songs And Activities
I recommend, always and forever, to start by looking for quality songs and activities. 
I'm talking about finding real songs people sang and have stood the test of time. 
Folk songs are the place where I usually start. 
Learn about the importance of folk songs in education. 
Classical songs are also a great choice.
Popular music is fine for hooking students and keeping them engaged with little effort, but pop music is like dessert. 
Use it sparingly. 
Music from diverse cultures is another vital part of any program. 
Little in the world builds empathy like singing and playing folk songs and games from cultures different from your own. 
I list my favorite resources in the section toward the bottom, and many of them share high-quality songs and activities. 
For a quick reference, check out the American Folk Song Collection.  
Picking quality music increases engagement and the effectiveness of music concepts sticking around.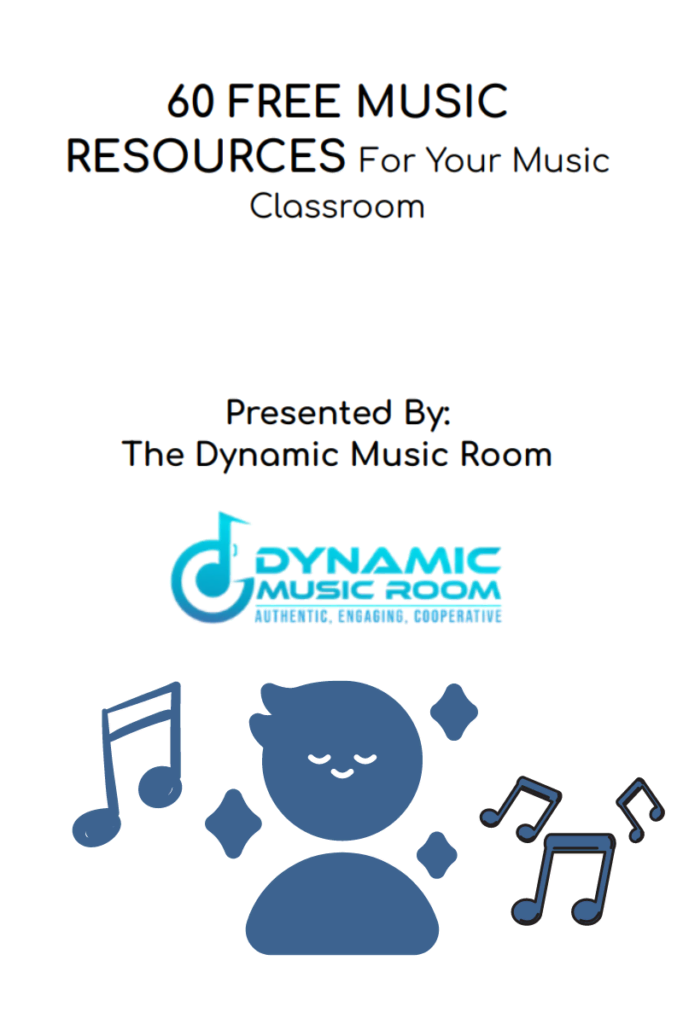 Save time with these 60 FREE Music Resources to use in your room right away!
Stop searching the whole internet to find good activities. I'll help you cut to the chase with my favorite 60 FREE resources.
Chunk It Out! 
With songs and activities in hand, it's important to chunk out your lessons, whether you teach for 20-minute blocks or 45-minute blocks, you need to organize the lesson pieces. 
One of my professors encouraged us to think of every lesson chunk as either "high energy/low concentration" (HELC) or "low energy/high concentration" (LEHC) and to alternate the chunks. 
With HELC chunks, your students make music and move a lot, but they don't need to focus hard on difficult concepts. 
With LEHC chunks, you're slowing down the class's pace and focusing on concepts or activities that require more skill. 
Switching them allows the brain to process better and help regulate the students' energy and focus levels.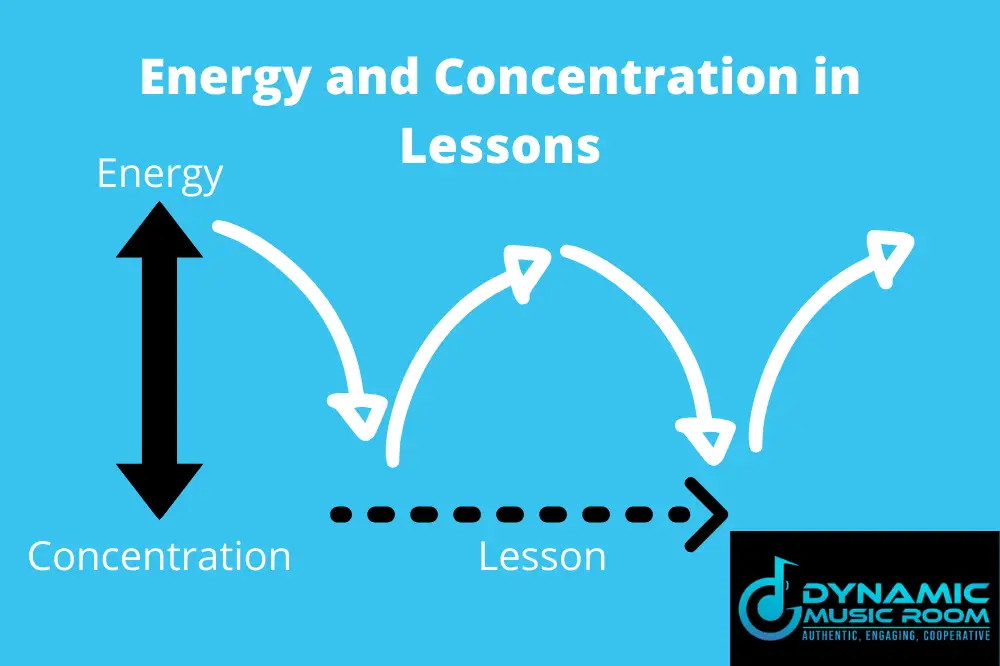 Check out this example: 
HELC – Vocal warmup and opening songs with a well-known fun song
LEHC – Reading rhythms of the song and introducing the rhythms of another song. Students write their own rhythms. 
HELC – Students mirror the teacher as they march around the room to one of Sousa's marches. 
LEHC – After echoing singing patterns and reading from the staff, students split into small groups with xylophones to create their own melody. 
HELC – Students participate in singing with the teacher through a songbook or watching a classical piece or a type of ensemble. 
Pacing Pacing Pacing
You've got an idea of chunks now, but how long does each chunk last?
The answer is: as long as the students will stay focused.
Obviously, this is different for every grade level. 
The general rule of thumb is: 
Students can pay attention for the same number of minutes as their age, plus 1. 
If a Kindergartener is 5 years old, they can do 5-6 minute chunks. 
Fifth graders are 10 years old; they can do 10-11 minute chunks. Doing less is fine too. 
This is all part of pacing. Switching activities keeps kids on task and reduces behavior problems. 
Student engagement is 95% of behavior management. 
How many chunks do you do? 
Switch between HELC and LEHC for as long as you see the kids. 
When I taught 25-minute classes, it was about 4 chunks. 
Now I see kids for 45 minutes. It's about 6-7 chunks now. 
Detailed Planning Allows For Teachable Moments
It may be hard to believe, but the more detailed your lesson plans are, the better they'll end up working. 
Detailed lesson plans, even if you don't refer to them, let you get out of your head and respond to how they are doing with their performance and engagement. 
I'm not saying you should spend hours writing lessons for the week (though go for it if you want). 
I recommend putting to paper (or computer) the following information: 
Goal of the lesson overall
Goal of each chunk
Song used for each chunk
Brief directions for you to reference what you're teaching
Key questions to ask the students
Materials needed for each chunk 
This will give you a good place to start. 
Sample Lesson Plan Outline
Lesson Part/Goals
Steps
Materials
HELC
Warm Up

Opening Song

LEHC



HELCChange Of Pace/Movement



LEHC


HELC



Closing


Classroom Management Tips For Elementary General Music
One of the most intimidating parts of teaching general music is classroom management. 
There are no hard and fast rules for establishing a positive classroom environment and handling off-task behavior, but these 3 are the ones I consider most important. 
Remember, if you have well-paced and chunked lessons, much of the undesired behavior won't appear. 
Have A Plan
Build a clear plan and review it with students regularly. 
If your school has a standard plan or uses a similar language, stick with it. 
Otherwise, remember, simple is better, as long as all easily understand it. 
Stay Consistent
When misbehavior happens, don't get emotional about it. Go through the steps you set up in your plan. 
Do this every time. Don't let the little things slide one day and then get upset by them the next. 
Consistency and follow-through are exhausting, but it's key to building the kind of classes you want. 
Be Open To Communication
Communication is essential for avoiding escalating situations. 
If there is a big problem with a particular student, talk to the teacher first. 
Obviously, if they do something awful, like punch kids, you'll also want to talk to your admin. 
But the teacher is, in most cases, an excellent place to start. They have more insight into individual students. 
Communicate with parents if needed. Email or phone is challenging, I know, but it does a lot for the kids in many cases. 
Getting your word out there early and first helps keep the situation calm if a parent gets angry. 
In most cases, the parent wants to be heard. 
Don't carry it all on your own. 
Embracing Your Inner Child
It's possible to teach music in elementary school without embracing your inner child, but where's the fun in that? 
This is your chance to let loose and have almost as much fun as the kids. 
Be Child-Like, Not Child-ish
Knowing the difference between child-like and childish is critical. 
Child-like: 
Wants to explore
Enjoys being a little goofy
Naturally curious
Quick to laugh and smile
Child-ish: 
Gets silly and never stops
Partakes in potty humor
Laughs at the expense of others
Does whatever they feel like
Embracing The Fun
Kids are looking to trust you. They want to know about you and make a connection. 
In our short time, they need to get to know you a little bit. 
I find it essential to embrace fun. 
Say the little things you like to do on occasion. It makes you seem more human. 
Get in the trenches and have fun with the songs and games too. 
Even if you do it once, the kids will love you for it. 
Keep the balance between child-like and childish. 
Let them music is a safe place to have fun and learn by doing it yourself. 
Tips For Teaching Music In Elementary School
Outside of these practical exercises, there are some general tips for teaching elementary music you may wish to add to your roster. 
Here are my favorite tips below: 
Give Yourself Grace
Actually Do Your Lesson Planning
…But Don't Stick To Them Religiously
Repetition Is OK
Take Time For Yourself, Do Things You Enjoy
Don't Be Afraid To Ask Questions
Set A Behavior Management Plan And Follow Through
Don't Reinvent The Wheel
Know That Every Year It Gets Better
Communicate With Administration
Befriend Your Secretary And Custodian
Free Yourself From Judgement
These are the 12 tips I give to new music teachers. Click the link for more details on each of them. 
Favorite Resources
You don't have to reinvent the wheel from scratch if you don't have to. 
Music teachers are happy to share their resources. 
If you're brand new to teaching elementary music, I recommend you don't make every lesson completely original. 
Give yourself a break and learn from others. 
Here are some of my favorite resources, along with a brief description. 
Dynamic Music Room Songs And Lessons – OK. This one toots my own horn a little, but it's completely free! 
I share notation and activities with my favorite songs. Feel free to steal or find inspiration. 
First Steps In Music – Dr. Feierabend's resources are fantastic and well-organized.
While I don't think they go into the detail a traditional Kodaly curriculum does or allow for as much exploration as an Orff one, it's perfect for those just getting started. 
Gameplan Music Curriculum – While I don't use Gameplan all the time, it's one of the ones I recommend to other music teachers, especially ones new to teaching elementary music. 
The plans are a great combo of Orff and Kodaly. The lessons are so specific you can follow them as written. 
Perfect for those who need to focus on developing their elementary teacher personalities and classroom management. 
The Music Effect Books I and II – I'll always continue to plug these books. Yes, Joy Nelson was one of my teachers, so I may be biased. 
But the lessons are clear, well-sequenced, and engaging. 
I'm bummed she only ever wrote ones for Kindergarten, but they're worth picking up. 
My Lesson Planner – This isn't a music-specific resource, but the online lesson planner is helpful for organizing and storing lessons. 
My admin understands the platform, making it easier to "translate" what I'm doing for them. 
Flowkey – If you end up doing any keyboard teaching in elementary music, I strongly recommend Flowkey. 
The platform has thousands of songs and lessons out there in all sorts of genres. My students love to explore the videos and courses available. 
Maestro Classic – If you haven't discovered Maestro Classic yet, you need to. 
This website offers engaging lessons and materials centered around connecting classical music with young people. 
It's not something to base a whole curriculum around, but most resources leave off classical music or use it sparingly. 
This is an excellent resource for supplementing your teaching. 
Conclusion
I hope you found this guide for music in elementary school helpful to you. 
Teaching general music for elementary ages may seem scary to many people, but it's a rewarding calling. 
For some of the kids, you'll be the only music teacher they'll ever have. 
You're the one who got them started on a path they follow their whole life for others. 
Take it seriously, but don't forget to have fun!
When you're able to enjoy it, teaching, elementary music won't even seem like work anymore.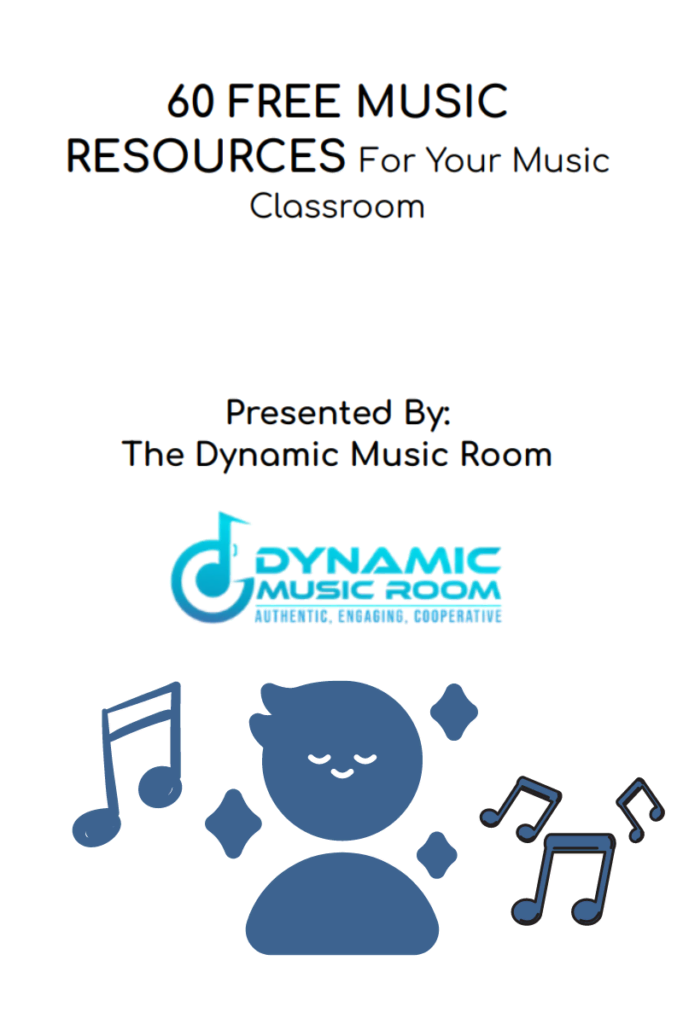 Save time with these 60 FREE Music Resources to use in your room right away!
Stop searching the whole internet to find good activities. I'll help you cut to the chase with my favorite 60 FREE resources.