Are you looking to challenge your recorder playing?
Do you want help learning this beautiful and catchy song?
Jurassic Park is a classic theme written by John Williams, and most kids and adults are at least somewhat famliar with the tune because of the more recent Jurassic World movies whic use the same theme. 
On the recorder, it's a great song for intermediate and advanced players to practice. 
But it may be tricky if you don't know where to start. 
We're here to help with this guide to Jurassic Park on recorder with notes, explanation, and a brief how-to. 
Jurassic Park for the recorder uses the notes: E, F, G, Bb, B, C, D, High E, High F, and High G. The rhythms aren't challenging, but the use of Bb and the half hole technique make it a tough song to learn for new players. 
Let's dive in! 
Notes For Jurassic Park Theme On Recorder
The notes are the hardest part of learning this song. 
The Jurassic Park theme on recorder uses quite a few of these notes. 
Take a look at this table for the notes you need to know and a brief description of how to play them. 
For more on the notes on recorder, click the link. 
| | |
| --- | --- |
| Notes | Fingering |
| E | Thumb, 1, 2, 3, 4, 5 |
| F | Thumb, 1, 2, 3, 4, 6, 7 |
| G | Thumb, 1, 2, 3 |
| Bb | Thumb, 1, 3, 4 |
| B | Thumb, 1 |
| High C | Thumb, 2 |
| High D | 2 |
| High E | Half thumb, 1, 2, 3, 4, 5 |
| High F | Half thumb, 1, 2, 3, 4, 6 |
| High G | Half thumb, 1, 2, 3 |
Note: Links on the notes go to the matching page for details, exercises, and songs for those notes. 
Jurassic Park Recorder Sheet Music
Here is the sheet music for the Jurssic World or Park theme on the recorder. 
Feel free to copy, download, and share the music. All we ask is you please include a do-follow link and citation to Dynamic Music Room.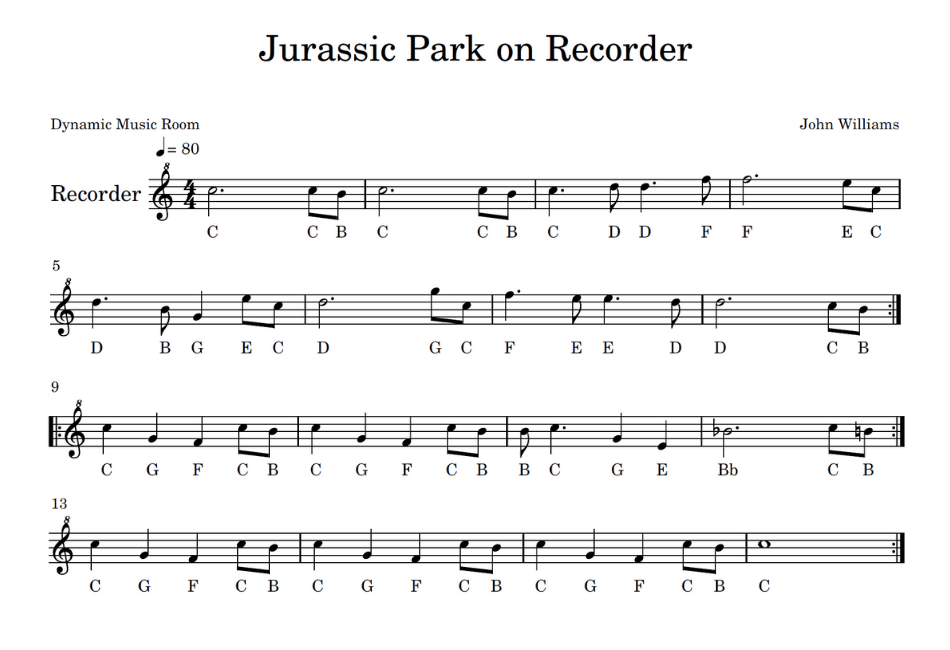 How To Play Jurassic Park On Recorder
In this section, we'll go over the steps I advise when playing this song. 
Follow these steps, and you'll be able to master this tricky tune with a little practice. 
#1 Measures 1-4
First, let's look at the first four measures of the song. 
This is one of the easier parts of the song if you are comfortable with the higher note half-hole technique. 
It's all in step-wise motion except for the very end, which adds to its easy learning. 
Remember to still cover most of the thumb hole when you do the higher notes. I also advise my students to add more focus or energy to their air. 
I hate to say the words "blow harder" because it usually ends up being squeaky and painful. 
Set your metronome at a slower tempo and take your time making the best sound possible. 
#2 Measures 5-8: Mastering The Leaps
For my advanced students (and myself), this section is the hardest. You'll probably spend more time here than anywhere else (and that's OK!). 
Why? First, a number of notes are in the higher range requiring skill with the half-hole technique. 
Even more than this is the leaping you'll need to do. 
You'll be jumping all over the place and moving your fingers quite a bit, even though the song is slow. 
This is tough, but it's great practice for trickier songs down the road. It's completely achievable though with practice. 
I suggest you isolate the leaps and practice them on their own quite a few times until it seems easy to do them. 
The leaps are: 
E-C-D in the pickup to measure 5
D-B-G in measure 5
High G-C-High F in the pickup to measure 7
After you get these down, put it together with the rest of the song slowly.  
Don't forget the whole 1-8 repeats!
#3 Measures 9-12
This section is the main theme of the Jurassic World song on the recorder. It's the most recognizable. 
It's also one of the easiest. Our notes are all back down in the area we're most familiar with. 
Compared to what you just learned, I'll bet this seems like a cake-walk. 
The only part that may give you big trouble is the leap from low E to Bb. Isolate this part and practice the leap until it's comfortable.
This repeats as well.  
#4 Measures 13-16
This section is largely the same as the last but even easier! 
You'll probably whip through this one, but make sure you still stick with an even tempo and each note sounds great. 
This one repeats too. 
#5 Fingering The Whole Song
We've now learned each part of the song; it's time to put it together.
I don't recommend jumping right into playing the song, especially not one this long or complicated. 
Start by going through the whole and fingering the notes while saying the letters. 
This lets you practice the finger coordination without the distraction of worrying about little squeaks or breath control. 
You may want to do this step 2 or 3 times before you move on. 
#6 Putting It Together
Now, it's time to put it all together. Play the whole song! 
There will probably be parts you mess up on. Don't be discusouraged! 
Isolate those parts and practice them a few times, and then put them back into the rest of the song. 
Given time and practice, you'll impress everyone with your recorder playing mastery. 
Jurassic Park On Recorder Video
I'm working on making my own tutorial video for this song. Until it's done, this one does a good job. 
Other Recorder Books To Check Out
If you're looking for more recorder songs to play, I encourage you to check out these ones on Amazon. Click the links to check the current prices. 
Disclosure: I am an affiliate for these products, which means I may earn a small commission if you buy them at no extra cost to you. 
50+ Greatest Classica For Recorder
Star Wars For Recorder
Christmas Favorites On Recorder
Final Thoughts
I hope this guide and sheet music helped you learn this fun song a little better. 
Check out more FREE recorder sheet music at our category page in the heading above. 
We cover a ton of music and are adding all the time. 
If this song is too hard, check out our list of easy music for recorder at the link.