Do you want to try some simple music activities for high school?
Are you looking for ways to engage your older students with music?
While my personal bread and butter is elementary, I've spent time over the years teaching all levels of students. 
Believe it or not: if I can't teach the younger students, I'd rather skip middle school altogether and teach the older ones. 
I love how independent and self-motivated they can be if you know how to access that energy. 
I'm asked this question a lot, so I decided to research and ask my high school music teaching friends and generate this list of 5 powerful music activities for high school students. 
When doing music lessons with high school students, it works best if you can allow them to explore and learn on their own. Your goal as the teacher is the guide (and sometimes moderator). My favorites include: 
Composing A Song
Researching A Musician
Play An Instrument (Piano, Ukulele, Etc.)
Percussion Ensemble
Music Trivia 
Let's dig into these resources and music lessons for the high school age. 
Note: These activities work with any high school class and aren't geared toward the band, choir, or orchestra kids. These are for all of high school. 
5 Powerful Music Activities For High School Students
As we dive into these activities, I'll offer brief explanations on what resources you may want to use for each of them. 
I understand high schoolers come to music with all different levels of knowledge and experience, so I'll offer resources and ideas for the advanced students and the ones with little to no knowledge. 
There's something here for everyone. 
Disclaimer: Some links in this post may be affiliate in nature, which means we earn a small commission at no extra cost to you if you click and buy. Thanks for supporting our content! 
Composing A Song
Making up songs and composing is an intimidating task, and most people don't know where to begin. 
But the chance to create something from nothing is an astounding experience. 
Given the right tools, any high schoolers can compose or create a song, and I've seen some amazing pieces and songs written by the age level from those with and without musical experience or training. 
The key for many is picking a form or genre to emulate. 
Before I have students compose, I would have them listen to and figure out the form of a piece or song they enjoy. 
Check out songs in aba form and songs in rondo form for ideas on how to teach song structure. 
Then, I have them work on creating their own music with those ideas in mind. 
For students with little to no experience, I'll have them use programs like: 
For students with more experience, they may prefer the traditional sheet music notation program of Flat.io.
Researching A Musician
In high school, students are finally starting to figure out who they are and what they're interested in independent of their peer group (to a certain extent). 
Let them highlight their own individuality by providing a project on researching and presenting on a composer or musician. 
I prefer to let them choose their own topics (with approval, of course). 
I'll model the presentation process by doing my own on a musician or band (usually, The Beatles). 
Then, I turn them loose. 
I'm all for keeping the specifics of the assignment broad with the older kids and focusing on providing resources. 
As far as presentations go, Google Slides is great for powerpoint-like presentations, but I do push them to get a little more creative. 
They can use a video editor to make their own YouTube video about the person or use a Prezi to make the presentation a little more visually appealing. 
Another idea I like to use is to ask them to dress up or act like the musician (within the limits of being school-appropriate) while they present.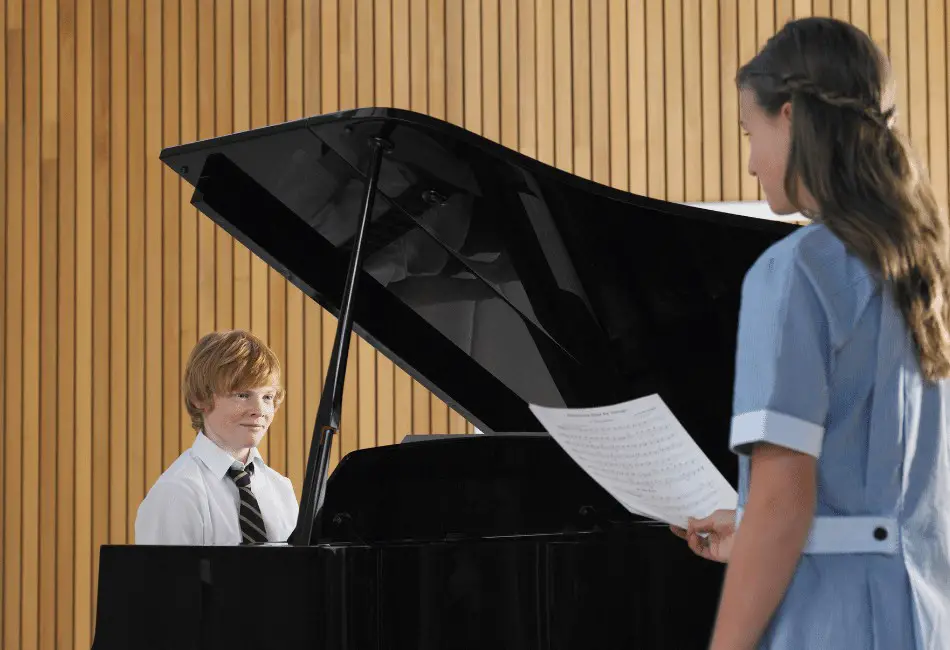 Play An Instrument (Piano, Ukulele, Etc.)
Students don't have to be in a band or orchestra to learn an instrument. 
Many schools have keyboards or ukuleles on and to learn to play. 
Even if you don't have a lot of music experience or skill on that instrument, you can still teach it. 
One of my good friends taught her whole high school class ukuleles despite the fact that she picked it up only one week prior to teaching it. 
Look for programs to help you out! 
For piano, it doesn't get better than Flowkey. 
It has thousands of songs, lessons, and practice tools. 
You must check it out at the link. 
With ukuleles, there are lot more great options out there to try. 
One resource I've heard that works well is Rocket Ukulele. 
Check it out! 
Percussion Ensemble
A percussion ensemble or group is a blast to do with any group of high schoolers. 
And it's broad enough you can do many different kinds depending on the level of skill in your group. 
Some will be able to do body percussion or found sound rhythm bands like Stomp! 
Others may want to experiment with the sounds a bit more like the Blue Man Group. 
If they have high music skills, you could do a more traditional percussion group with drums and pitched percussion.
I did this in high school even though I'm a tuba player, and it was a blast. 
We even did a song using balloons. 
Another rising star in the small group percussion world is steel drum bands. 
This one requires a bit more hands-on help from the teacher, but it's worth it. 
Music Trivia 
Quizzes are boring. Tests are miserable. 
But trivia is awesome! 
What's the difference? 
For the most part, the questions are more on fun facts rather than testing knowledge (but this doesn't always have to be the case). 
Trivia also has a more fun format than the standard test or quiz. 
I'm thinking about the trivia games I remember playing as a kid at different restaurants (and bars as an adult). 
There are a ton of fun trivia programs out there.
Right now, my favorite is Kahoot.
It's easy, free, and filled with premade quizzes to borrow (or make your own). 
Final Thoughts
I hope you enjoyed these 5 music activities for high school students. 
It's amazing to me what these kids can accomplish when given the freedom, skills, and resources to explore and create. 
You may also enjoy checking out these other music activity lists: