Do you want some quick music activities to use with your elementary students?
Are you looking for ideas to inspire you in further music-making?
Despite the fact that there literally hundreds and thousands and millions of music games and dances out there, elementary music teachers often find themselves in a rut if they're not careful. 
I should know; I've been doing this for *cough cough* years, and I'll find myself stuck quite often. 
When I do, I always go back to this list as inspiration for providing twists and new types of music learning and fun for my elementary music classroom. 
Note: These games work with a variety of music and show the effects of music in and out of their general classroom. 
8 Inspirational Music Activities For Elementary Students
When looking at music activities for elementary students, you'll want to make sure you're using quality music material, engaging all learners, and making music learning effectively with elementary music lessons that are fun, meaningful, and challenging all at the same time. These are the 8 music lessons I go back to when looking to mix up my room: 
Music Stories
Movement To Music
Playing Musical Instruments
Rhythm And Melody Reading Practice
Art And Music 
Musical Composition
Silly Music Games
Performing And Performance Pieces
Let's dive into the music classroom ideas!
Music Stories
I LOVE stories. Stories are a great way to connect music with another human art, drama. 
Whether you find one already written and illustrated like the Crabfish song with John Feierabend's book or you make one up as I did in my Kindergarten steady beat series, connect your favorite songs with a story for powerful music learning and experiences. 
Movement To Music
Movement, movement, movement. 
I think Gunild Keetman and Carl Orff had it right when they looked at movement as an essential part of music education. 
Whether playing touch singing games, folk dances or just exploring movement, add in some movement using nothing other than elementary music students and a music player. 
A quick movement/musical game that develops spatial intelligence is to play a piece of classical music and give students a movement prompt. 
Then, they have to move within the confines of this prompt during the song. 
Prompts may include: 
You're trapped in a bubble and need to paint the inside of the bubble without popping. 
Every part of your body is frozen except for…
You must move like blank animal. (Some call this animal dancing.)
You're with a partner. One of you is a mirror, and the other is the leader. Leaders must move slowly enough to let the mirror stay with them; the mirror must match the leader as close as possible. 
Here are some blog posts with more examples. 
Check out folk dances for elementary students.
Check out music lesson plans with scarves. 
Playing Musical Instruments
Yes, this one is obvious, but it's always a good one to go back to. 
Take a song, simple rhythms, or anything and put it on a new instrument. 
I love to have students split into groups and play on instruments with different timbre or sounds. 
Then, we listen as a class and discuss which type of instrument sound better fit the song we were singing. 
While "real" instruments are better, recycled rhythm instruments are just as fun to play on. 
Rhythm And Melody Reading Practice
Learning to hear, read, and write rhythms and melodies may not seem like fun (because it's learning), but when you connect it to different songs or make music games out of it, it's a lot of fun. 
Make it a challenge to hear, read, or write the rhythms and melodies. 
I like to add some competition to my music games, either as kids challenging me to a game or another class as music teams. I avoid in-class challenges because it often causes problems. 
Use any of the many programs out there or worksheets people have developed. 
If you're looking for FREE stuff (like I always am), check out some of these music games linked below: 
These games are perfect for distance learning.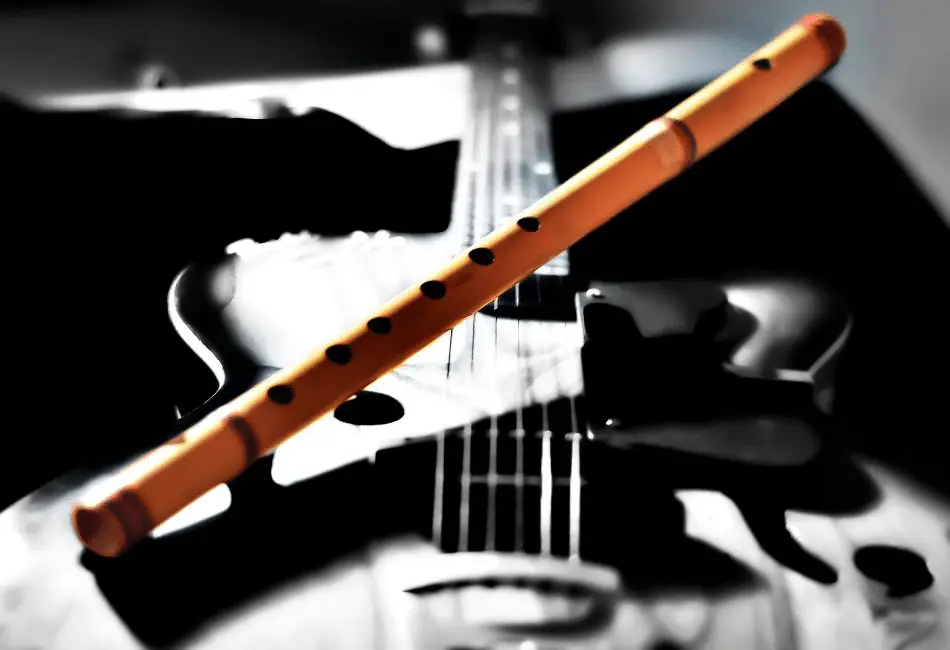 Art And Music 
I love to spend time on occasion connecting art and music together. 
Most of the time, it's as simple as giving the kids a piece of paper, something to write on, and a song to listen to. 
Ask them to draw what they hear or what they feel. Some students respond better when I describe it as mood music. 
I also enjoy connecting pieces with what art has already made (such as with Pictures At An Exhibition). 
I ask them to share what they drew on their piece of paper, and then I show them the original art that inspired the music. 
Check out more on this in my list of favorite music activities for kids. 
Musical Composition
I love letting students make up music, whether it's on pieces of paper or with a program. 
Chrome Music Lab and Music Play Online (linked above) are good resources to use with composition for children, but if you want something a little mature and "legitimate," I recommend checking out Flat.io.
It's a free sheet music notation program that makes it simple to add musical notes. 
They can sign up free, and it's all browser-based, perfect for those Chromebooks. 
There are also apps that go with it for use on other devices too. 
If you use a simple pencil and sheet of paper to compose notes, I encourage you to use a blank staff or other structures to help guide their music-making. 
Silly Music Games
I'm always a fan of just silly music games to play. 
From musical chairs to Four Corners to freeze dance to hot potato with music, it's OK to take a break from the learning to just play and have positive musical experiences. 
Pro-tip: Play these with different kinds of music to expose them to other periods of music too! 
If you haven't checked out Kahoot yet, I suggest you do. 
It's a free (with purchasable add-ons) quiz platform that's fun and engaging for kids. There are a massive number of Kahoots available already done for music, and it's simple to make your own. 
These do all seem just silly, but they deepen a sense of rhythm and beat.
Performing And Performance Pieces
Kids love to perform the music they make too. 
I like to, at least twice per year, have each of my music classes assemble a performance project of some kind. 
Usually, this is using some style of Orff arrangement. 
I like to add or find a story to go with it and have students perform arrangements of different songs and stories to make a mini-musical as it were. 
You can find resources with these more spelled out (like in the next section) or have the students help you build the project out. 
On any level, it's a ton of fun to do. 
For example, I once took three rain songs (Rain Rain Go Away, Itsy Bitsy Spider, and It's Raining It's Pouring) and had the students come up with a story connecting the three. 
Then, we added simple drums and non-pitched percussion and had some act out the story, including a dance at one point. 
We recorded it in class and performed it for their classroom teachers. This was first grade. 
It was a blast! 
For more specific inspiration, check out my Tree Story Cycle, which is another simple one inspired by this idea of connecting with a story and performing. 
Favorite Elementary Music Resources
There are so many great options for finding elementary music games; it's hard to find what works and what doesn't. 
In this section, I'll share a few of my favorite ones you may want to check out. 
Each one has a specific type of fun activity they handle well, so I'll offer a brief description of why I like them so much. 
Disclaimer: Links may be affiliate in nature, which means we earn a small commission at no extra cost to you. It's like buying us a coffee with your purchase (but it doesn't cost you a dime!); Thanks!
Click the link on the title or the image to go check out the resources.
STEP IT DOWN: GAMES, PLAYS, SONGS, AND STORIES FROM THE AFRO-AMERICAN HERITAGE
This book is amazing, and the title says it all. I love this book because it pushes me to share more diverse music as part of my every day, not just during specific months. 
This book is a collection of 155 American Folk songs, music games, and more!
Intery Mintery: Nursery Rhymes for Body, Voice and Orff Ensemble
This book by Doug Goodkin is amazing! I love his work in building whole performance pieces from simple and catchy nursery rhymes or melodies. 
These are a blast to check out. They provide excellent resources for classical music, including dance, story, worksheets, videos, and more!
The Move It! series is excellent at providing the meaningful movement with classical pieces. It's great for helping students engage with and understand classical music. 
Alabama Gal: Nine No-Fail Dances and Singing Games for Children
These are more traditional dance and music games you'd find in some books. The New England Dancing Masters provide great resources over the course of their books, but I'd start here. 
Final Thoughts
Hopefully, you enjoyed this list of music activities for elementary school students. (You may also want to check out music activities for high school on our blog.)
These fun music games aren't the only ones out there (not by a long shot), but these should be broad enough to give you inspiration in making your own fun games and yet specific enough to use right away. 
Bookmark this page if you have to, and don't forget to check out the products we feature and sell on this page. You may find something you like. 
Happy teaching and music-making!